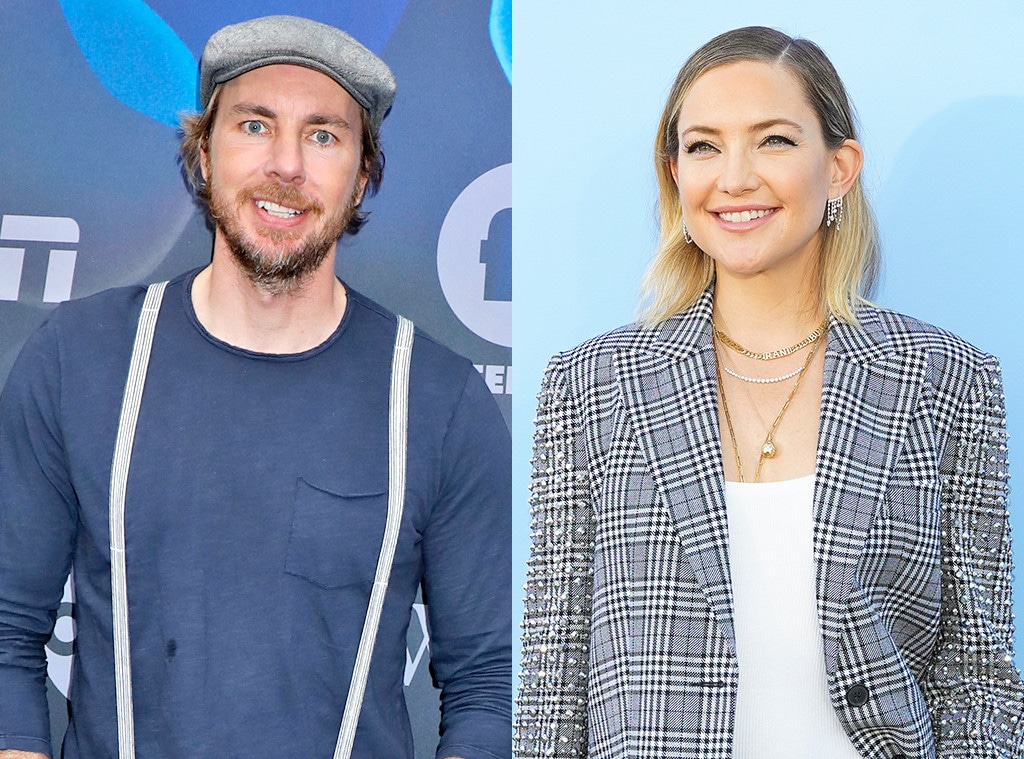 Shutterstock/Getty Images
Remember when Kate Hudson and Dax Shepard dated?
The 40-year-old actress and the 44-year-old actor took a trip down memory lane on Monday's episode of Armchair Expert. 
As fans will recall, Hudson and Shepard had a brief romance in 2007. In fact, Hudson said their whole relationship started as a joke. According to Shepard, the two met in the backyard of Tobey MaGuire's house. However, Shepard was in a relationship and Hudson was married to her now-ex Chris Robinson. It wasn't until Hudson and Robinson broke up a few years later that Shepard and Hudson decided to spark romance rumors. They joked that Shepard was her new boyfriend and walked out of Malibu's Nobu holding hands. Shepard was also shirtless. 
"We exited Nobu; I was shirtless; we were holding hands," he recalled. "I was acting mad at the paparazzi that they were invading our privacy. And then that just led to somehow hanging out." 
According to Shepard, the two then dated for about three months. When asked who broke up with whom, the How to Lose a Guy in 10 Days star said the split was a "mutual-esque end." 
"We were in different places in our lives, I think," she said.
The Bless This Mess celeb then admitted he felt "very less than" Hudson during their time together.
"I think I was just in the point where I was not going to get hired for movies anymore," he admitted. "I had a bunch that didn't work. And I'm like, 'I don't f--king know what's next.' And you were, at that time, making the most you ever made and having the most opportunity and I felt very much like, 'F--k, I don't know what I'm doing. I'm following this person around as they do things I wish I were doing.' It was just a rough period for me anyways. Then I felt all kinds of inadequacy in that position."
Hudson also said she "wasn't giving Dax what he needed" and "was making choices that were not relationship-focused." 
"It was so much fun and then it got hot fast," she said "It got connective, and I wasn't prepared. I was making a movie; I had Ryder."
Still, Shepard said the short-lived romance was "super beneficial" for him. For starters, he said he had "never been monogamous" before his relationship with Hudson. He also learned a lesson in communication.
"I literally learned how to say, 'When you do this, I'm scared and I feel this way,'" he said.
Of course, Hudson and Shepard both found love with other people. Shepard started dating Kristen Bell shortly after the split and they married in 2013. They have two kids together, Delta and Lincoln. Hudson became engaged to Matthew Bellamy, and they welcomed her second child, Bingham, in 2011; however they ended their relationship in 2014. She is now with Danny Fujikawa. They welcomed a daughter, Rani, in 2018.
To hear the full interview, check out Armchair Expert.