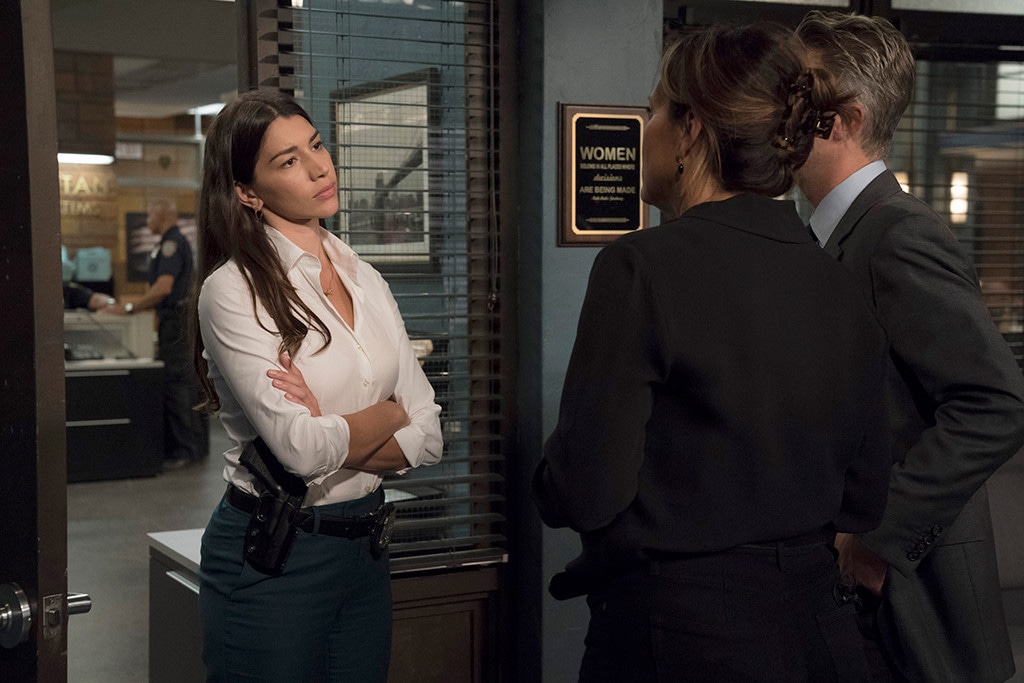 NBC
There's a new officer in the squad room. Well, she's been in the squad room, but now she's sticking around. E! News can confirm Jamie Gray Hyder has been promoted to series regular on Law & Order: SVU.
She's the first series regular addition since Philip Winchester joined in season 19 and left at the end of 20. Peter Scanavino was the last special victims unit squad member to join the series in season 16.
Hyder made her debut as Kat Azar-Tamin in the season 21 premiere. Her character was then transferred to the special victims unit to help fill the void left when Carisi (Scanavino) ditched the police force and became the ADA. Hyder's other credits include True Blood, Graceland and Chicago Med. She also voiced Lt. Nora Salter in Call of Duty: Infinite Warfare, becoming the video game franchise's first female lead.
On Twitter, Hyder marked the promotion with some photos and said, "Couldn't ask for a better boss (on screen & off!) or a better group of people to work w/ every day. Thank you @WolfEnt for trusting me w/ this historic show."
Series executive producer Warren Leight previously teased new faces would enter the characters' orbit this year and add some diversity to the show.
"Look, New York is a pretty diverse city in terms of everything and the show needs to better reflect that. We have a relatively small cast of regulars now, so there may be people who are with the squad for a few episodes," he said. "A lot of times, SVU will team up with vice or SVU will team up with another unit and that allows us to fold people in."
Law & Order: SVU made history with the season 21 premiere, becoming the longest-running primetime scripted drama series. Gunsmoke and Law & Order previously were tied with 20 seasons of television. Producers are looking at this season not as a greatest hits, but as a year of big changes. Viewers already saw Olivia Benson (Mariska Hargitay) get a new title: Captain.
"Thematically, it's a year about passages and changes. I don't think anybody at the start of the season will be in the same place at the end of the season. People's titles will change, people's roles in the squad room will change, people's domestic life—turning 21 is a major passage in life, so it should be for the show as well," Leight said. "With any luck, the special victims unit will still be up and running by the end of the season, but people will go through a lot of personal and professional changes, I think."
Give Me My Remote first reported Hyder's promotion.
SVU also stars Kelli Giddish and Ice-T.
Law & Order: SVU airs Thursdays, 10 p.m. on NBC. SVU is no stranger to cast shakeups. See how the show has handled them in the past in the gallery above.
(E! and NBC are both part of the NBCUniversal family.)