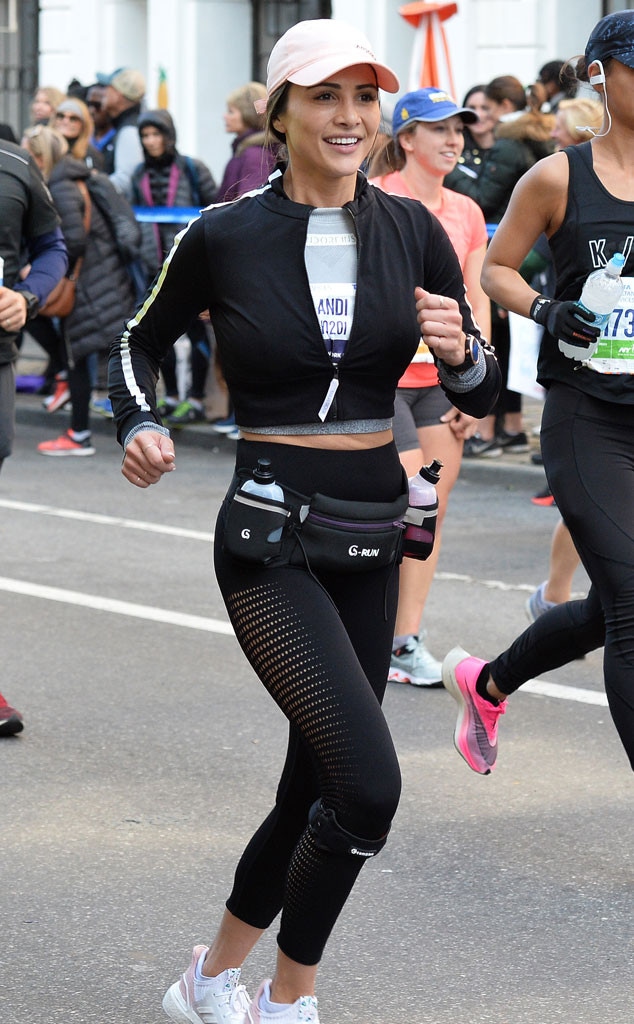 Noam Galai/NYRR via Getty Images
Their motivations varied. 
Amy Robach wanted to mark her sixth cancer-free anniversary by returning to the race alongside husband Andrew Shue. Bachelorette fan favorite Tyler Cameron was eager to see what he could push his body to do, while Andi Dorfman, another alum of the ABC love hunt, kind of fell into the sport when a busy schedule kept her from getting to the gym. 
Those separate pushes drove each star to lace up their New Balance and Asics sneaks and join some 50,000 others at the Staten Island starting line of the TCS New York City Marathon yesterday. 
For Robach, it was a simple glance at the calendar that drove her back into training. "When I found out that race day falls the same week as my 6-year cancer-versary, it just felt right," the breast cancer survivor, racing for Team For Kids told People. (She celebrated five years my climbing Mt. Kilimanjaro in 2018.) She and Shue, she continued, "are sticking together from start to finish. Our goal is to enjoy every mile." 
Same for Cameron, hooked after taking part in the Chicago Marathon mere weeks before hitting the streets of NYC. The former Wake Forest quarterback was inspired to ramp up mileage after watching his dad battle illness. Wanting to ensure no one else got sick, "I took it as an initiative to take the rest of my family and friends out to start running once a week on Thursday or walking—just moving for, like, 30 minutes," he told Good Morning America. "Just to get everybody moving and get healthier." 
Having moved to New York following his summer of reality TV fame, the Florida native signed up for two fall marathons and he's already eyeing more. "I think it's a fun way to push yourself," he shared. "I like challenges—and maybe I'll find a new challenge afterwards that's completely different—but it's just like pushing the limits." 
Truthfully, Dorfman never envisioned herself bumping quite so close to her own personal limit. 
"I've been a runner—I put that in air quotes because I like run/walk—for a couple of years," she joked to GMA, but once she found herself on the road often, "It would be hard to find a gym when I was in certain cities, especially in other countries, so I would just run and I would see the city...and that kind of became my main form of exercise." 
Back in her adopted city of New York, she found herself pounding the pavement more often as well "We've got an incredibly skyline, so I'd go at sunset," she told People.  
New York Road Runners, the organization behind the annual race took notice. "They had picked up that I had been running a lot and asked me to do the marathon," she recalled. "And, I don't know, for some reason I just said, 'All right, let's do it.'" Armed with a training plan put together by former Olympian Roberto Mandje, who put her through one strength training run (think: progression run or hill workouts) a week, she began showcasing her workouts on Instagram—and her #andorfins movement was born. 
"I love people who Instagram story themselves running and they'll tag me or they'll send me a message and they'll be like, 'Wow this is so motivational and so inspirational,'" she shared with Us Weekly of the online running community she's built. "I never grew up a runner. I never thought of myself as somebody that was fit or somebody that could advocate for that and then the more people kind of have caught onto it, it's inspired me to keep going, the more I keep doing it. And it's just kind of become something that I really like and I think it's relatable in the sense of I'm not an athlete." 
Dorfman, who ran in support of the organization Girls on the Run, is far from the only one chasing that, er, #andorfins high with everyone from Oprah Winfrey to Kevin Hart racing their way through the streets of New York, Boston, London and Washington, D.C. 
Check out which stars have been off and running.