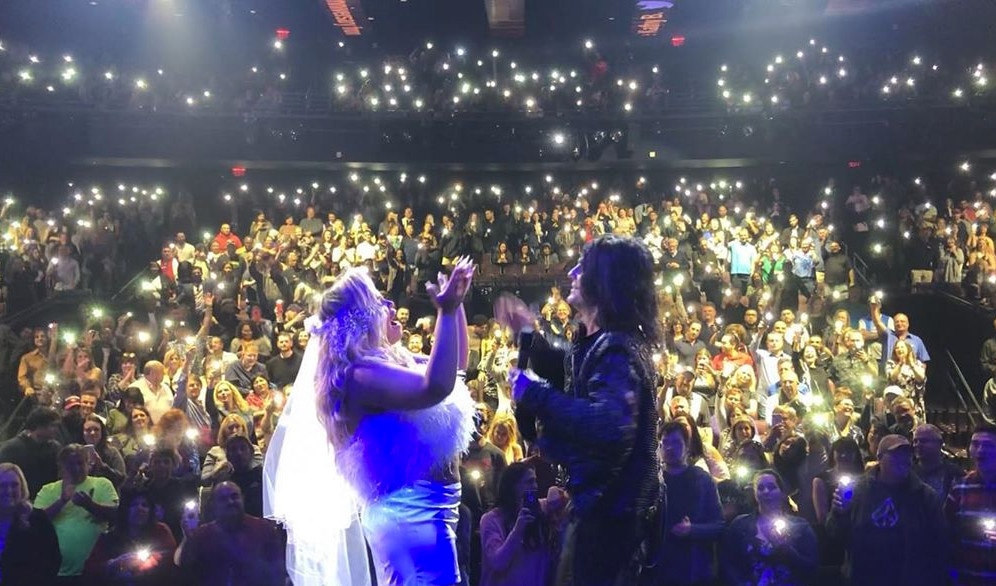 Instagram / Trisha Paytas
Here comes the bride!
YouTube star Trisha Paytas shocked fans on Friday night by claiming to have gotten married in Las Vegas, a week after announcing an engagement and wedding. Paytas did not name the mystery spouse, but did share a video. It shows the star wearing wedding attire onstage at Criss Angel's Mindfreak show at the Planet Hollywood Hotel & Casino, where the illusionist and his audience offered their congratulations.
"Today was wild," Paytas, 31, tweeted. "I got married and got to go on stage with @CrissAngel. So much to talk about but I'll see u on Monday social media ...gotta wrap my head around all this...also #mindfreak is THE best show I've ever seen .....always. !! Criss' #1 fan for life."
In a video posted on Instagram, the YouTube star appears onstage with Angel at his show, wearing a feathered white top paired with a white mini skirt, silver-studded knee-high platform boots and a veil.
"We just want to say," Angel began.
"Congratulations, Trisha!" the audience yelled.
"Straight from the Chapel to #mindfreak...how else would u do a Vegas wedding ???" Paytas wrote. "Thnx @crissangel for this amazing congratulations ❤️❤️❤️"
"Congratulations to my friend @trishapaytas on your #marriage #wedding today #CrissAngel #Mindfreak @phvegas," Angel wrote on his own Instagram page.
Paytas later posted a photo backstage.
Earlier in the night, the star and some girlfriends headed to a limo. Paytas wore a white hoodie with "Future Wifey" written in gold on the back. The pals sported black hoodie that read, "Maid of Honor" and "Bridesmaid."
Paytas also posted a pic of a certificate holder from the Little Vegas Chapel.
Instagram / Trisha Paytas
No marriage licenses bearing Paytas' name have been registered yet with the Clark County Clerk's office.
Instagram / Trisha Paytas
Paytas had announced an engagement last week and said that it "happened very quickly." 
The star planned to marry a "well-known," but private person on Friday.
Paytas later said on the H3 podcast that the mystery future spouse was a straight man and that they met a month ago. Paytas, who drew controversy last month by identifying as transgender and a "gay man," also expressed hatred for most straight men, saying they are "just awful" and are the "enemy."
When asked how one can be engaged to a straight man if they identify as a gay man, Paytas said, "It's fine. You can be straight."
—Reporting by Spencer Lubitz