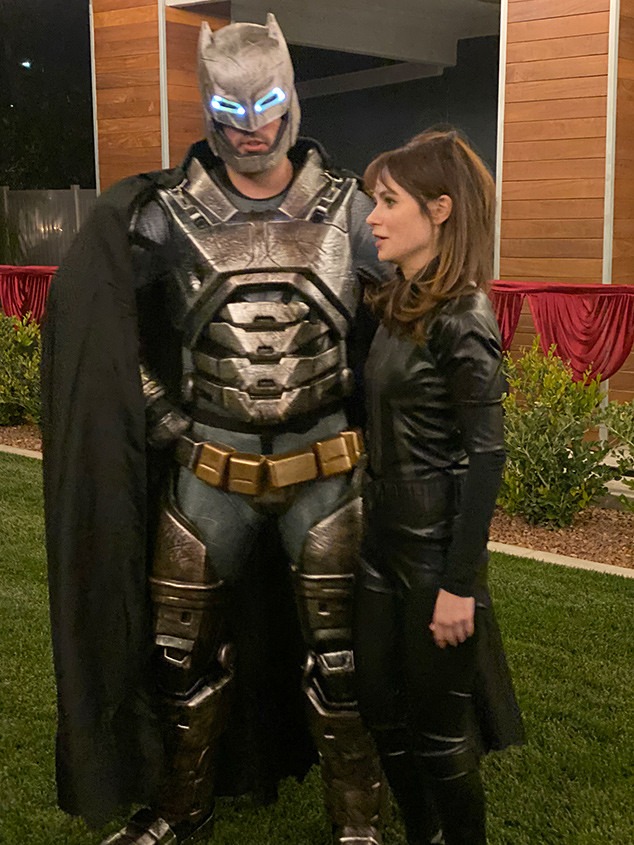 Michael Wilkes
Talk about Halloween night done right!
When Jonathan Scott was invited to his older brother J.D. Scott's wedding on Thursday night, he didn't want to wear a classic suit and tie. In fact, he wanted to celebrate the holiday and dress up with a special someone.
In photos obtained by E! News, the Property Brothers star dressed as Batman while his girlfriend Zooey Deschanel opted for Catwoman.
The pair happily posed for photos with family and other wedding guests. And yes, they totally made a cute Halloween couple if we do say so ourselves.
"Happy Halloween. Meow," Zooey wrote on Instagram when wearing a different black out with similar cat ears.
The pair appeared to have a great time celebrating J.D's wedding with Annalee Belle, which was held at a private home in Las Vegas.
According to People, who first reported the wedding, the ceremony had a '40s and '50s vintage movie theatre theme. Wedding planner Sophie Parrott of Marvelous Events USA said the couple wanted their "I Do's" to be a "fun and engaging experience" for guests as they took part in an "adventure-filled wedding celebration."
As for Jonathan's current romance, the HGTV star recently made his relationship with Zooey Instagram official after enjoying a double date with Drew Scott and Linda Phan.
"So much fun last night," Jonathan wrote on Instagram after visiting "Halloween Horror Nights" at Universal Studios Hollywood. "That high pitched scream totally wasn't me. Also happy to report…nobody got punched."
The pair, who first met while filming James Corden's "Carpool Karaoke" series, first sparked romance rumors back in September when they were spotted holding hands.
As for what makes this duo click, a source shared with E! News that they have more in common than you'd first think.
"They like each other a lot. They are still in the getting to know each other phase," an insider previously explained to us. "She seems excited about him and that it's new and fun."