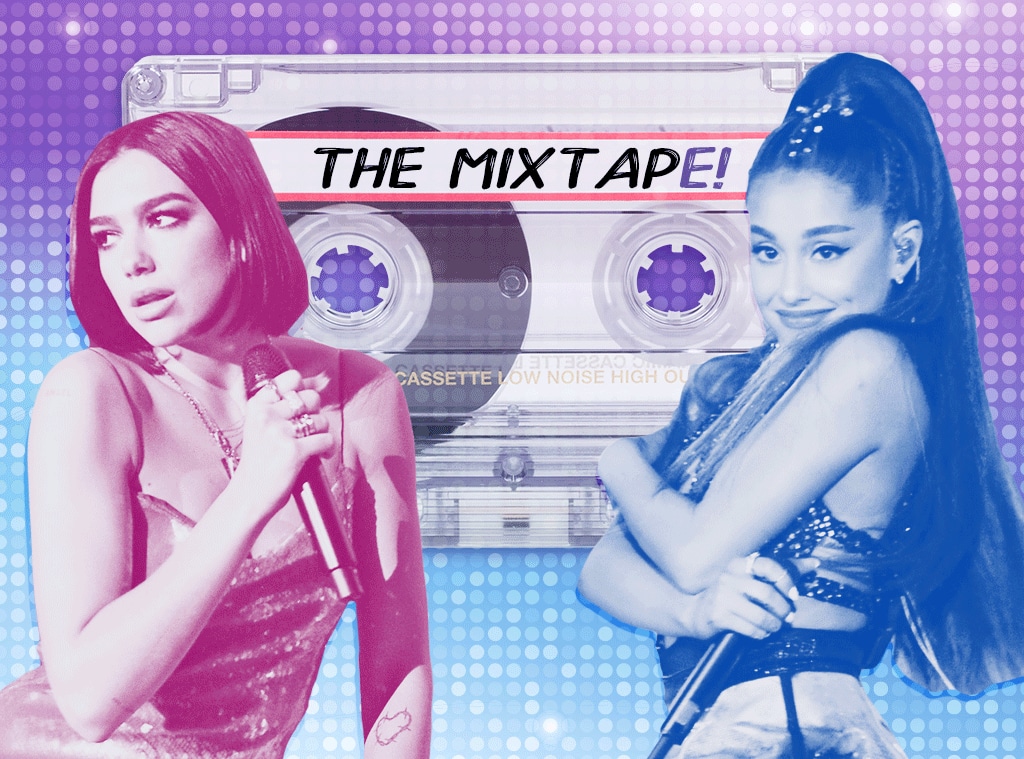 Getty Images/E! Illustration
New music Fridays are a thrilling, yet daunting prospect for any music lover. 
It's essentially a weekly holiday where fan-favorite artists and fresh faces alike drop their latest offerings for all the world to hear, flooding streaming services and digital retailers with an onslaught of aural goodies. But who has the time to sit there and listen to everything before updating their playlists? There's just too much good stuff! (And, if we're being honest, usually a few stinkers, too.)
As it turns out, we do. Welcome to The MixtapE!
Spooky season is officially over and Mariah Carey, the Queen of Christmas herself, may have officially kicked off the holiday season, but there's something about turning up the Xmas music on November 1 that just feels slightly off still. Give us a few more days before we're ready for you, Santa! 
Luckily for us, there are more than a few excellent new releases this week that ought to allow you to keep the holiday music at bay. (Unless you really need to get your "All I Want for Christmas Is You" on, in which case, by all means, do you.) From Dua Lipa's highly-anticipated return to the release of the Ariana Grande-executive produced all-star Charlie's Angels soundtrack, we've listened to (almost) all of it. What follows are our picks for the best of the best. You're welcome.
Dua Lipa — "Don't Start Now"
Dua's finally kicking off a new era with this delicious little slice of disco, produced by Ian Kirkpatrick, the man with the Midas touch responsible for "New Rules" and Selena Gomez's new hit "Look at Her Now." "I chose to put this song out first so I could close one chapter of my life and start another," she said of the track in a press release. "Into a new era with a new sound! It's about moving on and not allowing anyone to get in the way of that. It also felt like a natural first song choice as I made it with the brilliant same crew I made 'New Rules' with." There ain't no sophomore slump in sight.
Ariana Grande with Normani & Nicki Minaj — "Bad To You"
After teaming up with Miley Cyrus and Lana Del Rey for "Don't Call me Angel," the lead single off the Charlie's Angels soundtrack, which she just so happened to have executive produced alongside frequent collaborator Savan Kotecha and Scooter Braun, Ariana finds herself in another A-list trio on this standout track off the just-released LP.  Normani sounds right at home with these two frequent duet partners, while Nicki turns in one of her patented endlessly quotable verses. "He keep on calling me baby like I'm a bun in the oven" is an instant fave. Now where's the video?
Dove Cameron — "So Good"
And we thought we were excited about Dove's nascent solo recording career when she dropped her first two singles, "Waste" and "Bloodshot," last month. This latest release, written by pop impresarios Julia Michaels, Justin Tranter and Ariel Rechtshaid, is an absolute stunner. A feel good track delivered through a truly unique filter, it's no wonder she declared, via press release, "it's is one of my favorite songs that I've done." We absolutely can not wait to see what's next.
Sam Smith — "I Feel Love"
There aren't enough words in the English language to describe the vocals that jump out of this latest track from Sam Smith, a cover of Donna Summer's timeless tracks produced by Disclosure's Guy Lawrence. It's lush and euphoric and everything you'd hope it would be. If you're anything like us, it'll leave you marveling at their skills. "As a queer person 'I feel love' has followed me to every dance floor in every queer space from the minute I started clubbing," Sam wrote on Instagram. "This song to me is an anthem of our community and it was an honour and most importantly so much fun to have a go at it. Highest song I've ever f--king sang. But a joy." You can say that again.
Lennon Stella — "Kissing Other People"
Lennon, formerly one-half of the sister act Lennon & Maisy (who played Connie Britton's daughters on Nashville, you might recall) is all grown up and diving headfirst into a solo pop career of her own. After impressing earlier this year with the absolute bop "BITCH," she returns with this shimmery little synth-pop track all about the moment you realize you're finally, officially over your ex. It's relatable and a total vibe.
MONSTA X — "Follow"
It's been a bit of a rocky week for MONSTA X fans as the K-pop boy band dropped their latest EP, Follow: Find You, on Monday, only to learn that vocalist Wonho was leaving the seven-member group on Thursday. Dramatic departures aside, this heavy-hitting track off the eight-song EP absolutely f--king slaps. And the choreography in the video is next level. Get into it.
Hamzaa — "Write It Down"
Seconds into this latest track from the London-based soul/R&B singer, you'll understand fully why she's taking the UK by storm. Get into her now.
Mandy Moore — "I'd Rather Lose"
We are so here for this blues-y, California-in-the-'70s sound that Mandy is bringing for this new album. "I wanted to make a very California-sounding record - something that feels sunshiny and airy and natural, something you could listen to driving up and down the PCH with all the windows rolled down on a beautiful weekend day," she said in a press release of her new direction. After listening to lead single "When I Wasn't Watching" and this, we'd say mission accomplished.
Miranda Lambert — "Dark Bars"
Miranda's new album Wildcard, out today, is full of the sort of rollicking rock-influenced country that we've come to know and love from her. "Dark Bars" is not one of those songs. No, the album's closer, co-written by Miranda with frequent collaborator Liz Rose, is a more subdued affair, a downbeat exploration of the darker side of drinking that's just as beautiful as it is heartbreaking. An instant standout.
Miguel — "Funeral"
Spooky season may be over, but this new track from Miguel, the first single from an upcoming EP of the same name, finds the sultry singer embracing the dark side as he rides a pulsating electro beat. "I'm releasing more music all the way into the new year but 'Funeral' is the perfect song to get it started," he said in a statement released to Rolling Stone. "I've been exploring darker tones and themes for some time, this song whets the imagination for what's to come." Consider us officially intrigued.