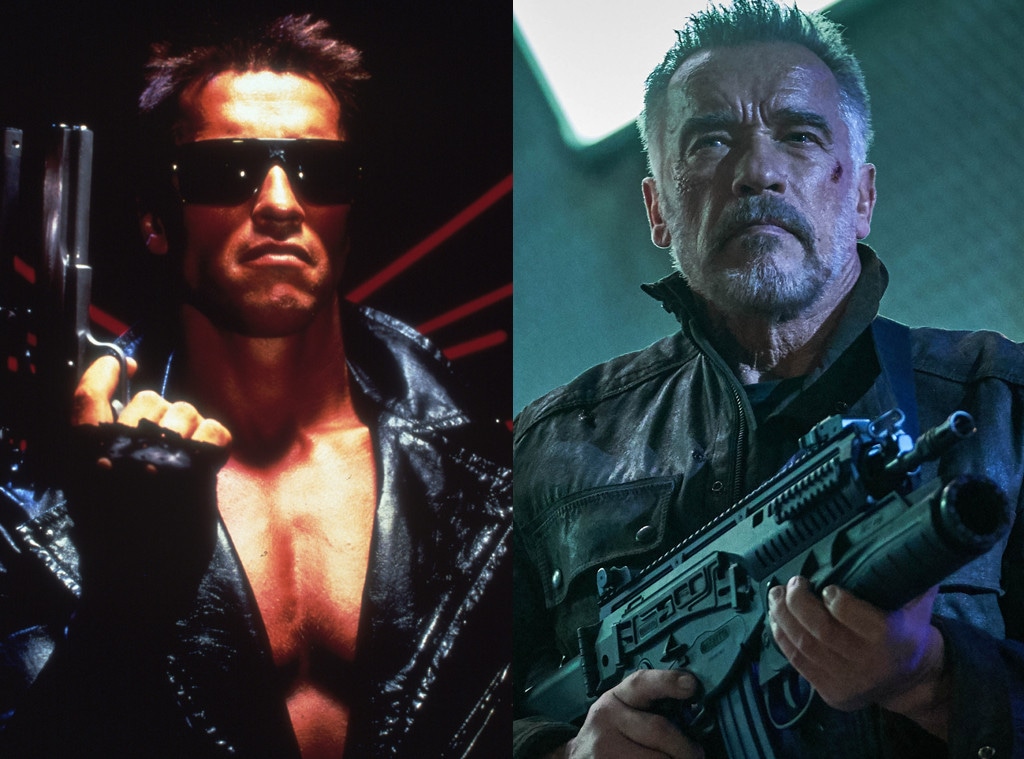 Moviestore/Shutterstock; Snap/Shutterstock
It's been a long and winding road for the Terminator franchise, which picks up Friday where it ostensibly left off in 1991, when Arnold Schwarzenegger's T-800 sacrificed itself to destroy the chip in its head that, while fueling an at least temporarily successful rescue mission, could potentially be used to help annihilate humanity one day.
Similar to how 2018's Halloween asked you to forget that there had been nine sequels/reboots/updates in the interim since the original in 1978, so Terminator: Dark Fate follows the action directly from Terminator 2: Judgment Day, never mind the three movies made in the meantime, two of them featuring Ah-nuld.
Which, for devoted fans of the James Cameron-directed 1984 and 1991 movies starring Schwarzenegger and Linda Hamilton, shouldn't be a problem. 
This go-round features the return of the original Terminator and Sarah Connor, never mind that T2 eliminated the former (he's a machine, no biggie) and Sarah was dead by T3 (which now doesn't count). The new unsuspecting young woman with the fate of the world in her hands who they're tasked with protecting is Dani (Natalia Reyes), and this time they're aided by Mackenzie Davis' Grace, Dani's adopted daughter from 2042, sent back to 2020 to help. 
And they're all trying to save Dani from Gabriel Luna's seemingly indomitable Rev-9, whose shape-shifting abilities make T2's ruthlessly determined T-1000 seem rather quaint.
Cameron, who sold the rights to his story for cheap in order to get his vision onscreen in the 1980s, got creative control back this year, in time to be credited as a producer, and Deadpool director Tim Miller took the reins behind the camera for Dark Fate.
But though the three Terminator movies that have come out since T2 didn't leave their cultural marks the way the first two did, a lot of familiar faces have volunteered for duty in this terrifying alternate universe over the years.
Moviestore/Shutterstock; Skydance Productions and Paramount Pictures
So before you re-immerse yourself in this timeline, here are all the other actors you forgot took a turn taking on the Terminators over the years.
Terminator: Dark Fate is in theaters now.