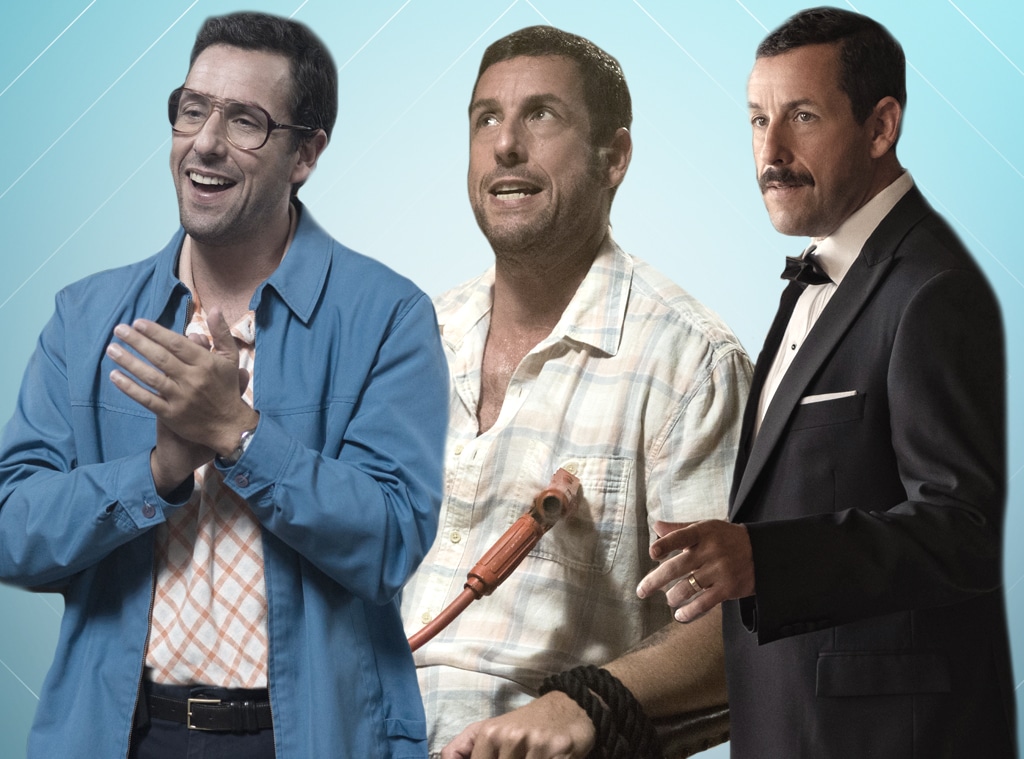 E! Illustration
At tonight's 2019 E! People's Choice Awards, there is a good chance that Adam Sandler may walk away with a trophy for his PCAs-nominated film, Murder Mystery.
The flick marks the comedian's fifth film that he has created exclusively for Netflix since his landmark partnership with the streamer back in 2014. At the time, news outlets were rocked by the company's announcement that they were signing the actor onto a four-movie deal, in which Sandler was guaranteed to make $80 million between his fees for both starring in and producing each project.
The reception to the ground-breaking deal was a mix of excitement from the many fans of the Sandman to film critics scratching their heads at why the entertainment brand would invest so heavily in a comic whose recent films had been all but dragged by their outlets.
However, Netflix's bet on Sandler paid off. Not only has the brand reported that his movies have ranked among the most-watched on the platform, but Sandler's success helped lay down Netflix's overall original programming strategy that has brought the streamer from a mail-in DVD service to one of the biggest competitors in media.
Before Sandler would become the king of Netflix originals, though, he had to become the celebrity the streamer was betting on.
Sandler's profile rose pretty early, getting cast on Saturday Night Live when he was only 23 years old. There, the comedian quickly gained a fanbase thanks to his still iconic musical sketches like "The Chanukah Song" and "Thanksgiving Song." He was a part of one of the golden ages of the series, playing alongside fellow cast members like Chris Farley, David Spade and Rob Schneider, all of whom would be critical to his post-SNL career.
Despite being a crowd favorite, Sandler revealed to The Daily Beast that he and Farley were shockingly fired during the show's summer hiatus in 1995. "Yes, we were [fired]," Sandler told the outlet. "We kind of quit at the same time as being fired. It was the end of the run for us. The fact that me and him got fired? Who knows. We were on it for a few years, had our run, and everything happens for a reason."
While he wouldn't know it at the time, the reason seemed to be that it was time for Sandler, and his group of funny friends, to break out as movie stars.
Right before being let go at SNL, Sandler's breakout theatrical movie, Billy Madison, had hit theaters and nabbed the top spot at the box office. Starring alongside Farley, the movie quickly became a comedy classic.
The year after, in 1996, Sandler took over the big screen again, starring in Happy Gilmore as a golf player whose raunchiness contrasted against the etiquette of the other players.
The two films quickly defined Sandler's brand of comedy: loud, wacky, character-y and not necessarily for everyone. However, the people who loved his shtick kept growing and kept showing up to his cinematic flicks in huge numbers.
By the 2000s, Sandler had become a bona fide box office draw. The Wedding Singer, Big Daddy, The Waterboy and Mr. Deeds had gone on to make up to eight times their budget back in worldwide ticket sales. Sandler also recognized himself that his taste in comedy clearly had an audience, and he started his own company, Happy Madison Productions.
Now both a star and producer, Sandler became a mainstay in the booming rom-com era of the mid-2000s, developing and starring in 50 First Dates and Click and then in 2011 sharing the screen with Jennifer Aniston in Just Go With It.
Then, a few things happened that would usher in the actor's new era.
First, Sandler's domestic box office draw started to fluctuate a bit more. While both sequels to Grown Ups and Paul Blart: Mall Cop brought in audiences, movies like Blended were considered box-office flops.
While some considered its failure as a sign that audiences were tiring of Sandler (especially since the actor's previous films with Drew Barrymore had performed well in the U.S.), the foreign box office was proving that Sandler's international fanbase wasn't waning. Blended only brought in $46 million of domestic ticket sales, but abroad it earned $81 million.
Secondly, in 2013, Netflix, desperate to establish itself beyond a DVD mail-in service and movie licensing depository, announced its big original programming play with House of Cards. The prestige drama series brought new subscribers to the streamer, and the company decided to go all-in on creating its own content.
The two seemingly appeared unrelated, until Netflix's CEO Ted Sarandos shocked the industry in 2014 with the announcement that Sandler had signed a first-of-its-kind deal with the company to produce and star in four original films.
Some lamented the deal, pointing to Sandler's lackluster box office performance as of late, but in an interview with The Hollywood Reporter, Sarandos made it very clear that he was confident making a calculated, data-driven bet on Sandler.
"The more global we become, the more access we have to global behavior data so we can see what people are watching all around the world," he explained. "Very uniquely, [Sandler] stands out for his global appeal to Netflix subscribers. Even movies that were soft in the U.S. [theatrically] outperformed dramatically on Netflix in the U.S. and around the world."
The same brand of over-the-top comedy that many had criticized Sandler for was actually a large part of his international appeal, according to Sarandos.
"He's physical. He's a highly relatable person on screen. His movies are very, very repeatable," he iterated to The Hollywood Reporter. "He's kind of grown up with us, and people see themselves with him from when he was the silly guy back in high school all the way to when he's the silly dad today."
Hector Vivas/Getty Images for NETFLIX
The bet paid off.
By 2015, Sandler's first film in partnership with Netflix, The Ridiculous 6, dropped on the platform. The satirical Western film brought in Sandler's long-time comedic friends, like Spade and Schneider, and set the template for Sandler's subsequent films with the company.
The Ridiculous 6 was nearly universally panned by critics, and faced controversy in the face of extras who walked off set over the narrative's portrayal of Native-Americans, but in terms of Netflix's metrics, it was heralded as a huge success.
Via The Wrap, Sarandos revealed at CES in 2016 that, "The Ridiculous 6…in the first 30 days on Netflix, it's been the most-watched movie in the history of Netflix. It's also enjoyed a spot at No. 1 in every territory we operate in, and in many of them it's still Nov. 1."
Sandler then followed up his debut film with The Do-Over in 2016 and Sandy Wexler the year after. Critics continued to weigh in on the artistic merits of each release, but clearly Netflix was more than pleased with Sandler's contributions as in 2017 the streamer announced a second four-movie deal with the star.
Watch:
Adam Sandler Claims Jennifer Aniston Snores!
Sandler was more than happy at his new home, telling IndieWire that his deal with Netflix has allowed him "invade every home around the world" and have control over his own international popularity.
Then, in 2018, fans were thrilled to see the on-screen reunion of Sandler and Aniston when it was announced that the two would be starring in a new film together called Murder Mystery.
The comedic movie centers around the two as a married couple who find themselves at the center of a murder investigation when a man is mysteriously killed aboard a billionaire's yacht. The film became a fun summer flick for fans of both actors, and went on to get nominated at the 2019 E! People's Choice Awards for The Comedy Movie of 2019.
The film was also a huge success for Netflix, with the official brand account sharing on Twitter that, "Over 30 million Netflix subscribers watched the film in its first three days, with 17 million of those fans being non-U.S. or Canada subscribers."
With the brand's guidelines of a "watch" only counting if at least 70% of the movie has been finished, that made the film an immediate pop culture phenomenon.
In a 2013 interview with The Independent, Sandler stated that when it comes to the critics who have dogged him over the years, "I know what they're writing about me. I could almost write the piece for them by now. But then remember that I didn't get into movies to please the critics. I got into it to make people laugh and have fun with my friends."
Now, with five Netflix originals films under his belt and a comedy special cheekily titled 100% Fresh, clearly in reference to his detractors, it's clear that Sandler got his wish and Netflix was right to bet on him.
He's king of Netflix, like or not, and the comedian has made it clear he'll keep doing what makes him happy either way.