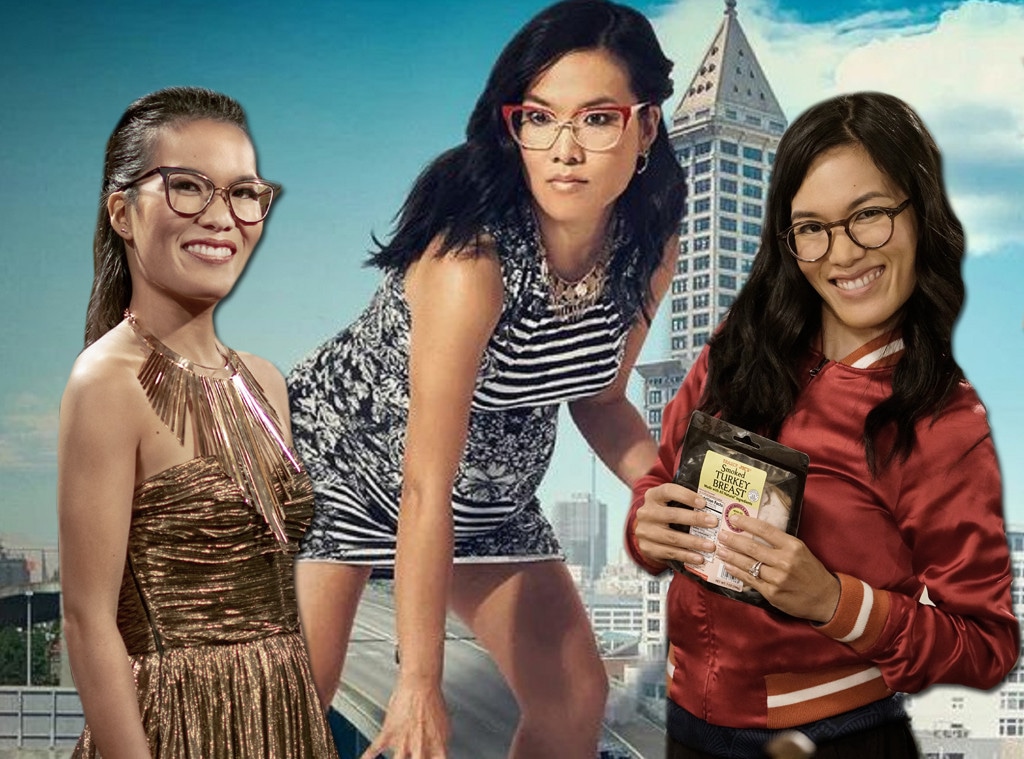 E! Illustration
Anywhere you turn, there is a pretty good chance you'll see Ali Wong.
Turn on your TV and you may end up watching an episode of Fresh Off the Boat, where Wong served as a staff writer, or catch her co-starring as a tiger mom on ABC's American Housewife.
Flip over to binge some Netflix and you'll find her face next to two of the streamer's most popular comedy specials (Baby Cobra and Hard Knock Wife), hear her voicing an animated character on the cancelled-too-soon program Tuca & Bertie or see her PCAs-nominated role in the adorable rom-com, Always Be My Maybe.
And if your friend asks if you are free this weekend, there is a solid chance they are asking because they want to go witness Wong's stand-up routine live on her current Milk & Honey tour. Although, good luck getting tickets, since all upcoming dates are currently sold out.
Wong is undeniably one of the biggest stars in comedy right now, having burst into public consciousness after 2016's Baby Cobra made the bawdy, energetic jokester into a star.
However, like any seemingly overnight success, Wong rise to the top was thanks to years of hard work honing her routine, never stepping away from the stage for more than two weeks since she committed to becoming a stand-up over a decade ago.
While Wong wouldn't go to her first open mic until she was 23 years old, she got her first taste for being an entertainer back when she was in elementary school.
The performer recalled in a profile with Vanity Fair that in the sixth-grade, she was playing a game with her classmates where she had to mime an activity, in this case washing an elephant, and that when she started to mimic washing the phantom elephant's butt, "People were, like, crying on the floor laughing. It was all physical. I wasn't talking or anything, and I was the youngest person in that camp."
"That was very defining," she continued. "I just remember it was all instinctual—it was just, like, feeding off the energy from them."
That knack for physical comedy would serve her nearly two decades later during her Baby Cobra special, where at one point in her act the comedian twerks and thrusts her legs over her head in a bit about making sure her husband's "Harvard nectar…drain[s] inside of me."
Growing up in her hometown of San Francisco, Wong also got involved with Cameron House—a Chinatown-based faith group—where she performed sketches and revealed to CAAM Media it, "Ignited my desire to perform."
She then went on to major in Asian-American studies while at U.C.L.A. and fulfill a Fulbright program where she went to Vietnam to study language. While she didn't major in theater or film, Wong still got involved in performing by being a part of school's LCC Theater Company, an organization established to, "Promote a voice for Asian American creative expression."
On the group's website, Wong's profile shows she wrote and performed in a variety of sketches. In a questionnaire on the site, she also wrote, "I love women who are raunchy, open and can admit that they rub the carpet," showing that even when starting out, her comedy style was risqué and real.
Joining the group would end up being a huge catalyst for her career, even if she didn't know it at the time, as the LCC Theater Company was founded by the then-undiscovered Randall Park, who quickly became close friend with Wong.
After finishing college, Wong returned to her native San Francisco and first started to perform stand-up. She recalled to NBC News' series "Off Color" that her first venue was a place called Brainwash Café that was part laundromat, part coffee shop and she joked, "basically a homeless shelter." In her profile with the The New Yorker, Wong also revealed that Park would come to San Francisco to also perform stand-up and would even crash on her couch.
Albert L. Ortega/WireImage
While breaking into entertainment is tough, and stand-up is a brutal medium, Wong had fallen in love with performing and was determined to make it happen.
In her recently released book Dear Girls, Wong writes that she, "Would go up every single night at a different mic and try a million new jokes. I mostly bombed. It's the only way to get good."
Eventually, she chose to set out to New York and told NBC News that she lived with six roommates in a SoHo loft while doing up to seven or nine sets a night to hone her act.
Even when Wong got married to (or, as she would joke in Baby Cobra, trapped) her husband Justin Hakuta, she revealed on Ellen that she still performed stand-up on her wedding night. Since she first grabbed the mic, she has only taken one real break, telling NBC News that her longest hiatus from the stage was when she went on her 13-day honeymoon.
She started hitting some early markers of success, such as booking a guest comic slot on The Tonight Show with Jay Leno in 2011 and performing on John Oliver's New York Stand-Up Show that is still up on Comedy Central's website, that gained her a following within the comedy community.
Meanwhile, Park was gaining prominence as an actor, being recognized as "Asian Jim" from an episode of The Office and building up a reputation as a solid, underrated comedic actor. Eventually, he got his big break when he was cast in 2014 on ABC's sitcom Fresh Off the Boat, which became Wong's big break too as Park advocated for her to be hired onto the show as a staff writer, despite her having no experience.
"There was all this speculation and paranoia that it wasn't going to be good," Wong recalled in her The New Yorker profile. However, in the same piece, Park was quoted saying that he always knew Wong's unique voice was undeniable.
"For a lot of Asian-American—a lot of minority—comedians, myself included, the crutch when you first start out is to do hacky ethnic jokes," he explained to the The New Yorker. "It's in a lot of ways an easier laugh. She never really relied on that." 
The success of the show—which was recently cancelled after an impressive six seasons—was both professionally and personally rewarding to Wong.
The introduction of the series debuted during the 2014-2015 television upfronts, where ABC included it as a part of a large block of shows featuring underrepresented voices, alongside black-ish and Cristela. Wong told NBC News the success of black-ish, along with other programs like Jane the Virgin, was needed because until then, "The concept of diversity was this big moral should…it's become this big business must, which is so great."
While she was happy being a writer on the series, she admitted she didn't want her day job to cut into her ability to perform and continued to do stand-up every night after spending her day in the writer's room.
Even though she was already a success by being a staff writer, Wong wasn't yet a household name as an individual. In fact, in early 2016 she recalls how she was unable to sell out a show in San Francisco to the point where Groupon had to discount a block of her show tickets up on their website.
However, she told the The New Yorker, that same theater was selling out her show in minutes just a few short months later. The difference? Netflix's release of her special, Baby Cobra.
Every sexist entertainment industry colloquialism that has been parroted for years (such as how women aren't that funny, people don't want to hear women joke about their bodily functions, if a woman hasn't made it by 30 it's too late) flew right out of the window in the wake of Wong's lightning strike of a performance.
The comedian's fiery act was unforgettable as she commanded the stage in black-and-white striped dress, visibly seven-and-a-half months pregnant, while joking about "taboo" subjects such as her own miscarriages and having HPV, all to the uproarious laughter of the audience.
Within days, it was the comedy special everyone was talking about and Wong had quickly become the firebrand comedian that appealed to everyone from fellow mothers to college students copying her red-framed glasses and striped dress for their Halloween costumes.
Wong also bristled at the concept of being called a mom comic just because she joked about her future child. In an interview with The Hollywood Reporter, she stated that, "Every male comedian of note who is over the age of 45 has a kid, and they talk about it and don't get grouped as 'dad comics.' We're just talking about our lives."
Tony Rivetti/Walt Disney Television via Getty Images
In the same year, Wong continued to appear everywhere as she was cast on the ABC sitcom American Housewife and voiced a role in the worldwide box-office smash The Angry Birds Movie.
In 2018, she also came back for a second Netflix comedy special, yet again with a second child in utero. This special, Hard Knock Wife, focused on the comedian reflecting on being a new mother, being her household's breadwinner and more with all the edge that audiences loved from the first special.
In the time that Wong's star had started to rise, and fans had flocked to the Internet to learn more about the comedian, outlets had stumbled upon her 2016 The New Yorker profile and latched onto a specific quote where she casually mentioned she and Park had dreamed up "our version of When Harry Met Sally" that they'd love to someday make.
Thirsty for more content from both of the now-famous stars, fans demanded the movie and before they knew it, Wong and Park got to work writing what became Always Be My Maybe.
Directed by the duo's Fresh Off the Boat showrunner Nahnatchka Khan, the movie centers around Wong's character Sasha Tran, a renowned celebrity chef, who briefly moves back to her hometown of San Francisco to oversee the opening of her new restaurant after breaking off her engagement. While home, she has a chance encounter with her childhood best friend and crush, Park's Marcus Kim, with whom she had a falling out with after they hooked up in high school.
After a hilarious midpoint where Tran brings a date—being Keanu Reeves playing himself—Kim and Tran fall back in love, interrupted by Kim's surprise when Tran still moves back to New York to continue her restaurant empire.
At the end of the film (spoiler!), Kim shows up to Tran's red-carpet restaurant opening and puts her career before his, saying he just wants to be wherever she is and asks, "Can I hold your purse for you?"
It's a delightful installment to the returning rom-com boom that turns the genre on its head. Like Wong, Tran is successful and her career's demands means a relationship will only work if her partner respects her lifestyle as much as she does.
The film is also inherently political, joining the PCAs-nominated Long Shot among romance movies where the career-driven woman isn't painted as someone who needs to slow down to find love, but instead as someone who needs a partner who is willing to support her ambition.
The movie went on to become a darling to both critics and fans, with Netflix breaking its rare rule of not sharing analytics to report that 32 million people had watched it in the first four weeks, and proved yet again that Wong's voice has made her a force everywhere from the stage to television and film.
It's that hard work of getting to this place that she documents in her book Dear Girls, which she has dedicated to her two daughters Mari and Nikki.
She told NPR that the inspiration for the memoir came from a letter her late father had written for her that began "Dear Alexandra" (Wong's full first name) and how she wanted her own girls to get to know who she was before she became the comic we all know her as.
She jokes that they won't be allowed to read the book until they are older, so until that point we have no doubt that her girls will grow up knowing Wong as one of the most influential voices in comedy, and there's no doubt that whatever the star does next will contribute to that legacy.