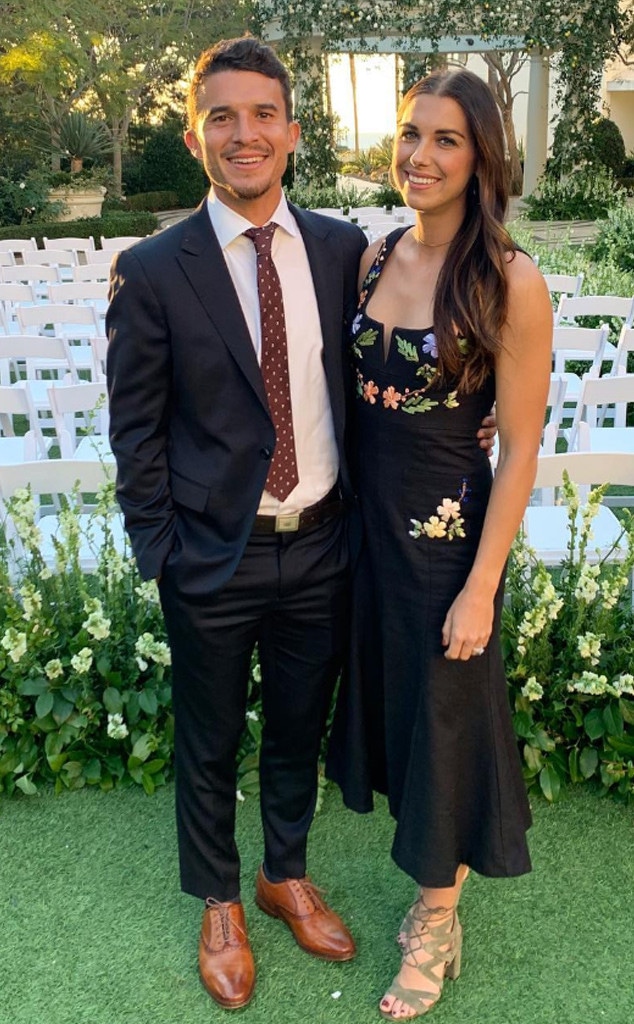 Instagram
For Alex Morgan, the future is female. And, we're guessing, quite skilled on the pitch. 
Just last week, the 30-year-old, one of soccer's most decorated athletes with two World Cups, an Olympic gold medal, several ESPY Awards and a couple wins for U.S. Soccer Athlete of the Year, announced that she and her husband Servando Carrasco, a midfielder for the L.A. Galaxy, would be welcoming their first child together in April.
"Can't wait to meet my baby girl," Carrasco, 31, wrote in his Instagram post, showcasing shots from the couple's maternity shoot. "We are already in love and we haven't even met her yet," Morgan added of their daughter, who should be ready to join the women's national team in a decade or two. 
Because there's just no way for this love story to end than with a teeny soccer protégé made up of Mom's striking skills and Dad's playmaking abilities. Not that the college sweethearts' tale is anywhere close to over. 
Coming of age in the nineties just down the interstate from each other in California, both Morgan and Carrasco were big names in the soccer world. Playing for his high school team and the ultra-competitive San Diego Surf Soccer Club, the Tijuana, Mexico native Carrasco collected an impressive array of titles—Western League Player of the Year, CIF Player of the Year, and the San Diego Union-Tribune All-County Player of the Year—before accepting a scholarship to play at University of California, Berkeley starting in 2007. 
Growing up in San Dimas, Calif., Morgan's path was slightly different. A multi-sport athlete, she didn't get into club soccer until the age of 14, but once she truly invested, she thrived. A three-time all-league pick at her high school, she was named All-American by the National Soccer Coaches Association of America and, like Carrasco, participated the Olympic Development Program. While an ACL injury delayed her debut with the United States under-20 women's national soccer team until 2008, she also landed at Berkeley in 2007. 
Standouts on their respective teams (Carrasco served as co-captain; Morgan led her team in scoring as a freshman and finished her career ranked third all-time in goals scored  and points for the Cal Golden Bears), it just made sense for soccer's king and queen to be together. 
"She was very raw," he told MLSsoccer.com in June. "Clearly, she had the athletic ability. She was the fastest player on the team. She had an amazing left foot. She could strike a ball on a rope. And then she started to add things to her game, brick by brick. She got better tactically, she started watching more soccer, her first touch got better."
Their post-collegiate careers landed them in opposite ends of the country with Carrasco drafted to the Seattle Sounders in the second round of the 2011 Major League Soccer SuperDraft and Morgan landing spots on the Western New York Flash (as the first person drafted in Women's Professional Soccer) and the national team. The youngest player, she nonetheless made her mark in the World Cup, making a goal in the title-game loss to Japan and finishing eighth in voting for that year's FIFA World Player of the Year.
It was what she did the next year at the London Olympics, though, that would cement her status as one of the game's most recognizable players. Her goal, scored against the Canadian team in extra minutes, sent the U.S. to the gold medal match where, this time, they toppled Japan. 
"It's all kind of a blur now," Carrasco told MLSsoccer.com, but he remembers the broad strokes of what followed. "It was when she scored that goal to push them into the finals, and it just went from, like, 'This girl's pretty good' to 'This girl's going to be pretty amazing.' That was the moment that kind of propelled her into that stardom mode, or whatever you want to call it. That's probably when her life changed in terms of all the attention." 
Since then, she's made a movie, 2018's fantasy-sports comedy Alex & Me, co-authored The Kicks children's books and a 2015 memoir and fronted a number of ad campaigns and charitable initiatives. Still, notes Carrasco, "She remained the same person, always stayed true to who she is, and I think that's incredible." 
Stanley Chou/Getty Images
By the time she became a household name, she'd left New York behind to join national teammates Hope Solo, Sydney Leroux and Megan Rapinoe in Seattle, making her way back to the west coast—and Carrasco. 
Reunited for the time being, the two cemented their forever, the 5-foot-10 athlete proposing to his longtime love during an off-season December 2013 trip home to Manhattan Beach as literal fireworks exploded behind them. "He was planning the proposal for that night and asked me to stand up, and then asked me to marry him," she recalled to The Knot. After accepting his custom ring, "We rode our beach cruisers to my dad's house to celebrate and have champagne with our family and friends."
Some 180 of them joined the pair at Santa Barbara's Rancho Dos Pueblos a year later for their New Year's Eve vows, dining on quesadillas and homemade churros (a nod toward Carrasco's Mexican roots) and dancing to music from the live band. "Your wedding day is just the one day that you can never replicate," Morgan told The Knot ahead of the rustic-style blush-and-ivory outdoor affair. "Having everyone who means so much to you in one place at the same time is the most special feeling." 
The evening, complete with midnight balloon drop, lived up to her expectations. "To be surrounded by our family and friends tonight in such a beautiful location, and on New Year's Eve to boot, has just been magical," she told People. "We are both so happy, grateful and excited to start our lives together as Mr. and Mrs. Carrasco. I truly married my best friend."
Because while it'd be easy for the couple to fall victim to the type of competitiveness and comparisons that have torpedoed other couples who work in the same field, the longtime couple are having none of that. 
"I'm not competing with her," he insisted to MLSsoccer.com. "I love her for the person she is, and what she accomplishes is almost secondary to that. Of course, I'm proud of her, there's no doubt about it." They just don't waste all their time together talking shop, well aware of how much harsher critiques feel when they're coming from someone you love. 
While Morgan allows that her husband offers her choice insights from "just understanding the game. He sees it in a different way than I do as a forward, so it's always good to hear from him," they don't make it a point to engage in post-match reports. 
"I'm not going to go out of my way to tell her that she played poorly," he said. "And if she did the same thing for me, well, that stuff wouldn't be good for our relationship. She has a lot of people that do that for her, and I have a lot of people who do that for me. Last thing I want is to hear it from the person I love. If she wants to talk about it, we'll talk about it. If I want to talk about it, we'll talk about it. But soccer's such a huge part of our life, and when we're off the field, we're normal people. We have hobbies. We do stuff." 
Among their favorites: bingeing episodes of This Is Us, sharing USA Today crossword puzzles and hitting the beach—that is when they're on the same coast. Because after a year together in Seattle, he was off to Houston and she landed in Portland. From 2016 until the end of 2017, they were both stationed in Orlando, but that stretch of living in the same city came to a close when Orlando City declined Carrasco's contract option and he was sent to L.A. 
"I hoped that we would continue here together, that was our plan two and half years ago," Morgan told the Orlando Sentinel in March 2018, months after her husband relocated. "I don't want to sugarcoat it, it's not easy."
It's not as if they hadn't endured such distance before. "I think we've spent a lot of time away from each other, so we kind of understand that side of things," Morgan said. "Obviously, with the national team, I'm away for a couple weeks at a time, all the time. So we've gotten used to that."
Still, she continued, "I think what was the hardest is just us expecting to live together and to kind of share our lives together here in Orlando. Unfortunately, that didn't happen. Just moving forward, I feel like as much as we can see each other on off weeks or whatever it is, will definitely help."
As did maintaining a healthy sense of perspective. "It's far from ideal to be that far from your wife," Carrasco told Pro Soccer USA last year. However, "we know that this is temporary. We're only going to be able to play professional soccer for five to six more years. We've got to take advantage of this, and know that when we're done playing, we're going to be together."
For now, though, the miles between them and their divergent scheduling can be a struggle. Take this year's World Cup, which forced Carrasco to rush out to France to catch the championship game July 7. His own games had left him tied to the States up until that point, but he was determined to be pitch-side for that final match. 
Maddie Meyer - FIFA/FIFA via Getty Images
"It's not a short flight, so I'm keeping my fingers crossed, and hopefully it works out," he told MLSsoccer.com. "But I'll be supporting from here, for sure." 
He made it, of course, presenting his wife with a congratulatory kiss after she and her teammates secured the trophy. "She worked incredibly hard to be where she is, so clearly I'm going to celebrate her," he said. "Yeah, she's a badass woman." 
Now, he'll have two badass women to fete, a challenge he's eager to accept. 
"When my nieces talk to her and they look up to her, that's as good as it gets," he told MLSsoccer.com of the pride he feels for his wife. "I mean, the soccer stuff, yeah, for sure, cool. But to see her on the '100 Most Influential in the World' in Time magazine? I'm like, damn. She's making a difference."