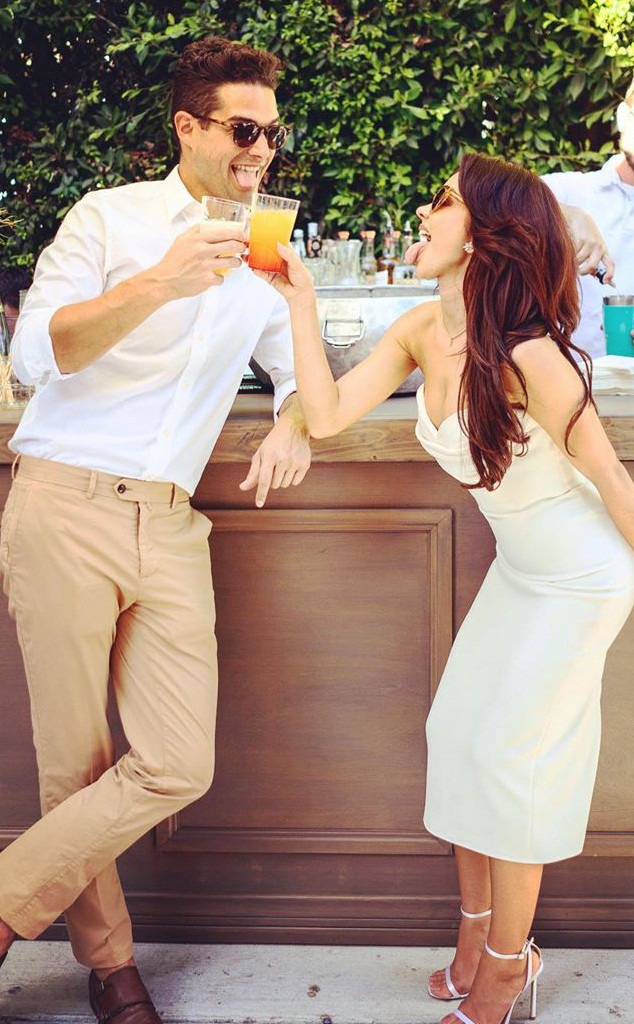 Instagram
Wells Adams and Sarah Hyland were in pure bliss at their engagement party this weekend, and Adams just spilled the tea on the entire thing.
During an episode of his Your Favorite Thing podcast, Adams revealed that the Modern Family star planned the entire event.
"I had no idea what to expect, because Sarah did it all!" Adams admitted to co-host Brandi Cyrus. One thing he definitely didn't expect about the party's location (the Lombardi House in Los Angeles) was learning that multiple Bachelor moments had been filmed there!
"[Bachelor producer Elan Gale] showed up, and he was like, 'Yeah! We filmed a rose ceremony right there,'" Adams revealed. And the Bachelor history at the Lombardi House didn't stop there. Adams said that Caelynn Miller-Keyes, who attended the party with new boo Dean Unglert, pointed out that it was the same place where Colton Underwood dumped her in 2018.
It's not clear if Gale and Miller-Keyes were speaking of the same ceremony, but awkward Bachelor memories aside, the party was a big success!
As said Adams, "We got wasted." Naturally. They also played some fun games!
"We sat back to back, and I had one of my shoes and I had one of her shoes and Matt Shively was the host of it," the Bachelor in Paradise alum explained. "He asked questions like, 'Who initiated the first kiss?' Then we had to put up whosever shoe did it, and for the most part, we got them all right."
He also dished that the weekend's events marked the first time he and Hyland's parents ever met!
Other fun details of the garden party chic celebration included a bar cart that wheeled around wine, beer and soda water, and an intimate (but still star-studded) guest list. Newly engaged couple Adam DeVine and Chloe Bridges were in attendance, Hyland's Modern Family co-stars Ty Burrell and Jesse Tyler Ferguson were there and, of course, a bunch of pals from the various Bachelor shows all showed up to support the happy couple.
The 35-year-old also gushed to Cyrus that his fashion-forward fiancée has inspired him to up his style game. "It's so hard to, like, keep up with Sarah in terms of fashion," he said of his 28-year-old love, who donned a white Christian Siriano dress for the party. "She got Brad Goreski over here...It's so impossible to keep up with it!" But keep up, he did, as the reality star shared that he had a stylist help him select his look.
All in all, it sounds like it was a great party! It's OK that our invitation got lost in the mail.