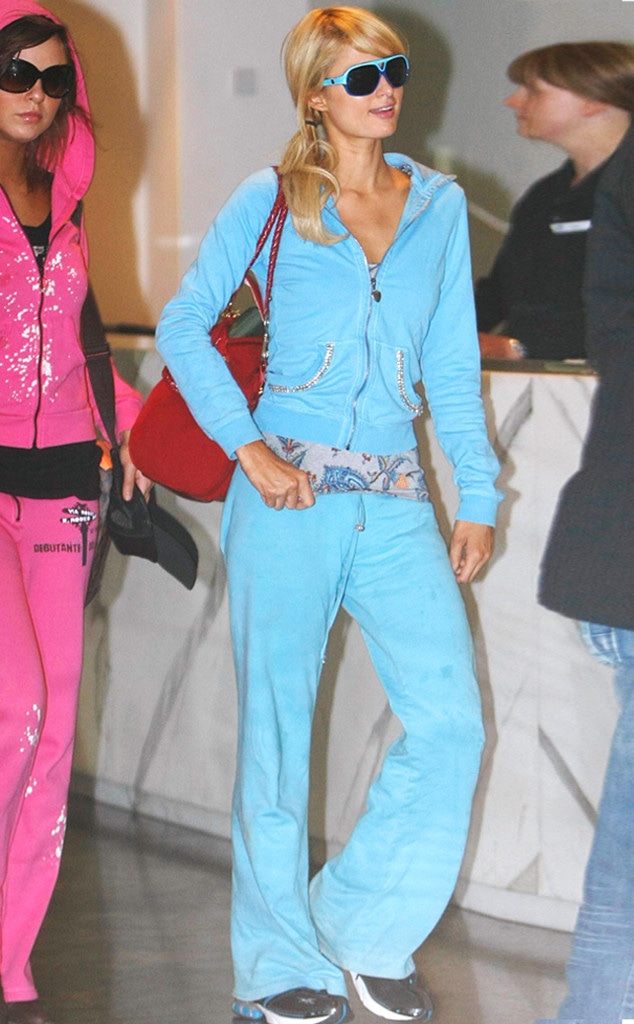 PhotoNews International Inc./FilmMagic
Nearly two decades ago, Paris Hilton helped make the Juicy Couture tracksuit hot—and now we know the extent of her love for the look. 
It's hard not to instantly remember the socialite and mogul donning one of the colorful velour sets when you think of the early 2000s. According to a new interview with The Guardian, the star's affinity for the iconic look has still not waned all these years later. 
"My everyday wear is very comfortable. I love Juicy Couture's velour tracksuits," she told the newspaper. As for the scope of her tracksuit collection, Hilton estimated, "I probably own 100 of them in every color." *Cue jaw drop*
Nowadays, the 38-year-old star turns to the matching hoodie and pants for a downtime look. "That's my uniform when I'm chilling at home or going to the beach—anything that doesn't involve a red carpet," she told the newspaper. 
As she told E! News in 2017, "I never stopped wearing them...I've loved Juicy since the day they came out—ever since they launched. Actually my friend Laura was their publicist, so I literally was sent every color and every style. Every single week, I was getting new shipments in. And I'm so glad I actually kept the ones I really loved because now they're back! I don't think there's anything more comfortable to travel in, to work out in or to walk around the house in than a Juicy tracksuit."
Of course, the fashionista is just as famous for her trendsetting daywear as she is for making a sartorial splash in ultra glitzy night out looks, including the plunging sparkly and slinky Julien Macdonald dress she unforgettably donned for her 21st birthday in 2002. The style has since experienced a resurgence with stars like Kendall Jenner and Chiara Ferragni donning similar dresses as of late. 
Not to fret—Hilton encourages the look-alikes. 
"I feel proud every time I see someone wearing a version of this look," she told The Guardian. "When I moved to New York, I would always wear these outfits that stood out–no one was dressing that way–and now I see them everywhere. I love being a fashionista, it's amazing to start trends and to see my picture on moodboards."