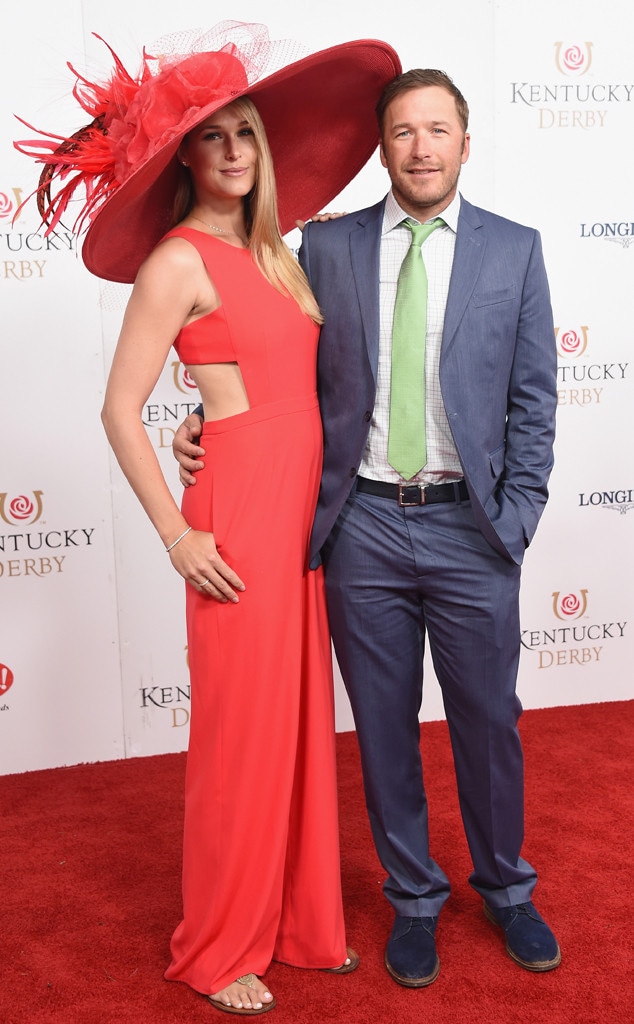 Michael Loccisano/Getty Images for Churchill Downs
Special congratulations are in order for these two.
Bode Miller and his wife Morgan just welcomed two identical twin boys to the world, the couple announced on Tuesday's Today show. "They finally arrived," the proud dad told hosts Al Roker, Savannah Guthrie and Hoda Kotb over the phone. "They had us waiting and waiting and waiting. It was driving Morgan crazy."
For the Olympic athlete, delivering the twins was one of the "more crazy" experiences of his life. After all, the couple's midwives didn't make it to their house in time for the birth. "By the time they got there, me and my mom were both holding the babies," he revealed. "Luckily, my mom was a midwife, but she hadn't delivered babies in 20 plus years and she never delivered twins."
"We're both pretty relaxed and pretty casual," Bode continued. "But we were certainly not qualified to be doing an unassisted home delivery of twins."
Now, mom and her boys are doing well. "We're still floating from the whole experience," Morgan raved. "It was just so amazing to have it go as spontaneously but as well as it did. And for Bode to get to deliver his identical twin boys with his mom...it was pure magic."
As of now, the newborns don't have names, but mom and dad will get around to it.
"That's one of the advantages of doing it at home. In the hospital, they won't let you out of there unless you name," he joked. "We'll come up with something. They have such different personalities right now and it's going to be cool to kind of let them be a little bit."
McCall Miller Photography
The alpine ski racer and beach volleyball pro took to social media in August to announce they were expecting. 
"Twins! Identical twins!" Bode wrote on Instagram. Couldn't be more excited to grow this beautiful family my wife and I have created. Dream come true."
Their announcement came a little over a year after their 19-month-old daughter Emeline "Emmy" Miller died in a tragic drowning accident. Four months later, the couple welcomed their son Easton.
Morgan later opened up about the feelings she experienced after losing a child while pregnant, calling it  "the most confusing experience of my life."
"Now, I can actually say with joy and excitement that we are expecting identical twin boys," she continued. "From the day I met my husband, he has always said he wanted identical twin boys born on his birthday. We are due on the lucky day/angel number of 11/11 which is not far from @millerbode birthday of 10/12. From the beginning of this pregnancy, we knew Emmy had her hands in this miracle somehow." 
Congratulations on the couple's two beautiful miracles!