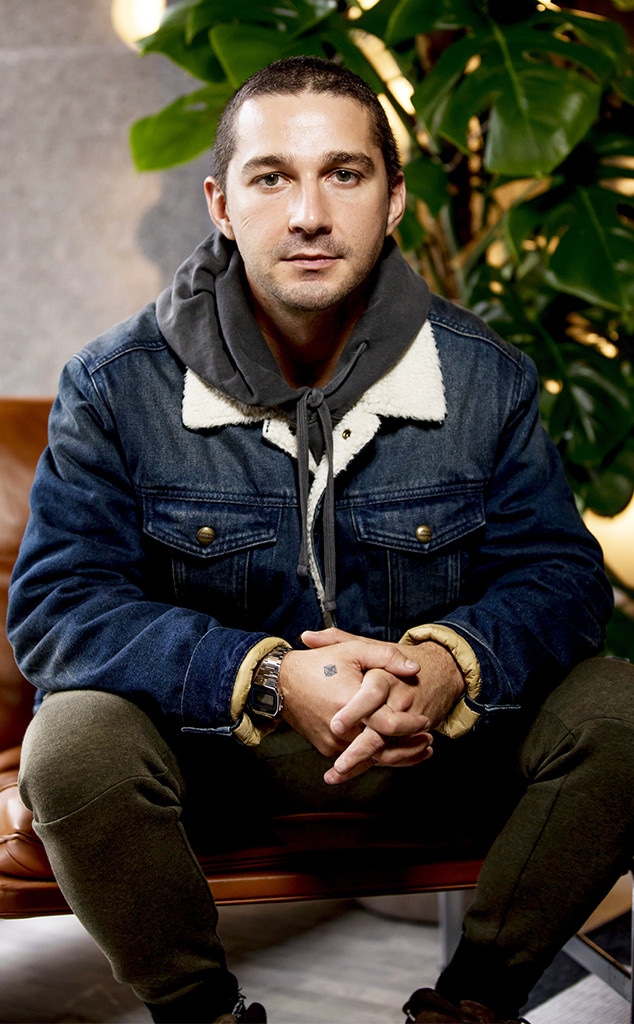 IBL/REX/Shutterstock
There's more to Shia LaBeouf than meets the eye.
Shia's made headlines numerous times throughout the course of his career, mostly for public outbursts, but rarely has any explanation ever been offered. But with the release of his film Honey Boy, the actor is slowly but surely talking about the many events that led to the creation of this autobiographical film.
Of course, it all begins with his days as the star of Even Stevens on Disney Channel. It was essentially his big start and all the pressure was on him to keep the money coming in. He tells The Hollywood Reporter's Awards Chatter podcast he always felt that if he "had more money, there'd be no fighting" between his parents, who split when he was just five. He says that working was an "opportunity to be able to minimize the drama" in his life. 
But, as anyone who works in Hollywood can attest, there's no guarantee a show will be renewed. This is especially true of Disney, who Shia says used to cancel a show after three seasons because at that point they'd be required to raise salaries and "Disney wasn't trying to pay salaries like that."
Fortunately, Shia continued to book roles, including in the classic movie Holes. It was during his time on the set that he formed an almost father-son type of relationship with Jon Voigt, something that he lacked with his actual father. "I don't know why my dad trusted him. My dad was always obsessed with like chicken hawks, so my dad would never leave me with men, like grown men, except Voigt. I guess they had a kind of man shake and talk at a certain point," the 33-year-old shares.
From there, they would talk about "craft" or Jon would give Shia acting homework to do after they wrapped for the day. Shia explains that his keen interest in growing as an actor, plus the compliments he showered Voigt with, was what formed this bond between them. He jokes, "It wasn't cause he'd been watching Even Stevens." 
Watch:
Shia LaBeouf & Mia Goth Divorce Amid FKA Twigs Dating Rumors
The Honey Boy star adds that it helped he'd been going to Alcholics Anonymous with his dad for so long, so he knew "how to talk to old timers." 
Meanwhile, Sigourney Weaver actively avoided him because his father was "hitting on her all the time," which created an even stronger bond between him and Jon. 
After filming on Holes ended, he says he and Voigt would continue to foster this friendship, while also working together on projects like Transformers. "He had like a vacancy in his life where he kind of wanted to be a pops to someone," Shia says. "He was always a guy in my corner."
But not all people were as supportive as Jon, whether it be because of Shia's intrusive father or because Shia himself had developed a strong personality of his own. He says that as his career progressed, studios, or more accurately the marketing departments, would resist working with him because they knew he'd "s--t talk" the movie if he didn't like the end result. "Which is a completely logical assessment of who I was at the time and how I was moving," Shia explains. 
So as his reputation for being somewhat difficult became the talk of the town, he began to lean in to more indie roles. This is how he was offered many opportunities, some of which have been rumored but never confirmed. According to Shia, he was in fact offered the opportunity to star in Jesse Eisenberg's Social Network, but he was asked to first audition for David Fincher. However, this audition never took place because Shia felt he "didn't have the time to prepare." 
As for 127 Hours, which earned James Franco an Academy Award nomination for Best Actor, he accepted the role but had to release it because of a previous injury to his hand. And when it comes to Bourne Identity he straight up turned down the role. 
Meanwhile, in his personal life, he struggled with alcoholism, unaware that it was a coping mechanism for the post-traumatic stress disorder that he developed in his childhood. This all came to a head when he began filming the recent film Peanut Butter Falcon in Savannah, Georgia. As some will recall, this was the setting of his heated altercation with a black police officer, which landed him in jail.
According to Shia, the story was entirely blown out of context, because people were unaware that he was being "catcalled" and called a "f--king liberal" for his political beliefs, which only served to heighten his anger.
Nonetheless, he returned to work with the promise of completing rehab afterward, because he made a promise to his co-star Zack Gottsagen, who has Downs syndrome.
Although, returning to the set wasn't an easy task. Shia says it was clear that nobody on the film crew wanted him there, save for his co-star. He shares, "I'm feeling like people on set think I'm a racist, no, believe I'm a racist and I'm feeling all of that and don't want to be alive. And I'm on this set, can't look anybody in the eyes and the only person I feel like is giving me any kind of connection non judgmentally is coming from Zack."
"He basically looked me in the eye and said don't—I'm going to paraphrase—but don't f--k this up for me, this is my only chance. I had made promises to him and talked to his parents and if you can empathize with that position where you're looking at somebody you deeply love and had made promises to and know that he's done everything right and that you have a disease that is going to f--k up everything and that so much is riding on this. I felt all of that," he continues.
Shia says that this was when he realized he'd hit his rock bottom. After his arrest, he stopped drinking entirely and hasn't touched a drop of alcohol since then. 
After that, he says he "resigned" himself to the idea that he either go to jail or seek help from the professionals. This ultimatum of sorts is what led to him finding out he has PSTD. He reveals, "It was the first time I'd been told I had PSTD. I just thought I was an alcoholic, like a true blue drunk and I needed to deal with that. I knew it was an issue but didn't know there was this extra whole other thing that was hindering my ability to have any peace in my life and my ability to deal with people."
He began doing exposure therapy, which helped him process the trauma that he experienced during his time with Disney, the stress from having an alcoholic father and the pressure from years of living in the spotlight. The feelings of turmoil he had during therapy was then poured into the Honey Boy script that he says he viewed as a "route towards pulling death out of my pocket and slamming it against a wall."
Amazon Studios will release Honey Boy in theaters on November 8th, 2019.