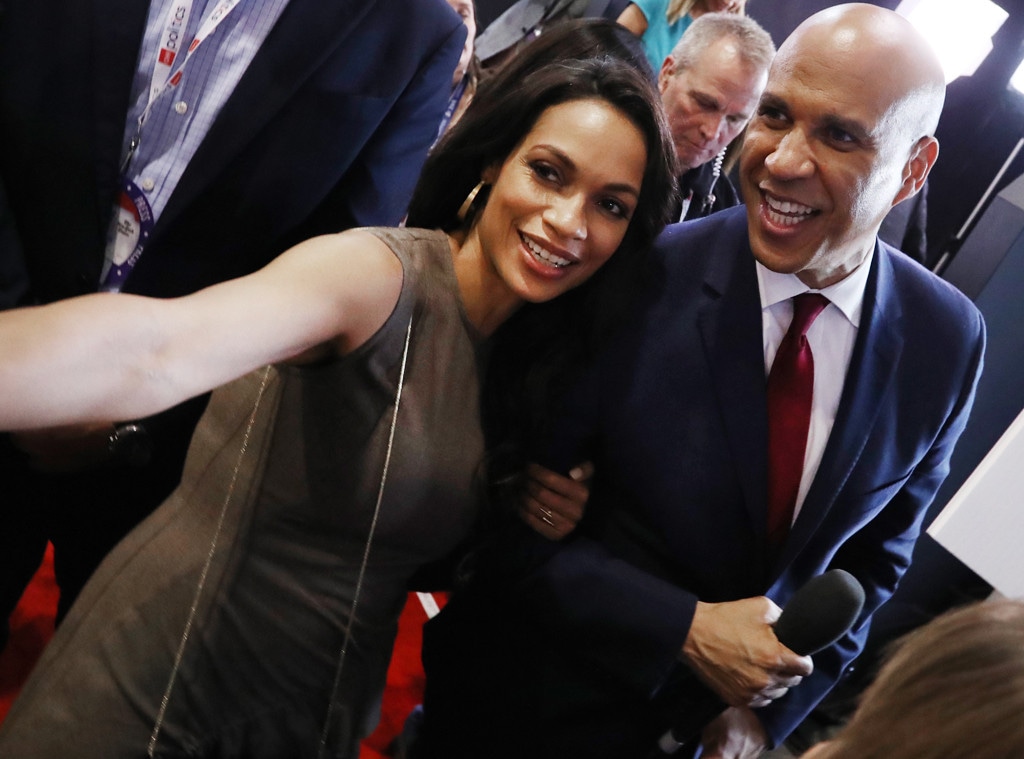 Matt Baron/Shutterstock
In 2016, Rosario Dawson was a hardcore Bernie Sanders supporter and dating Eric Andre.
How things have changed, for the country and her love life.
Sanders ran again for president in 2020, but it was New Jersey Sen. Cory Booker who earned the actress-activist's wholehearted endorsement.
"I'm in love!" Dawson exclaimed to the Washington Post in September 2019. "I am absolutely in love, and it is so exciting."
So, your eyes did not deceive you—that was the presidential hopeful on Dawson's arm at the premiere of Zombieland: Double Tap that summer, as it was Dawson looking proud while Booker was doing interviews after the fourth Democratic debate.
Indeed, Dawker is out there, and loving every minute of it. (Or do we prefer Bookson? Rocorio? Cosario? Future POTUS and FLOTUS?)
Their paths first crossed in the summer of 2018 at a fundraiser for Maryland gubernatorial candidate Ben Jealous at which, Booker remembered to the Post in October 2019, there was "no love connection" and he was "probably dating somebody" when he first met the Sin City star.
But they talked for hours the next time they saw each other that fall. "I had trouble asking for her phone number," Booker admitted. "I think I said something really stupid like, 'Uh, how would I get in touch with you?' And she mercifully said something like, 'Oh, you want my phone number?' And my insides were like, 'Hell, yeah!'"
Dawson explained, "He's so charming and so confident and so capable, but it's not like that translates to being some super-smooth kind of guy. That's not his style. What wins me over with him is definitely the dad jokes."
The couple marked their one-year anniversary on Oct. 14, 2019, but they didn't spark dating rumors until 10 months prior when they caught a performance, along with his niece and her daughter, Isa, of Dear Evan Hanson on Broadway.
Bruce Glikas/Bruce Glikas/WireImage
Booker announced he was running for president in February 2019, so public sightings of them together remained few and far between due to their respectively packed schedules—but it sounds as though they were already pretty serious after just a few months of dating.
Days after he jumped into the race, Booker confirmed the existence of a "boo" in his life while on The Breakfast Club, and said Charlamagne Tha God's assumption that he'd be moving into the White House as a bachelor was premature. "First of all, there's two more years until [I'd be there], give me some time," he pointed out. "...My girlfriend might listen to this."
Asked if his girlfriend would make a nice first lady, Booker replied, "Yes, she would." (Charlamagne was unaware that Booker was dating anyone, but co-host Angela Yee was fully in the know. "You must not read the blogs, Charlamagne," she teased.)
In March 2019, a beaming Dawson—whose purse was accessorized with a Booker campaign button sporting his slogan "We Rise"—told a TMZ reporter at Washington D.C.'s Reagan National Airport that the senator was "an amazing human being" and answered in the affirmative when asked if he'd make a good president.
Still smiling as the cameraman followed her through the airport (that's how you know someone's super-happy), Dawson said their relationship was "so far, so wonderful. He's a wonderful human being, it's good to spend some time together when we can, [we're] very busy." Asked if she'd be following in Jennifer Lopez's footsteps by getting engaged soon (J.Lo then newly betrothed to now ex-fiancé Alex Rodriguez), she gave a wow-you-went-there laugh and said she had "no idea."
"I am just grateful to be with someone I respect and admire and love so much," Dawson added, "who is so brilliant and kind and caring, and loving."
Matt Burton / Splash News
That was hardly the first time that Dawson had run into TMZ at the airport, but it quickly became apparent that dating a U.S. senator and presidential candidate was a whole new scrutiny ball game. Though she's been acting since she was a kid, and fighting for causes like LGBTQ+ and immigrant rights since she was big enough to hold a sign, the New York native, who's of Afro-Cuban and Puerto Rican descent, has managed to lead a more private life than some. And she's always marched to the beat of her own drum—a drum that often sent her right up the Capitol steps.
On The Ellen DeGeneres Show in March 2019, Booker called her "just an incredible human being." 
"As the relationship grows, it's difficult [being under the microscope]," he added, "but she is just a deeply soulful person and has taught me a lot of lessons about love already, that sometimes you show the greatest strength when you make yourself vulnerable. She really has this nurturing spirit that's made me more courageous—not just in the love that I project and want to see in our country, but I think even in our personal relationship, to love more fearlessly. So I'm really blessed to be with someone that makes me a better person."
She also, incidentally, made him an actor. Booker had been on Being Mary Jane and Parks and Recreation, but only as himself. Yet he was ready and able when the call came for him to step up and do his girlfriend a favor when she was directing her first short film, Boundless.
Eric Charbonneau/Shutterstock
"What I would like to say is how grateful and appreciative I am for the wonderful man that I am dating, who's incredibly supportive," a beaming Dawson told APTN in April 2019, revealing that Booker delivered when she asked if he could fill in as "Kevin's dad." "So, I just want to say thank you, and my baby now is officially an actor as well."
A few months after Booker secured a promise from Ellen DeGeneres that she'd be involved in the proceedings should he and Dawson get married in the White House, they spent the 4th of July in Nevada while Booker campaigned, after which they both spoke at the Essence Festival in New Orleans. But they spent a lot of time apart before Booker had time to join Dawson in L.A.—after which her schedule finally cleared enough so she could attend the fourth Democratic primary debate.
They didn't see each other in person for two months at one point, but they always tried to FaceTime twice a day. And distance only made these hearts grow fonder.
"I laugh because it's like, 'Okay, you're flying and connecting through here. Maybe we can meet at the airport hotel,' " Booker explained how they made it work to the Washington Post (by phone, because he was busy campaigning). "It has made for great adventures of, you know, making seven hours together be magical."
"That is challenging, we don't always get to be there in support of each other," Dawson acknowledged to Extra, while also excitedly confirming that her boyfriend would be available to attend the Zombieland: Double Tap premiere.
"I feel like I'm dating Captain America," Dawson, whose character in her USA series Briarpatch was having an affair with a shady-sounding senator, gushed to Variety during the Toronto International Film Festival in September 2019. "I mean he's just such an amazing, brilliant, kind, empathetic, beautiful, loving human being—Cory—and then this character [played by Enrique Murciano] has that as his sort of face. They could not be more different characters."
Booker was a guest on Jimmy Kimmel Live and Dawson was backstage when Kimmel showed off some potential campaign bumper stickers for the presidential hopeful, including one reading, "GOOD ENOUGH FOR ROSARIO DAWSON. GOOD ENOUGH FOR YOU. CORY 2020."
Dawson gave that one a thumbs-up.
Back in L.A. after the debate, Dawson, asked how things were going, replied, "really, really well," during an appearance on Conan.
"I've been working this whole time so I haven't been able to see him as much on the trail as I'd like," she continued, "and that's where he is. So I'm going to Iowa with him soon, which I'm really excited about."
Conan O'Brien marveled over how there was any oxygen left for a relationship when someone is running for president. But apparently Booker was adept at keeping the romance alive while he was on the road.
"I don't know, he sends me a song every day that we don't wake up together, so that immediately starts the conversation," Dawson revealed. No, Booker doesn't write the songs, she assured a playfully agog O'Brien, but "he sings to me all the time, though!"
None of this inside info about Booker comes as a surprise. The fit, vegan U.S. senator who played football at Stanford, loves uplifting music and claims vegetables are his comfort food seems as though he has plenty of energy to spare. (According to the Post, he also read David Benioff's novel City of Thieves to her over the phone, and while she was shooting Briarpatch in New Mexico, he drove three hours to see her after a campaign stop in the state.)
And Dawson ended up with a playlist full of meaningful songs from, she told O'Brien, "when there was a big question mark about whether or not he was going to find that special kind of love."
Booker's mother, Carolyn, told Oprah Winfrey years ago that she suspected her son remained a bachelor because he was looking for a woman like her—a notion that prompted a big laugh from the Yale Law School grad and Rhodes scholar who, at the time, was serving his second term as mayor of Newark, N.J.
"I'm going to avoid that Oedipal trap you just laid for me," he said, smiling, on Oprah's Next Chapter in 2012. "I have a super-mother," Booker acknowledged. "I mean, I'm not a superman or super-mayor, but I have a super-mother, and I love my parents...but as I've gotten older, my father was [my] hero as a kid, and then my father became very human, which is a very good thing, 'cause my depth of love and respect for him got bigger."
Stewart Cook/Shutterstock
Though he didn't see himself settling down any time soon, he also noted in the moment that he couldn't "visualize" running for president.
So, things change.
"Look, both of us, you know, we've had relationships," Booker told the Post, "but I'm not sure if I've ever fully given myself over to a relationship as much as I have with her and allowed myself to be as vulnerable."
Being the eligible catch that he was all those years, the now 52-year-old politician's sexuality became the occasional subject of speculation—and when asked about it again in December 2018 while discussing the possibility of a presidential run, he told the Philadelphia Inquirer, "I'm heterosexual." And in his view, "every candidate should run on their authentic self, tell their truth, and more importantly, or mostly importantly, talk about their vision for the country."
As for a candidate being married or not, he said, "Clearly the norms of family relationships have been changed dramatically as you've seen people across this country being elected to offices with all different kinds of family situations, including the president who has had three spouses. So I think a lot of that conventional thought on that doesn't apply."
Dawson, whose past boyfriends include Andre and filmmaker Danny Boyle, told the Post, "For my whole life, I've always felt like, even when I got into a relationship, I was trying to be the center of the storm and everything was just this maelstrom out there. But for the first time, I feel like I have someone in the center of the storm with me."
And unlike some celebrities, political activism has long been a part of Dawson's storm. She's co-founder and on the board of Voto Latino, and she's been arrested more than once while protesting. She primarily uses social media to promote causes close to her heart, such as voting rights, childhood development and education (in September she partnered with Tom's of Maine on the brand's $3 million initiative to connect 150,000 kids with nature who might not otherwise have ready access to outdoor spaces) and, as always, advocating for a more humane immigration policy.
"As long as we keep using fear as our basis for looking at this issue, we're going to continue to sow more divisions and sow more hatred, and ultimately create more problems for ourselves," she told Pop Sugar in 2019 amid Hispanic Heritage Month, which runs Sept. 15 to Oct. 15, the subject as topical now as it was then (and two years before that, and so on). "If we start coming at this from the understanding that these are our families, these are our brothers and sisters, we have an opportunity to create a different kind of policy that helps all of us to be celebrated rather than dehumanized."
Social justice has influenced her creative choices as well, and she can be seen next playing a DEA agent in the Hulu limited series Dopesick, premiering Oct. 13, based on the nonfiction book of the same name about the opioid crisis plaguing West Virginia and surrounding environs.
"It's the way that [OxyContin maker Perdue Pharma] had all of these folks going into each of these doctors—personalizing their relationship with them, you know, getting them gifts and doing all this kind of stuff," Dawson explained in an Oct. 7 sit-down for Washington Post Live. "How do you push back against a company that has that much money to dominate and create and perpetuate a narrative? You know, and all of these individual victims get silenced because they've already been encapsulated in this story, and their story is that they're just addicts, and you know how we are—we think about addicts. They're just lowly, sad, pathetic people who are the disgrace of our society and should be pushed aside. And it's like, that's absolutely not at all the story, but it's dominated the conversation for so long, and I think is the reason why we're still seeing this unfold in a way that is not truly centered in justice."
Booker, though certainly very liberal, doesn't lean nearly as left as Bernie Sanders, and Booker in fact voted against a (mainly symbolic) bill co-sponsored by Sanders and Minnesota Sen. Amy Klobuchar in January 2017 that would have allowed Americans to buy prescription drugs directly from Canada.
Not to mention, he was a stalwart Hillary Clinton supporter in 2016.
While campaigning for Sanders in 2016, Dawson criticized President Barack Obama (whom she supported) for not better harnessing the momentum that propelled him into office—and, incidentally, for not tweeting enough.
Sanders was also asked point-blank that April about Dawson's choice of talking points when the Top Five star, while introducing him at a rally in Delaware, said that she was tired of feeling pressured to vote for Clinton, that she was "with Monica Lewinsky with this. Bullying is bad."
Asked if it was appropriate for Dawson, as a surrogate for him, to bring up Lewinsky, Sanders sidestepped, telling CNN's Jake Tapper, "Rosario is a great actress, and she's doing a great job for us. And she's been a passionate fighter to see that we increase the voter turnout, that we fight for racial, economic, environmental justice."
Dawson (who insists the rumor she voted for Jill Stein in the 2016 general election is not true and it pains her that people think she'd cast a vote to help put President Donald Trump in office) never indicated that she wished Booker were more like a certain senator from Vermont, politically speaking.
"Regardless of Cory, I wasn't going to be behind any particular candidate this election," she told Variety in September. "I really just want to be behind the electorate."
She added, "This election is really really critical. A lot of the themes that are touched on [in Briarpatch] are really, narratively critical for us to be talking about in a wider space so that people can come to the table and see where their position is and see where they can be active…We need all hands on decks."
Ethan Miller/Getty Images
The dire importance of the 2020 election was something that Dawson and Booker agree on 100 percent. 
He obviously didn't go the distance, throwing his support behind eventual winner Joe Biden after withdrawing from the race in early 2020—but no one was happier than the first lady of his heart when he was re-elected to the Senate in November.
"So proud of and grateful for you my love," Dawson wrote on Instagram. "I got to vote for you here in New Jersey and am so glad that you overwhelmingly and rightfully won your seat again. To know your leadership will continue to guide us with love, brilliance, patience, grace and effectiveness is the kind of representation and hope we need."
Not that everyone was always so serious when encountering the Hollywood-meets-D.C. power couple, such as when CBS News' Ed O'Keefe told Booker after the fourth debate that he had some Jane the Virgin questions for Dawson.
"I literally just finished watching the last season of Jane the Virgin," Booker said. "It's what I do when I can't sleep at night, so I can answer your questions. I have insights."
O'Keefe then asked the question that partners of actors have been fielding since the dawn of time: How did Booker handle watching Dawson's love scenes?
"It is awkward to watch your significant other kissing anybody," Booker said good-naturedly, "so I always ask her questions like, [with mock concern] 'That was just acting, right?'" He laughed. "No, she's tremendous, and that show was groundbreaking—a show with, at the center of the show, three Latinas, where they spoke Spanish a lot in the show. And it was really a values-based show, something that your whole family could watch, that really affirms the best of who we are."
Even when gushing, always be stumping.
Something Dawson has had cause to point out, though, in the meantime: the double standard applied to female partners of men in high places.
In August 2019, she posted a snippet of an article a friend texted to her that noted how Booker's "actress girlfriend" had "been absent from yet another campaign event for the senator and White House hopeful."
"I made it!" Dawson joked in the caption. "To all the working mothers out there. Keep shining!" 
She told Variety the following month that, should it end up that Booker wasn't able to attend the Zombieland: Double Tap premiere, "I'm curious to see...if he's going to get the same amount of press being like, 'why aren't you supporting your woman.' I've been getting all this press like, 'Why aren't you at your man's side,' when I've made it really clear that it's okay to be a working mom." (At the time, Dawson was also extremely occupied helping to care for her father as he battled pancreatic cancer, spending every other weekend with him.)
Araya Diaz/Getty Images for Earth Conscious Films
As it turned out, Booker made it to that one (he even re-watched the first Zombieland to get ready), and to the L.A. premiere of The Need to Grow, a documentary Dawson executive-produced about the search for long-term technological solutions to the biggest challenges facing farming and sustainable food production.
When the Daily Mail reported that Dawson had joined Booker for the documentary premiere, Booker tweeted, "Actually, I joined her."
"It's just lazy," Dawson told the Post, referring to that all-too-common, second-fiddle-to-him narrative. "Like, I narrate that movie and I'm a producer on it."
When they were planning an RV tour around Iowa ahead of the Democratic caucus last year, Dawson told the Washington Post. "I think there's no way of making that happen without quote-unquote 'joining him on the campaign trail.' It's going to show up like that no matter what, but I'm just trying to spend time with my boyfriend."
In the meantime, "He's my anchor, he's my guy, you know." And, she teased, "he's very presumptuous."
Apparently Rosario Isabel Dawson calls Cory Anthony Booker "CAB" in private and, though her initials are R.I.D., "he calls me RIB," she said.
Time will tell if two more notable acronyms are in the couple's future.
(Originally published Oct. 31, 2019, at 4 a.m. PT)