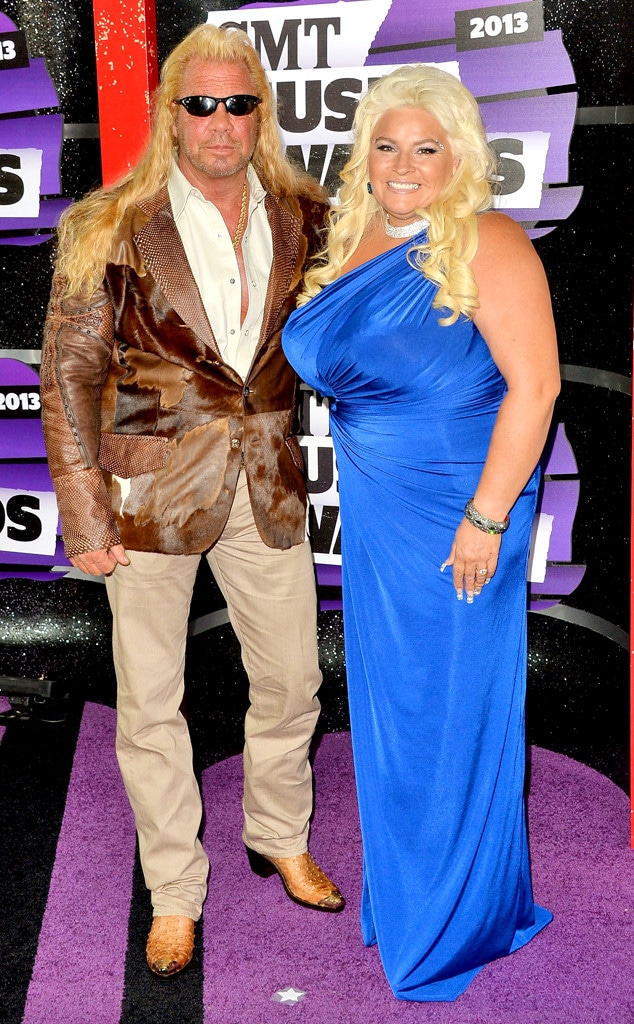 Jason Merritt/Getty Images
Today would have been Beth Chapman's 52nd birthday. 
The TV star died on June 26, following a battle with throat cancer. Beth's cancer had returned in November 2018, after being cancer-free for more than a year. She was 51. 
"It's 5:32 in Hawaii, this is the time she would wake up to go hike Koko Head mountain. Only today, she hiked the stairway to heaven," husband Dog the Bounty Hunter tweeted at the time, confirming his wife's passing. "We all love you, Beth. See you on the other side."
Dog and Beth, who had been together for 16 years before marrying in 2006, were by each other's side until the end. 
After his wife's passing, Dog has continued to honor his late wife time and time again. During an emotional speech at Beth's memorial service in July, Dog — whose real name is Duane Chapman — recounted their happiest moments together. 
"I cannot believe that she's gone," Dog said during the emotional speech. "This is not possible. I want to wake up from a dream." 
Today, he remembers his late wife on her 52nd birthday. Dog took to social media to repost two Instagram posts about his wife, taking a walk down memory lane. 
Dog reposted one of Beth's own Instagram posts of the two together, in which she captioned the photo, "Sooooo in love with this guy!"
He also reposted a video from the official Dog's Most Wanted account, with the caption, "There will never be another like you. Happy birthday Beth! We ❤️you!" 
Beth's daughter, Bonnie Chapman, also took to social media to honor and remember her mother on her birthday.
"I miss you everyday. Your birthday is coming up, wish I could celebrate with you one last time. Thank you for being there for my graduation, now I'm so thankful I have that moment with you," she captioned her post with a series of photos of Beth. 
Bonnie further honored her mom by posting a lengthier message on her Instagram Story.
"Happy birthday angel, I miss you with all my heart. thank you for everything you've taught me," she wrote alongside one photo of when Bonnie was a toddler. 
"Thank you so much for bringing me into this world, wiping my tears and being there for me. Thank you for fighting for me when I had waking pneumonia, thank you for having faith that I'll get better. I've heard a little about that day and how you were so happy that I was going to have a normal life finally. You gave that to me, your faith saved me. I miss you so much today, waking up and knowing one of the halves that made me are gone. I notice it every day, but today hurts a little more. I miss your laugh and your overwhelming confidence. I miss being able to text you about something, and you going into mama bear mode and being protective over me. I miss your arms around me, I miss your voice. I miss the way you said my name, and the way you cheered me on for anything I did," Bonnie wrote.
"Today was the day we'd shower you in flowers and gifts, and usually one was a precious moment. You loved those so much! Words can't describe how a daughter misses her mother. It feels like a big part of me is gone, and it breaks my heart to know it'll never come back. I wish you would come back home, I'd do anything to see you walk through that door one last time. I wish you were here, I'd give anything to give a hug. Happy 52nd, I wish you didn't have to celebrate in heaven."