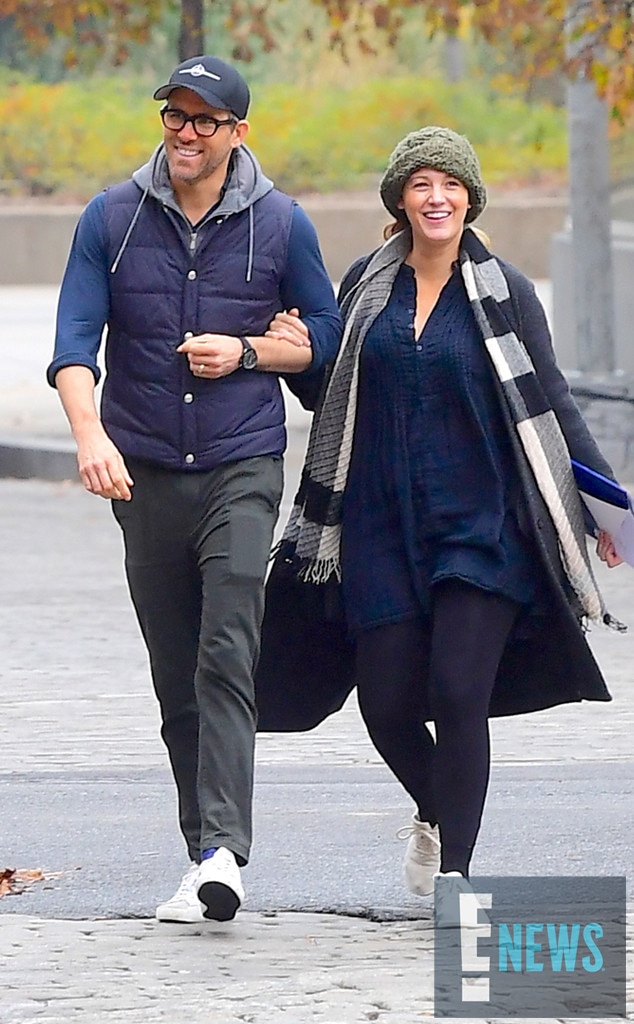 Splash News
Ryan Reynolds and Blake Lively are once again making everyone jealous over their idyllic-looking relationship.
For the first time in awhile, the parents-of-three stepped out in New York City for a bite to eat without the kids, all the while flashing their pearly whites for the exclusive photos obtained by E!. An eyewitness tells E! News, "The couple looked happier than ever as they giggled while walking arm in arm home from Brunch in the Big Apple." 
Their morning outing had the two bundled up in warm sweaters and fall gear as they braved the windy streets of NYC. They kept the chill off by also wrapping their arms around one another before escaping inside their warm home. 
It's likely one of the first times that the parents have been able to escape their kiddos since the arrival of their third daughter. In October, it was revealed that the A-list couple had welcomed the little one, but the name they chose still remains a well-kept secret.
In fact, fans only became privy to the sex of the baby when Ryan tweeted a statement in support of Canada's progressive environmental policies. "I want my daughters to experience the same natural playground I grew up in," he shared, thus confirming the rumors that he and Blake have all girls and no boys, not yet at least.
He also maintained his cheeky sense of humor in that same tweet by including a photo of the baby, whose face was conveniently hidden by a cloud of pink and a smiley face. 
The married duo is known to be quite humorous with one another, as shown in their countless Instagram posts and tweets. Most recently, Blake made a punny joke at her husbands expense by posting a photo with her finger in his nose and the caption, "I picked a good one." It was quite the way to celebrate the stars 43rd birthday and one that won't soon be forgotten. 
Of course, this was payback for the rather silly selfie that Ryan shared of Blake in honor of Blake's 32nd birthday. He chose a pic of them in which she was mid-blink, while he looked picture perfect.