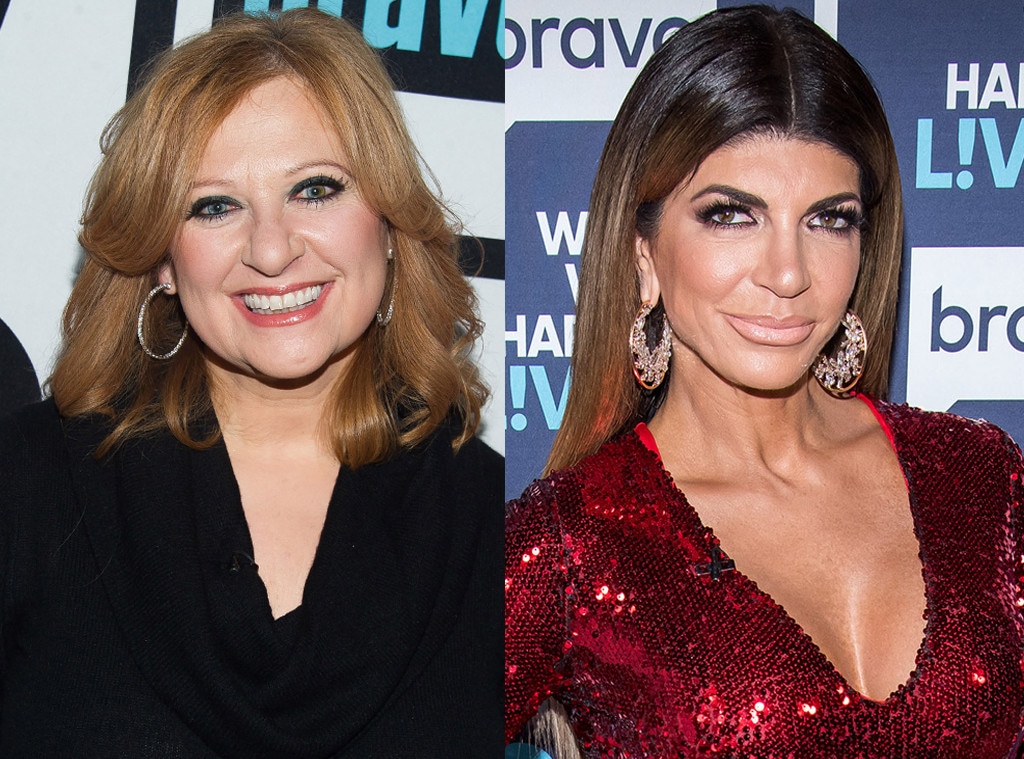 Charles Sykes/Bravo
After all these years, Caroline Manzo still has no time for drama.
Over the weekend, Teresa Giudice and her husband Joe Giudice sat down with Andy Cohen to discuss their current reality after prison.
During the tell-all interview, the Real Housewives of New Jersey star brought up her former co-star who predicted that something could happen legally with the couple.
"How could she predict that?" Teresa asked Andy. "Could she have anything to do with what happened to Joe and I? Is she a rat?"
Caroline heard the comments and she's ready to set the record straight on her son's podcast. In an exclusive sneak peek of the latest episode of Dear Albie, Caroline explained why she has been so quiet on the issue for so long.
"I haven't responded to anything in years by design because again, that was my past. I do think that for her, and I've said this before, I represent her truth and she's terrified of that because it is very clear and obvious to me that no one around her has the guts to tell her what she needs to hear," she shared with Albie Manzo. "And I was the only person that did. And it was never in a way that was, well I guess there was some bitchiness to it and cattiness, but it always came from a place of trying to help her."
Caroline continued, "And I never ever, ever, provoked her. Anything I've ever done or said to her or about her was in response to something she had said and done to me or you kids or something like that."
As for why Teresa continues to bring up Caroline and her family, the Manzo'd With Children star has a theory.
"Well, it empowers them for sure. For, first of all, they know that my personality isn't that I don't hit back because I don't care. The thing is I don't care enough," Caroline explained. "I know who I am. The good, the bad, the ugly. I know who I am and I know what I present myself as who I really am. If you meet me on the street, you're gonna say, 'Holy s--t. That's who she is on television.' It's her for real. All right. And I was always very proud of that."
She continued, "So having said that, I don't let nonsense bother me. There are much more important things in this world and this life that I have to fret over, that I have to worry about. What she says/thinks about me means nothing. Right? Because she doesn't hold a place in my world that I have to be concerned about her opinion of me. So why bother? Why waste my breath? However, people may say, well then why are you doing it now?"
To hear her answer, you have to listen to the full episode of Dear Albie being released later this afternoon wherever you stream your favorite podcast.