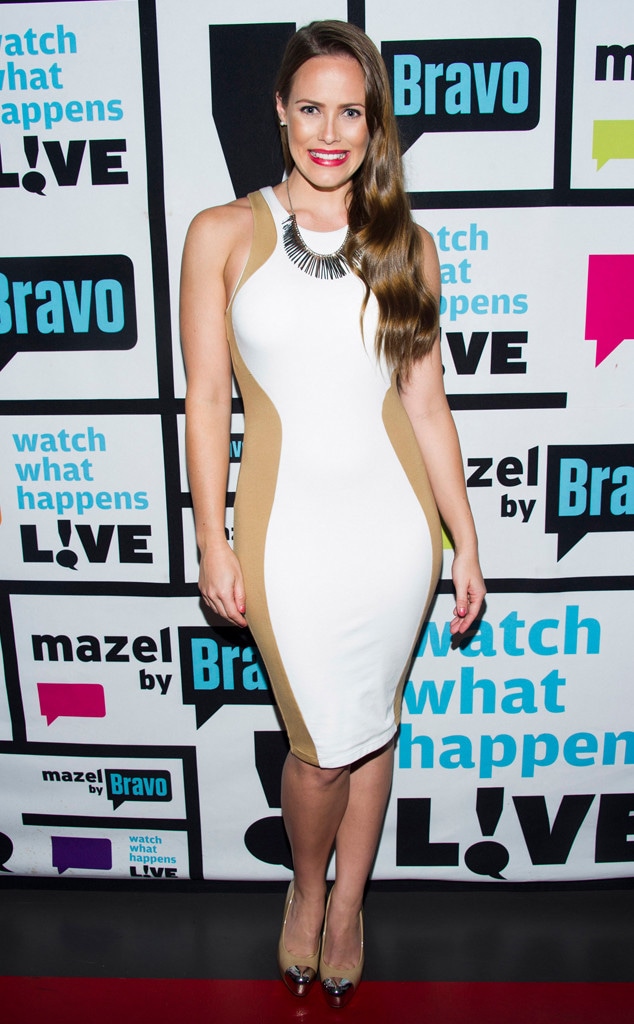 Charles Sykes/Bravo/NBCU Photo Bank via Getty Images
And a baby makes four!
Congratulations are in order for Kara Keough, who shared that she is expecting her second child with husband Kyle Bosworth. The former Real Housewives of Orange County star made the exciting announcement in an intimate post on her blog, The Pushover Project, titled "How Do I say This?"
"My new gut is not a rosé FUPA from France; it's not a Swiss cheese fart from Switzerland, or a pasta clot from Italy," she wrote, noting her family's three week European getaway this summer. "As it turns out, our little Eurotrip left our hearts, our bellies, AND my uterus quite full."
Posing alongside her husband and 3-year-old daughter Decker, Kara can be seen holding a tiny onesie that reads "Bebe Tigre" written across the front.
"I intentionally waited for the right time to bring you into our family for a reason, I just had no idea my reason would be this freaking excited," the lifestyle blogger, whose mom is Jeana Keough, continued. "It's really damn cool. We love you like crazy already, baby. April 2nd, 2020 can't come soon enough."
Big sister Decker is especially excited to welcome a sibling to the family.
"Your sister tiger is so excited to meet you, fiercely protect you, and lead you," Kara wrote. "She has your crib made up with a soft blanket and her favorite bunny 'Bun-Bun.' She's personally tested every single one of her old pacifiers to make sure they've met all quality control standards for your arrival. She's pushing the stroller around the house in preparation for her role as your best friend in the entire universe."
Still, the pregnant reality star admitted she was hesitant to share her baby joy, as her announcement coincides with Pregnancy and Infant Awareness Month.
"I know announcements like this can cause sadness to those squinting their eyes, waiting for two lines to materialize," she added. "I know that announcements like this are emotional landmines to those that are tiptoeing around their own grief for the circumstances that won't allow for the family they envision... Your light is coming. Don't give up."
Kara opened up to E! News getting ready to be a mom of two. "I knew I couldn't hide this belly much longer so looks like the secret's out!" she said. "We're waiting to find out the gender and I'm planning an unmedicated birth, laboring at home with a doula until it's time to head to the hospital to deliver."
In the meantime, she's happy everyone can now enjoy her exciting news. "It's been really great to hear positive thoughts and well-wishes from people that feel like they've known me for half my life because of the Real Housewives!" she added. "I even had someone tell me they named their daughter after Decker, which was so cool and such a compliment."
Watch:
"RHOC" Ladies Get Real on Friendship With Vicki Gunvalson
For her part, mom—and grandma!—Jeana is over the moon. 
"I am so blessed to have one grandchild," the reality star exclusively tells E! News. "She is the light of my life and now we have another on the way. I am so proud of the mother my daughter has become. As a child, she always practiced being a mother, a nurse and a teacher to our dogs and her friends. Everyone said she would be a director or producer as she was always the first to answer and the first to tell even me how things should be done."
"Always wise beyond her years she would give great advice to divorcing friends of mine because she got to see so many relationships on her play dates when she was 4 years old," Jeana continued. "Turning 31 on the 30th Kara has never lost her love for costumes! And her daughter is just like her!"
Congratulations to this soon to be party of four!