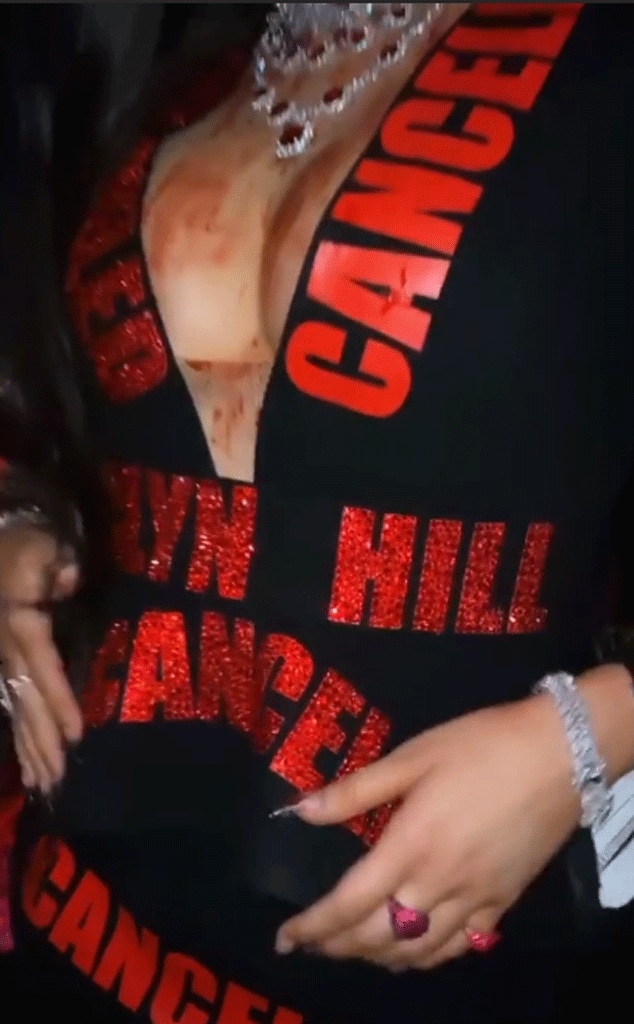 Instagram
UPDATE: Jaclyn Hill is defending her Halloween outfit after a few people criticized it online.
"Super tacky and once more prime evidence that she dgaf about her fans/customers," a Twitter user commented underneath a video of the beauty guru showing off her "canceled" costume.
However, the makeup mogul was quick to respond to the backlash. "This costume has NOTHING to do with my fans or customers," Hill wrote. "It has to do with "cancel culture" that has become so popular. I adore my subscribers & they know that!"
_____
Sometimes, you just gotta poke fun at yourself.
That's exactly what Jaclyn Hill did at her Halloween party on Saturday night in Los Angeles. The 29-year-old YouTube personality took to Instagram Stories to show off her statement-making costume.
While Hill donned a curve-hugging little black dress and dazzling jewelry pieces, it was the playful words written across her body that really caught everyone's attention. Her costume featured the messages "canceled" and "she's canceled" in glittery red font. She took it even further by adding fake blood and scratches to her face and body.
One of her Twitter follower's wrote, "@jaclynhill's costume has me in stitches. i'm pissed i didn't think of it, although she looks better in a dress than i would." Another shared, ""I'm trying to fail forward" damn bitch that shit hit different."
It's clear the beauty influencer and cosmetics founder was cheekily referencing the backlash she received earlier this year with her lipstick line.
For a little refresher, during the summer, the 29-year-old beauty guru launched her first-ever makeup collection under her eponymous cosmetics brand. And while many were excited for her lipstick line, which featured 20 unique nude shades, the release didn't go as planned.
Watch:
4 of YouTube's Biggest Scandals
Many customers started issuing complaints to Hill and her brand about their products, claiming hair was embedded into the their lipsticks, shards of metal pieces, mold (however, this wasn't confirmed) and other alleged contaminants.
The beauty mogul quickly told customers that she would refund their purchases, regardless if they loved or hated the product. However, many wished she also issued a recall on the lipsticks, which Jaclyn did not do.
"My launch was a failure. It failed. It sucked," she said in a candid YouTube video. "I was so confident that I was almost cocky. Because I was just like, 'This is gonna be the best thing people have ever seen.'"
She added, "It's important to me that you guys know how embarrassed I am. It's been shocking."
With Hill's latest Halloween costume, it looks like she's moving on from her lipstick scandal.
(This story was originally published Sunday, October 27, 2019 at 4:37 p.m. PST)