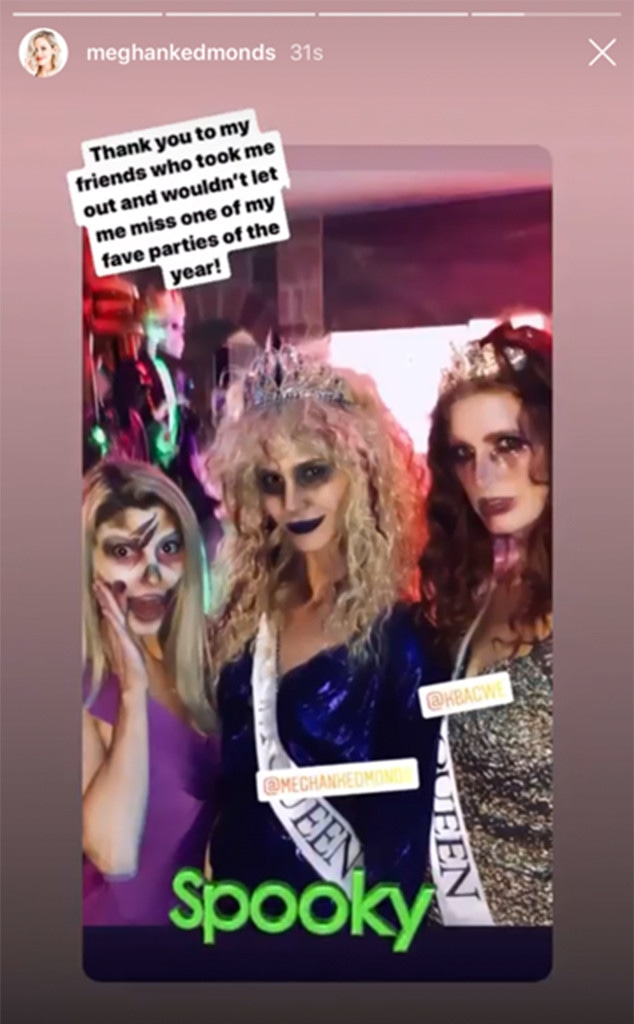 Instagram / Meghan King Edmonds
Meghan King Edmonds and Jim Edmonds appear to be spending time apart amid reports they are divorcing, and she is getting by with a little help from her friends.
It was reported on Friday that the retired MLB player had filed papers to end their 5-year marriage and that the former Real Housewives of Orange County cast member accused him of cheating on her with their children's nanny, who has said the "allegations are completely false." Jim himself told Us Weekly, which broke the divorce news, "It's dangerous, irresponsible and hurtful to all to allow a rumor to be spread to the world because of insecurities." He also made his Instagram private.
Meghan has not. She posted on her Instagram Story on Sunday a photo of herself and two friends dressed as zombies at a Halloween party.
"Thank you to my friends who took me out and wouldn't let me miss one of my favorite parties of the year!" she wrote.
Earlier in the day, she posted videos of her and Jim's 2-year-old daughter Aspen and 16-month-old twin sons, Hart and Hayes, on a play date.
A day earlier, Meghan and the kids attended an afternoon showing of Baby Shark Live! at the Stifel Theatre in St. Louis, E! News has confirmed.
Instagram / Meghan King Edmonds
Meanwhile, Jim posted on his Instagram Story on Sunday a photo of himself appearing to sort through a pile of his clothes, writing, "Real life keeps moving. Instagram Stories do not."
Us Weekly had reported on Saturday that Jim had gone to his and Meghan's St. Louis home to pick up some clothes while she was out with the kids, and got into a confrontation with her mother, who was present and called the police on him. The outlet said he told the cops when they arrived that he was getting his clothes, and that they then asked Meghan's mom to leave. A local police station confirmed to E! News they were the investigating agency on the matter but offered no further details.
Neither Jim nor Meghan has commented on the reported incident or their relationship status.
Meghan's celebrity friends, including Real Housewives stars, have rallied behind her amid the drama.
"He is a real POS who will never change," Real Housewives of Beverly Hills star Kyle Richards commented on Meghan's Instagram page. "YOU on the other hand are young, beautiful and smart. You are way better off even though I know that is hard to see right now."
"@kylerichards18 love you," Meghan replied.
Instagram / Meghan King Edmonds
—Reporting by Spencer Lubitz and Mike Vulpo