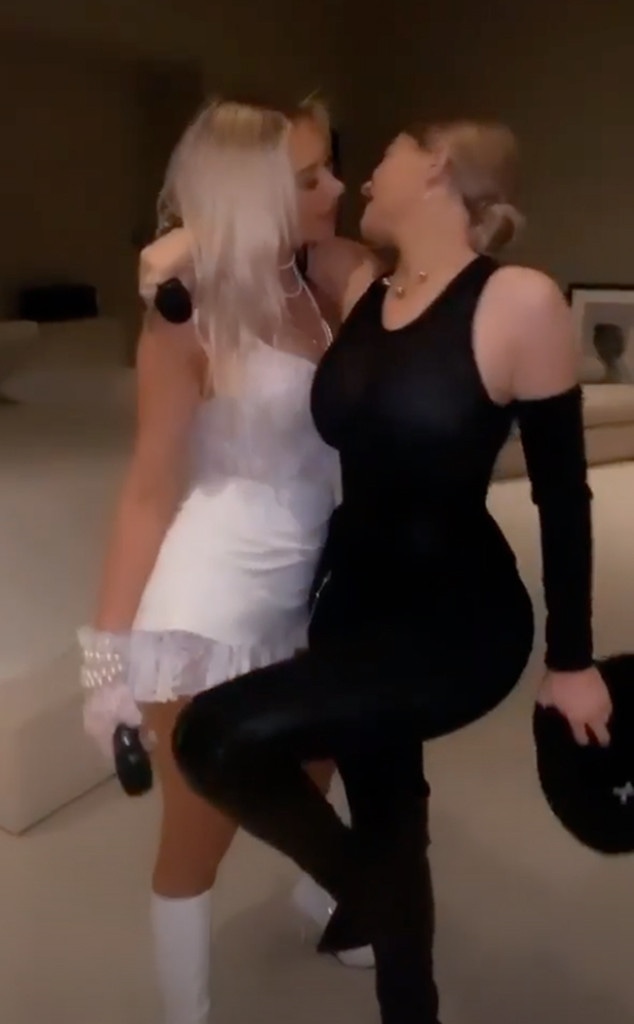 Instagram / Kylie Jenner
Hey Kylie, are you ready?
While out for some fun pre-Halloween festivities on Saturday night, Kylie Jenner and her BFF Stassie Karanikolaou dressed up as Madonna and Britney Spears from the singer's infamous performance at the 2003 MTV Video Music Awards, which ended with them kissing on the lips (yes, fellow performer Christina Aguilera also got a smooch from the Queen of Pop but it didn't generate as much attention).
Kylie posted on her Instagram Story a video of her and Stassie dancing indoors to Madonna's "Like a Virgin," with her wearing a short blonde wig styled in a messy bun and a black outfit, and her friend sporting Spears' white corset dress that paid tribute to the look Madonna wore while performing the track in the '80s. And yes, the reality star and her BFF did share a kiss on the lips—a quick one!
Watch Kylie's video below.
Hours earlier, Kylie posted videos from her night out with her friends, including Sofia Richie, Yris Palmer and will.i.am.
They went to see J Balvin perform at Staples Center and hung out with him backstage.
Kylie and Sofia shared some tequila and Red Bull.
Kylie later played it up for the camera in a shower stall in a restroom.
...and got to try on will.i.am's large glasses.
There was a little hiccup during Kylie's night out.
While she and her friends were en route to Demi Lovato's Halloween party at the HYDE nightclub, their driver got into a fender bender in a parking lot. No one was hurt.
Watch Keeping Up With the Kardashians on Sundays at 9/8c only on E!