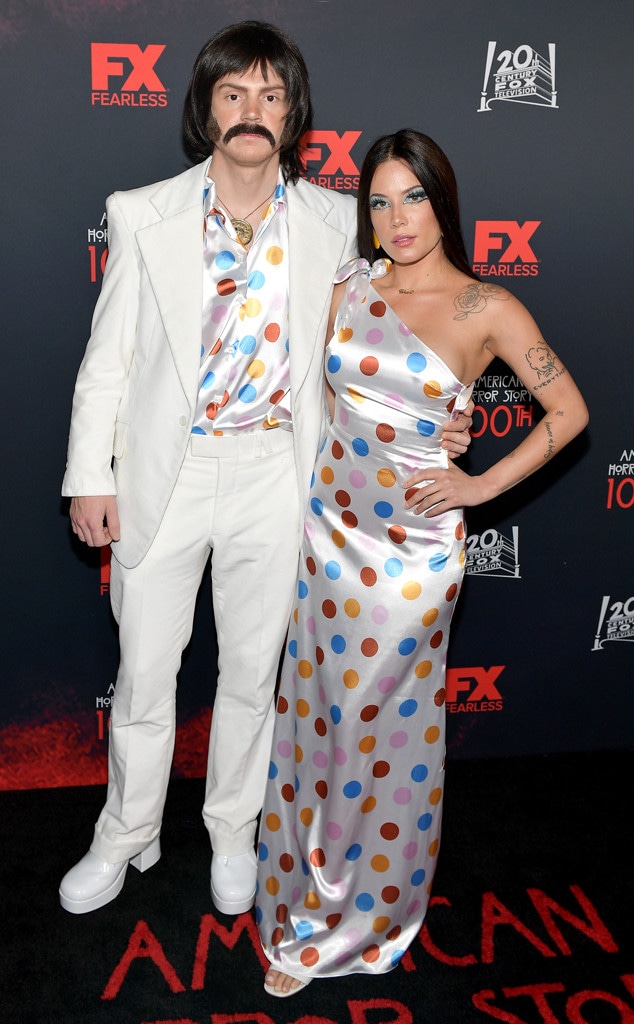 Matt Winkelmeyer/Getty Images
Spot on!
Halsey and Evan Peters are making their romance red carpet official, after attending the AHS 100th Episode Celebration on Saturday night. Making their outing even more fun, the two certainly got into the Halloween spirit and donned a couple's costume for the fanciful affair. 
The dynamic duo dressed as none other than Sonny and Cher. Name a more iconic couple... we'll wait. 
However, the 25-year-old singer and American Horror Story actor didn't just wear any Sonny and Cher ensemble. They totally stole the show at the star-studded event wearing a rainbow-colored polka dot get-up.
It was spot on.
For the special occasion, Halsey slipped into an asymmetrical dress that hugged her curves and showed off her tattoos. She also threw on dramatic false lashes and a long, straight black wig. The 32-year-old actor also went all out for his costume and rocked a matching polka dot blouse with a beige-colored suit.
He went the extra mile and even rocked a shaggy black wig and long mustache that matched the late singer's.
And while Halsey and Evan have yet to talk about their romance publicly, they didn't mind showing some PDA for the night-time affair. According to an insider, the dynamic duo "have been attached to each other all night."
NEMO/ CPR/ D. SANCHEZ / BACKGRID
"They have been holding hands and kissing throughout the night," the eyewitness shared, adding, "Halsey had her arms around Evan's neck and was looking up into his eyes, while he had his hand on around her waist."
They also were seen walking hand-in-hand on Friday night, after leaving the "Nightmare" singer's Almost Famous Halloween party. They also decided to wear coordinating costumes for the fun-filled bash.
The duo dressed as Juggalos, which is the nickname for fans of the hip-hop group Insane Clown Posse. "resident goths," Halsey captioned her Instagram post, where she posed with the AHS actor.
While the two have started to go more public with their brooding romance, they first fueled relationship rumors earlier this month. "Halsey has always been a huge fan of Evan's," a source told E! News at the time. "A friend connected them and they had also been chatting over social media before deciding to hang out. It's still very new, but they are both interested in dating each other and hanging out."
The two both got out of long-term relationships this year, so it makes sense that they have yet to address their blossoming romance.