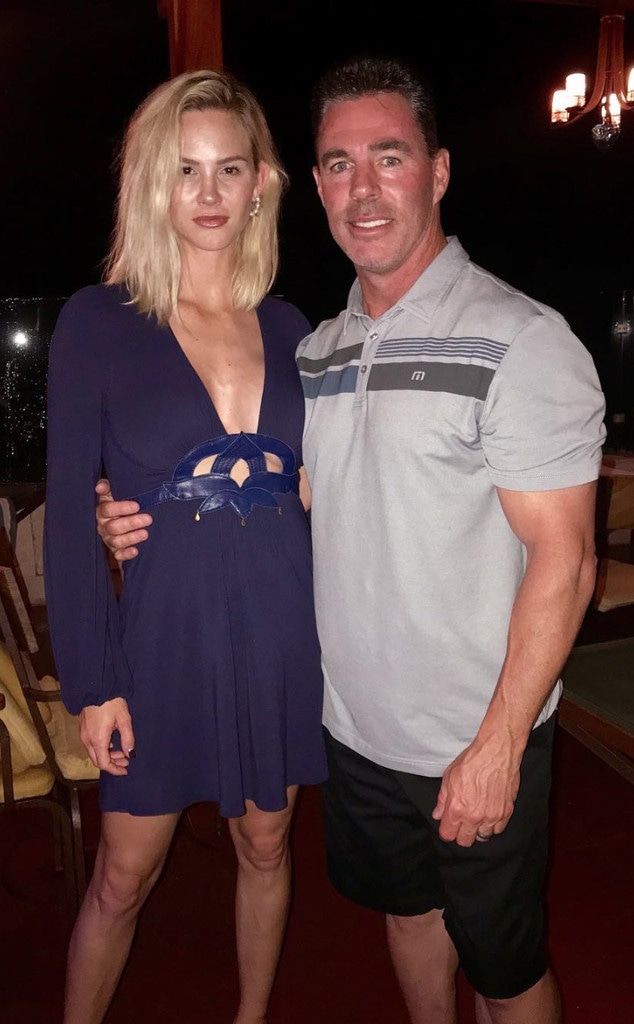 Instagram
UPDATE:  Meghan King Edmonds and Jim Edmonds' children's nanny, Carly Wilson, has responded to the reported affair allegations.
____________
It's over between Meghan King Edmonds and her husband of five years, Jim Edmonds. 
The retired MLB star filed for divorce from the former cast member of Bravo's The Real Housewives of Orange County on Friday, Us Weekly quoted multiple sources as saying. The former couple share three children together, 2-year-old daughter Aspen and 16-month-old twin sons, Hart and Hayes.
The report about the split was also cited by Bravo, whose Daily Dish blog had featured an interview with Meghan on Thursday, the couple's five-year anniversary. She had revealed then that she and Jim were in counseling to try to repair their marriage, months after she told her fans she was struggling to cope after Jim admitted to exchanging explicit text messages with another woman.
News of the divorce filing comes after Meghan accused Jim of cheating on her with a different person, the family's nanny, and after the pair got into an argument that warranted police intervention, Us Weekly reported. Neither Jim nor law enforcement officials have commented. 
Meghan posted a selfie on her Instagram on Friday night, writing, "So raw." She was flooded with supportive comments relating to the divorce and affair reports.
On Saturday morning, one user commented with a guess about the nanny's identity, saying that Jim had posted several photos of her on Instagram last year.
Meghan responded with a thumbs up.
Instagram / Meghan King Edmonds
"Big hugs," wrote Real Housewives of Orange County's Tamra Judge. "You are a strong woman Megs. Love you you."
Todd Chrisley from Chrisley Knows Best commented, "Love you sister, you've got this..." 
While Jim has not commented on the reports, he did post a cryptic quote on his Instagram Story on Saturday morning: "No one can throw a bigger tantrum than a narcissist who is losing control of someone else's mind."
In her interview with Bravo's The Daily Dish on Thursday, Meghan said she and Jim were "just still working it day by day," adding, "I think after such a breach of trust, it's so hard to rebuild from there, especially [with] so many distractions, like our son's health problems and two other little babies as well. And so to focus on the two of us as a couple, is really hard."
Meghan made her commitment to saving their marriage extremely clear. 
"I'm in no way taking responsibility from him or accountability—and if we were just dating, he would be long gone," she also explained. "But we built a life together and there are so many lives that would be affected. I'm hurt right now and our life is massively affected, but if we were to split just because of his indiscretion, then there's multiple other people who are affected, as well. So I owe it to not only myself and the commitment I made to my marriage to work on it, but I owe it to my children."
In June, Jim faced the cheating allegations head-on by admitting he had "lapse in judgment" and engaged in an "inappropriate conversation" with a woman.
"Clearly, I made a very poor decision to expose myself and my family to this type of person. For this, I am truly sorry and sought forgiveness from my wife," Edmonds shared in a statement at the time. "I'm outraged over the intent to ruin my family and intend to take legal action. We were never having any problems in our marriage."
Meghan first addressed the scandal on her personal blog, saying she found out about it in the tabloids. The 35-year-old also revealed that Jim was in contact with the woman for "several months" and "paid her off" to guarantee silence.
Around this same time, Meghan went public with the heartbreaking revelation that son Hart had "irreversible brain damage." Over the past several months, the reality TV personality and social media star has openly discussed her son's health progress and recently spent a month in New Orleans with Hart as he underwent specialized treatment.
(E! and Bravo are both part of the NBCUniversal family.)
(Originally published on Saturday, October 26, at 8:01 a.m. PT)