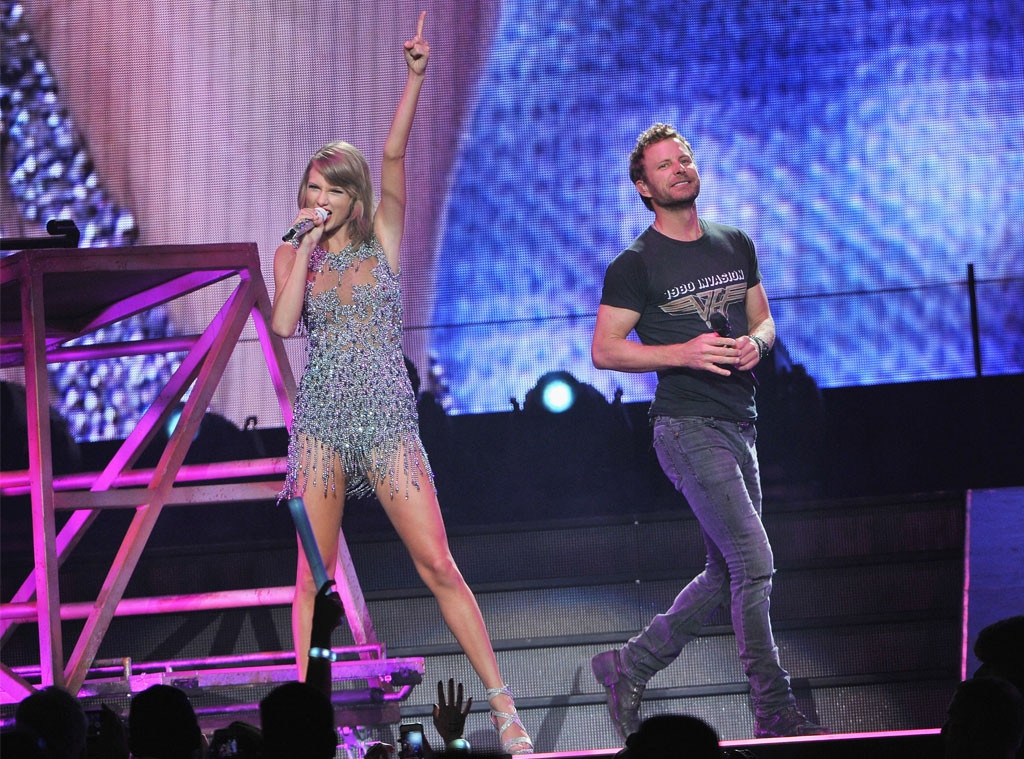 Fernando Leon/Getty Images for TAS
Dierks Bentley is in love with a very special album.
Shortly after wrapping up another successful arena tour this fall, the country music superstar has had some time to listen and explore fresh tunes from a variety of artists.
But when it comes to Taylor Swift's latest work on Lover, Dierks can't help but voice his support.
"I've always been a huge Taylor Swift fan. I love her songwriting. I love her drive and persistence and determination. And I've known her since she was first new to town," he shared with E! News exclusively. "I've always been a fan and always will be a fan. And I'm always curious to see how she's reinventing herself, what kind of sound she's going for and how she's progressed as a songwriter."
As for his favorite song on the album, Dierks said "The Archer" sticks out for all the right reasons.
"I'll always support anything she puts out," he shared. "I'm a fan and I enjoy her record, I really do."
It also likely doesn't hurt that Dierks' kids are also a big fan of Taylor and music in general. During the 2019 Burning Man tour, they were able to travel on the road and interact with rising country artist and opening act Tenille Townes.
"They're big fans of Cam. They love Tenille Townes. They love Maddie and Tae. Of course they love Taylor. They love Kelsea Ballerini. They love Maren Morris big time," Dierks confessed. "They're fans of anything they really hear so a lot of female singers out there."
And while they may attend an award show every so often, Dierks told us that he's not pushing music on them by any means.
"They're really into theater as well so I love watching them put on plays. There are great organizations in Nashville that do theater," he shared. "I try not to push too much. I'm really trying to give them as much as a regular [life]. They love having a childhood and being kids."
Speaking of great organizations, Dierks teamed up with Flag & Anthem for a special Veterans Day T-shirt. 100 percent of proceeds from the tee will be donated to Folds of Honor, which provides educational scholarships to spouses and children of America's fallen and disabled service members.
"As a country singer, we come in contact with a lot of folks in the military at every show and some of my best friends I've made out on the road are in the military," Dierks shared. "I can't speak for a soldier out there but heaven forbid you make the ultimate sacrifice, you want to know that your family, your kids will still have an opportunity to chase their dreams and a lot of it comes down to getting a chance to go to school. So paying for college, paying for graduate school, what an amazing thing that Major Dan Rooney came up with and I'm proud to call him my friend and be a friend of that organization."
While Dierks recently headlined his first ever concert at West Point's Michie Stadium earlier this month—where he wore the special tee available now—the singer admitted that you may see him out on the road a little less next year. But it's for good reason!
"I just really want to make sure this next record has all the attention it wants and needs and I thought it would be neat after seven years in a row of arenas and amphitheaters to pull back a little bit and focus on making at least one record—maybe a couple," he shared.  "There's a chance to change modes a little bit, be more in the studio and we'll go out again I'm sure in the spring and the summer, but it will be more fairs and festivals and special appearances and really ramp up for a big 2021."