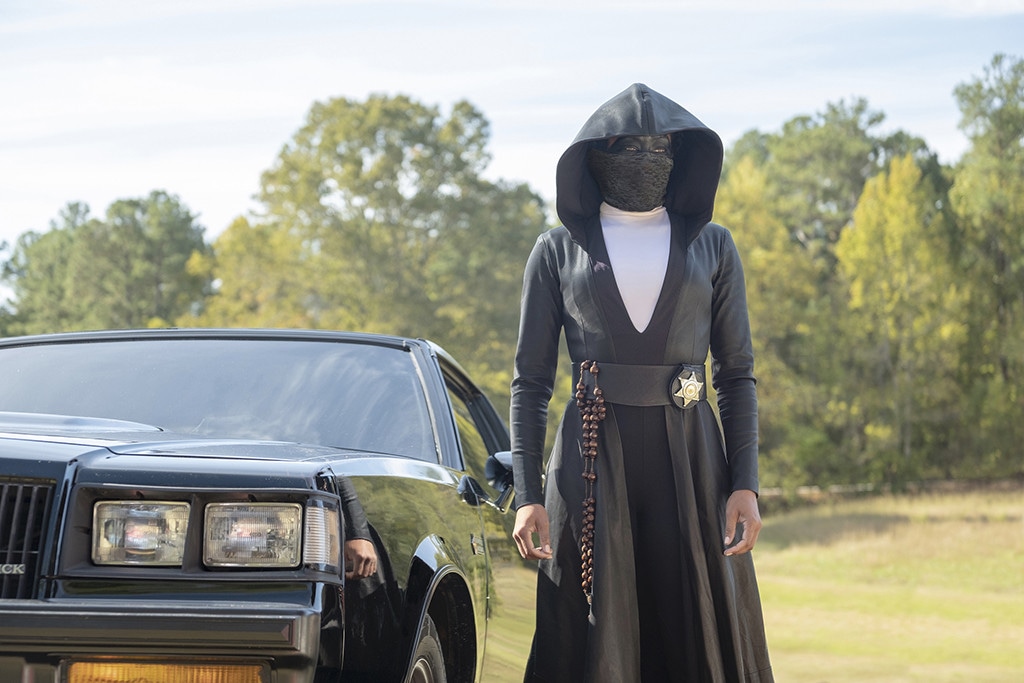 HBO
Regina King is having a moment. Actually, let's state the facts properly: Regina King has been having a moment since 1985 when she starred in 227. Now, with an Oscar on her shelf and the lead role in HBO's buzzy Watchmen, King is the Hollywood superhero she always wanted to be (and we always knew she was).
In Watchmen, King plays Angela Abar aka Sister Night. In the post-superhero world of the series, Angela is a masked police officer. Her costume is reminiscent of a nun and one of her weapons looks to sort of like rosary beads.
"I had never seen anyone like her," King told THR about her character.
"The idea I would get the opportunity to bring her to life was huge. Because she's not in the source material, I didn't have to feel any of that pressure. I've been wanting to play a superhero all my life, ever since I saw Spider-Man and His Amazing Friends, the cartoon. And here's my opportunity. I have the opportunity to design her, along with the creator, to make her into who we think she should be. I really don't have the words to put that into what it means," King continued.
King started working in Hollywood in the sitcom 227 in 1985. She appeared in more than 100 episodes alongside TV icons Jackée Harry and Marla Gibbs. "It was like college," she told Vanity Fair about 227. "Marla was the first boss lady I got to see up close and personal."
From the sitcom world she hit the big screen in Boyz n the Hood and Poetic Justice, with small screen roles in here and there. Her journey to Watchmen included everything from comedy (Miss Congeniality 2: Armed & Fabulous and Legally Blonde 2: Red, White & Blonde) to drama (Ray and her Oscar-winning turn in If Beale Street Could Talk) on the big screen, and turns in several acclaimed TV shows, from Southland to American Crime. King also stepped behind the camera and began directing with a 2013 episode of Southland. She served as director on a number of shows, from Scandal and Insecure to This Is Us and Being Mary Jane.
"It's an opportunity to be more involved in telling the story," she told Variety about directing. "Having a little more control — that might have something to do with it."
Directing, it seems has only helped King with her passion in front of the camera.
"It's an opportunity to be more involved in telling the story," she told Variety about directing. "Having a little more control — that might have something to do with it."
Directing, it seems has only helped King with her passion in front of the camera.
"If you came to this planet from Jupiter and you watched [Regina] on set, you would not know that her path to directing was through acting," Scandal star Kerry Washington told VF about King's work behind the camera. "She speaks so many of the languages of filmmaking as beautifully as the acting part."
King's work in front of the camera continued to be met with fanfare. She won two Emmys for American Crime and a third for the short-lived Netflix series Seven Seconds. Before Watchmen, came her Oscar-winning role as Sharon Rivers in If Beale Street Could Talk. And in 2019, she returned to The Big Bang Theory for its final season, reprising a character she played on and off since 2013.
But for King to become the superhero (character, we all know she is on in real life) she always wanted to be, it turns out a late-in-the-game role on The Leftovers would be a gift that kept on giving. On The Leftovers, King started working with the man who brought Watchmen to TV, Damon Lindelof.
A longtime fan of the comic series, Lindelof has been open about his reverence for the Alan Moore and Dave Gibbons comic book series and the hesitation he had in taking on the project. Watchmen is so dear to him, he told King he couldn't see himself doing it with anybody else…even if that meant broke his self-imposed rule about working with an actor twice.
"I still have the letter he wrote to me — this most amazing letter," King told THR. "I'm paraphrasing, but it said, 'This is what I'm working on, and I can't see this without anyone other than you.' I was like, 'I don't need to read the script. Just tell me what day we start.'"
In an interview with Deadline, Lindelof spoke about his relationship with King, specifically now while collaborating on a series that begins with a seminal event in African-American history, the Tulsa race riot of 1921 .
"Obviously I think Regina is a lot more equipped to talk about the trust on her end," he said. "It doesn't really require any trust on my end because, A, I know that it's Regina King. I mean not only have I worked with her before on The Leftovers but as someone who is prone to hyperbole, she is one of the world's greatest living actors. She's got the hardware to prove it now."
After reading the script, Lindelof said the two had a lengthy conversation about what he was trying to do with the series and his take on race relations in America. "Then it was her choice as to whether or not she wanted to jump in. She was pretty game for it. So again, as far as me trusting Regina King, not a problem," he said.
In addition to taking on race, the show has several stories driven by women, specifically King's protagonist Angela.
"This woman was someone I had never seen before. Obviously, because she's black, that has a lot to do with that. But even more than that, just being the lead and being so strong, but so vulnerable. We see that inner turmoil. Even when you're waiting for her to become unhinged, you don't know exactly what 'unhinged' is for her," King told The New York Times.
Unhinged or not, we'll be watching.
Watchmen airs Sundays, 9 p.m. on HBO.