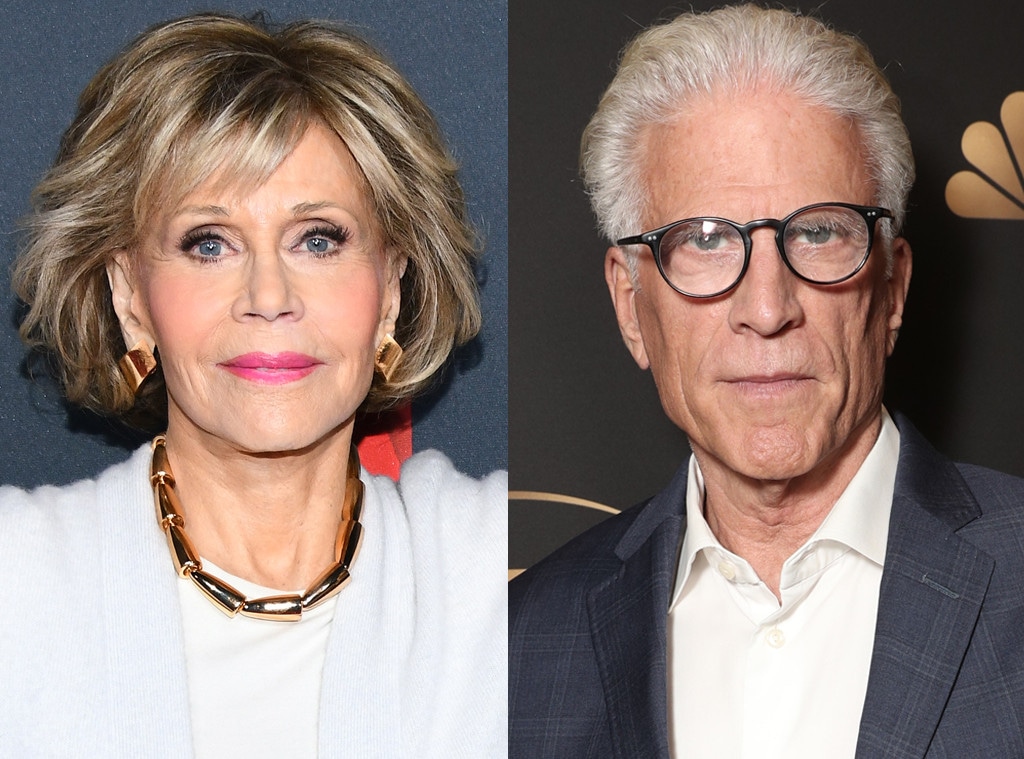 Araya Diaz/Getty Images, Todd Williamson/NBCU Photo Bank/NBCUniversal via Getty Images via Getty Images
Jane Fonda and Ted Danson are calling on climate justice.
On Friday, the activist and The Good Place actor were arrested while protesting in support of climate change in Washington, D.C. As shown in videos on social media, Fonda—wearing the same red coat she's worn at the last two week's demonstrations—marched to Capitol Hill with Danson and a group of activists as part of her Fire Drill Fridays campaign. Videos of the 81-year-old being arrested were shared by the campaign's Twitter account, as well as photos of Danson being arrested for the first time. According to the campaign's Twitter account, the subject of today's protest was restoring and protecting the world's oceans.
The Capitol Police confirmed to E! News, "Today, the United States Capitol Police arrested 32 individuals for unlawfully demonstrating in the intersection of East Capitol and First Streets. All were charged with D.C. Code §22-1307, Crowding, Obstructing or Incommoding."
This marks the third consecutive Friday that Fonda has been apprehended for her climate protests, which—as she announced on her website earlier this month—will be a four-month effort focusing on a different facet of climate change each week. Fonda has moved to D.C. in order to participate in this campaign, her statement revealed.
"Inspired by [Greta Thunberg] and the youth climate strikes as well as Reverend Barber's Moral Mondays and Randall Robinson's often daily anti-apartheid protests, I've moved to Washington, D.C. to be closer to the epicenter of the fight for our climate," Fonda wrote. "Every Friday through January, I will be leading weekly demonstrations on Capitol Hill to demand that action by our political leaders be taken to address the climate emergency we are in. We can't afford to wait."
J Scott Applewhite/AP/Shutterstock
"I will be on the Capitol every Friday, rain or shine, inspired and emboldened by the incredible movement our youth have created," her statement added. "I can no longer stand by and let our elected officials ignore – and even worse – empower – the industries that are destroying our planet for profit. We can not continue to stand for this."
These protests are becoming a celebrity affair. Last week, Fonda's Grace & Frankie co-star Sam Waterston was arrested for participating in the demonstration.