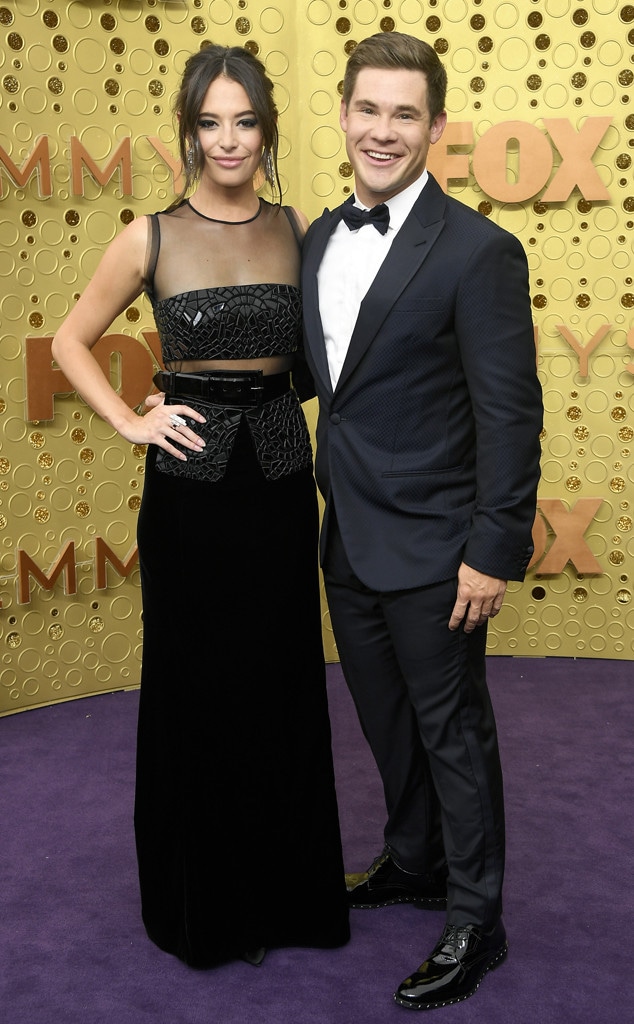 Frazer Harrison/Getty Images
Adam Devine and Chloe Bridges are engaged! 
The long-time couple shared the happy news with their followers on Thursday afternoon. Adam and Chloe have been together since 2015, and have not been shy about spilling all the sweet details of their relationship. So it only seems fitting that they would let fans in on their plans only a few short days after popping the question. 
"She said yes!" Adam wrote alongside a picture of the couple on a with Chloe's engagement ring front and center. "Well actually she said 'ahh Adam' and then kissed me but I'm pretty sure that means YES!" Given the huge smile on Chloe's face, we're gonna say it was a definite yes. In true Adam style, he joked about how small of a role he will play in the actual wedding planning and preparation. 
"I love Chloe more than anything and I'm so excited to spend the rest of my life with her amazing self," he continued. "You are my best friend and I'm thrilled you want to get old and wrinkly with me! You'll be less wrinkly. I'm gonna look like a Saint Bernard. I proposed this past weekend and wanted to keep it private for a few days but we are now ready to tell the world! Love you @chloebridges! Have fun planning the wedding. I'll be there for the cake tasting."
Chloe also posted the news to her page at the exact same time, opting to show the funnier side of the couple. She included three photos of all of her different levels of excitement and Adam's goofiness. Plus, gave her own sweet tribute to her man. "We are doing it!!" she wrote on her Instagram. "I love this man with my whole heart and I am so excited to be with him forever."
The actress also admitted that while it was his kind, hilarious personality that's kept her by his side, it was something a little bit different that first drew her to him.
"I've known we had a special connection since we first met," she shared. "(well FIRST I liked the way his butt looked in his jeans and the way he made me laugh and the fact that his backpack was monogrammed which seemed VERY adult to me five years ago) and I quickly learned that he is the kindest, funniest, most incredible man I've ever met. I'm so proud to be his girl and will be even prouder to be his wife. Let's do this baby."
Congrats to the happy couple!