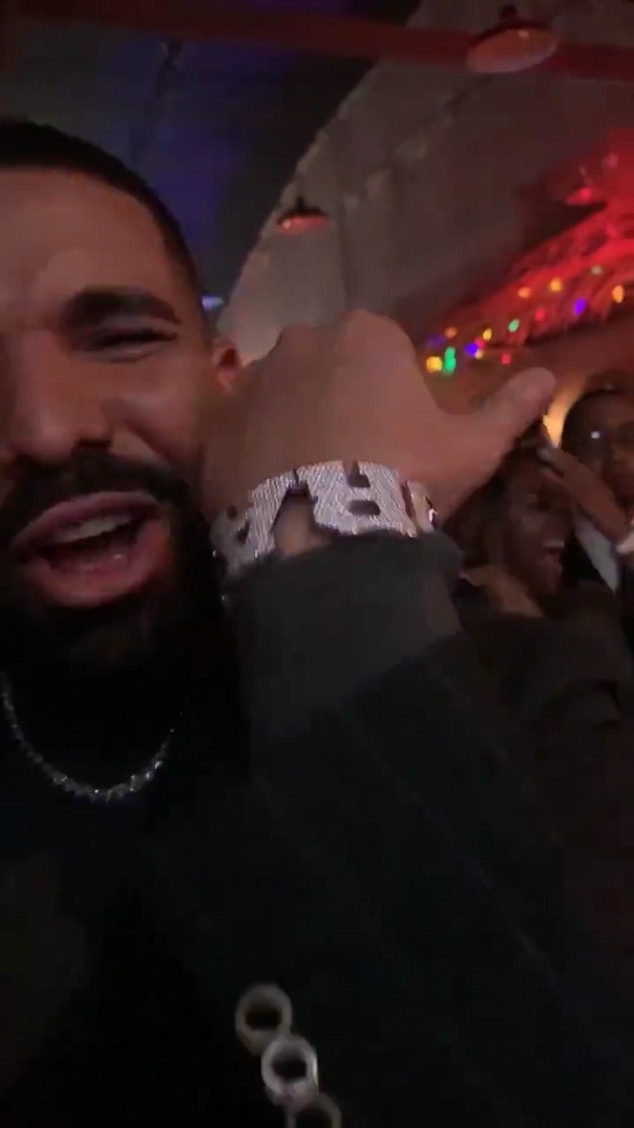 Instagram
Happy birthday, Drake!
The "God's Plan" artist turns 33 today, and he's been celebrating all week long. On Monday night, Drake headed to Poppy nightclub in Los Angeles to party with his pals, including Rihanna. Then on Wednesday, Drake threw a bash at Goya Studios in L.A. with celebs Adele, Chris Brown, Sean "Diddy" Combs and more stars.
"Drake's birthday was at Goya Studios on Wednesday night and had a 1920s mob gangster theme," a source tells E! News. "Guests included Adele, Kylie Jenner, Chris Brown, Snoop Dogg, French Montana, Larsa Pippen, P. Diddy and Future. They were all given bracelets that said the 6th Family as they entered."
"Inside the dimly lit soundstage a DJ was spinning music and a casino area was set up with a Tangiers sign," the insider continues. "There were mafia references everywhere with lights that said 'Bada Bing, 6th Family' and a photo backdrop with 'Usual Suspects' written on it."
"There were poker tables, slot machines and casino games along with a huge dessert bar filled with cannolis," the source adds. "They had a big movie screen playing mob movies in the background as well."
According to the source, the "Hotline Bling" star arrived to the bash with a group of guy friends.
"He seemed happy and relaxed as he entered," the insider shares. "Kylie was with her friend Stassie. They danced and had some laughs together while sitting on a sofa. French Montana was dressed up as Scarface and arrived with a diamond bracelet for Drake that he said was worth $75,000."
French posted a video of Drake wearing the bracelet to his Instagram Stories.
"Adele also was dancing and talking to people," the source shares. "She had her hair up in a high ponytail and carried a feathered bag."
"There was lots of dancing and partying," the insider tells E! News. "People were gambling and watching movie scenes."
According to the insider, a birthday cake was brought out with "a reference to the horses head scene in The Godfather."
"Everyone sang 'Happy Birthday' to Drake and then went back to dancing," the source notes.
"Adele left soon after with a driver," the insider shares. "Kylie left with Stassie and another girlfriend. Drake stayed behind with his friends to party all night."