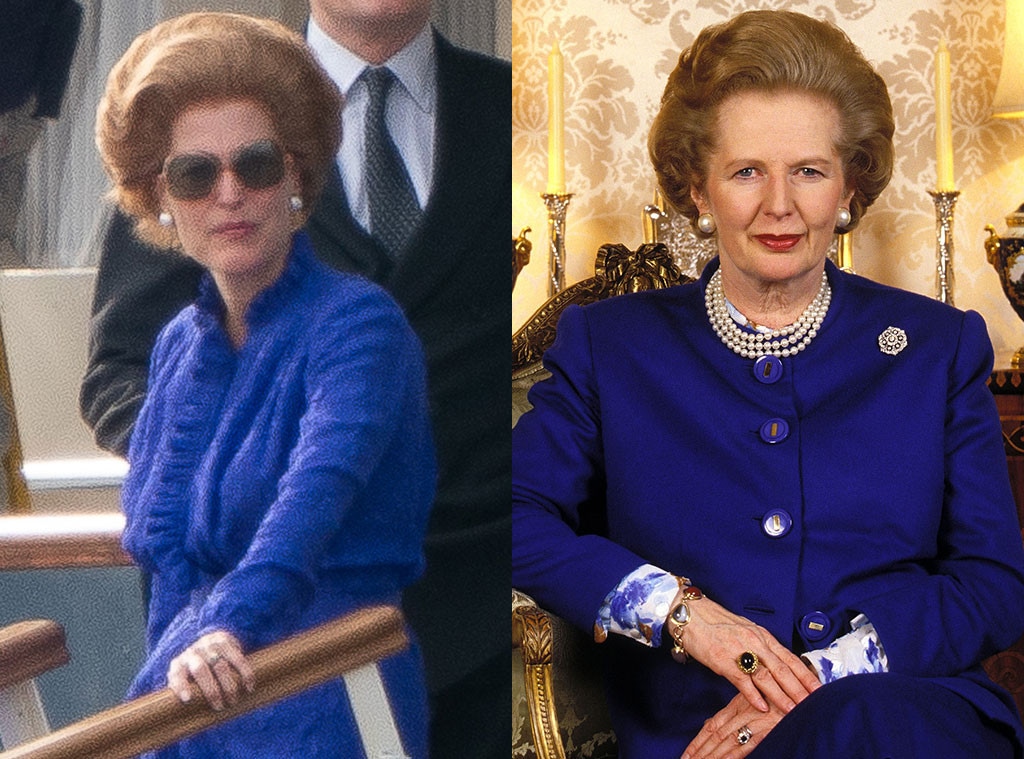 Matt Sprake / SplashNews.com, Jean GUICHARD/Gamma-Rapho via Getty Image
She's been a skeptical FBI agent dealing with the supernatural. She's been a sex therapist. She's been a detective on the hunt for a serial killer. She's been a new god. Now, Gillian Anderson has another high-profile TV role to add to her extensive resume: prime minister in The Crown.
Anderson is taking on the role of Margaret Thatcher, the former prime minister of the United Kingdom and the first woman to hold the office, in The Crown season four.
"I'm so excited to be joining the cast and crew of The Crown and to have the opportunity to portray such a complicated and controversial woman," Anderson said in a Twitter statement on the show's official account. "Thatcher was undoubtedly formidable but I am relishing exploring beneath the surface and, dare I say, falling in love with the icon who, whether loved or despised, defined an era."
While season three has yet to debut—it drops Sunday, Nov. 17—Netflix is already in production on the fourth season that will feature the same main cast of season three.
For the third and fourth season, Oscar winner Olivia Colman steps into the role of Queen Elizabeth II. Claire Foy, who starred in the first two seasons, won an Emmy for her portrayal of the monarch in the show's second year. The season three cast also includes Helena Bonham Carter as Princess Margaret, Tobias Menzies as Prince Philip, Josh O'Connor as Prince Charles, Erin Doherty as Princess Anne, Ben Daniels as Lord Snowdon, Jason Watkins as Prime Minister Harold Wilson and Charles Dance as Lord Mountbatten.
In addition to Margaret Thatcher, season four will also introduce Diana Spencer, the woman who would become known to the world as Princess Diana.
The Crown season three premieres Sunday, Nov. 17 on Netflix.