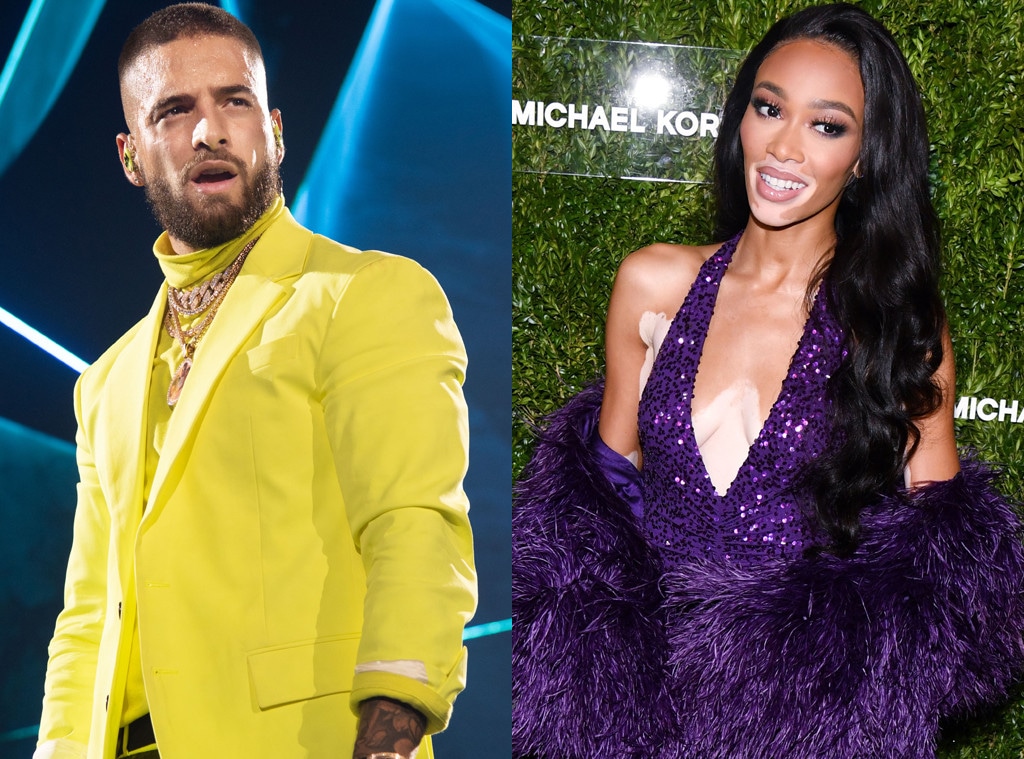 Michele Eve Sandberg/Shutterstock; Andrew H. Walker/Shutterstock
New couple alert?!
It's only right that Scorpio season would start off with a rumored romance between two of the industry's hottest people: Maluma and Winnie Harlow. That's right, many are speculating that the 25-year-old model and Columbian singer are getting extremely close, especially after Page Six reported things were heating up between the duo during a late night out.
According to the publication, the self-described Pretty Boy, Dirty Boy was spotted hanging out with the model on Tuesday evening at the Blend, a Latin restaurant in Long Island City. They were reportedly joined by a group of friends.
While the publication's source expressed that the two are just "good friends," the internet thinks otherwise. In fact, if you look closely at Maluma's Instagram comment section, you'll see a number of cheeky replies from the Victoria's Secret model.
In one of the "HP" singer's more recent posts, he's seen dancing shirtless and showing off his muscles. Pretty fuego, no? Well, naturally, Winnie commented with a heart-eyes emoji.
In a snap from earlier this week, she responded to his image with a fire emoji, and on Oct. 11, the Marry Me actor shared another steamy pic on the 'gram, one of him posing shirtless. "Oh wow," Harlow (appropriately) responded.
Additionally, the 25-year-old Latin pop star has left comments on Winnie's social media posts.
On the 15th, the supermodel showed off her stylish outfit, featuring pieces from the Nicki Minaj x Fendi capsule collection. "@Fendi facts are even better when @nickiminaj makes them," she wrote, to which Maluma replied, "Okkkk."
However, the response that's catching many fans' eyes is the comment he left on her photo from earlier this month. Winnie actually attended the "Mala Mía" singer's concert in Madison Square Garden in New York. It also happened to be the same night that Jennifer Lopez made a surprise appearance and joined Maluma on stage for a duet and to film a scene for their upcoming movie, Marry Me.
"@maluma world tour," Harlow captioned her Instagram of that night, alongside a pic that showed off her sultry silver ensemble. "Mamacita," the Latin star commented with a kissing emoji, to which she replied with the same emoji.
Watch:
Maluma, Hailey Bieber, Rosie Perez & More - Full Episode
As if their back-and-forth flirting on social media hasn't caused a frenzy, the two were also spotted dancing at the nightclub Up & Down.
The two have yet to address their rumored romance. And fans of Winnie will recall that she and Wiz Khalifa called it quits. It's unknown when exactly they split, but she recently commented about him moving on and having an apparent new flame.
However, it's unclear if Maluma is officially single.
For the longest time, the Columbian singer has been in a relationship with model and DJ, Natalia Barulich. But the two have yet to share if they decided to go their separate ways. She was also rumored to be linked with soccer player, Neymar.