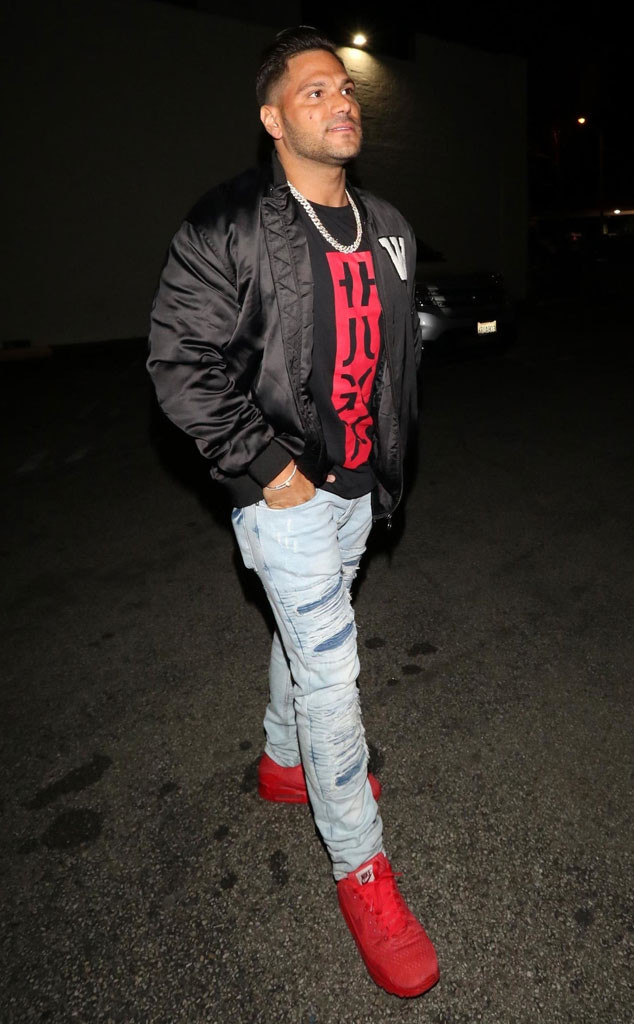 Hollywood To You / BACKGRID
UPDATE: Ronnie Ortiz-Magro pleaded not guilty at a Los Angeles court on Friday to seven misdemeanors stemming from a domestic violence case involving Jen Harley, with whom he shares a daughter. As a result of his not guilty plea, the city attorney's office filed a protective order against him, in which he must keep away from both of them until his next court date, which is next week. Dressed in a suit, Ronnie remained quiet throughout Thursday's proceedings and spoke only to affirm that he understood the terms of the order.
_____________
Shortly after news broke that Ronnie Ortiz-Magro would not face a felony charge over his alleged altercation with Jen Harley, E! News confirmed on October 24 that the Jersey Shore star faces five misdemeanors.
According to the Los Angeles District Attorney's Office, Ronnie was charged with domestic violence, brandishing a weapon, child endangerment, false imprisonment [of Jen], resisting arrest and making criminal threats.
"The facts and circumstances around Ronnie's arrest have been misreported and exaggerated, like we mentioned in the past. We are happy the District Attorney's refused to file any charges and we look forward to addressing this matter with City Attorney; until then, we will make no further comment," his attorney told E! News.
Jen's attorney Michael Cristalli told E! News the she "is the victim in this case" and that "any attempts to portray her as anything other than the victim is just wrong."
"Everyone acknowledges she was the victim," the attorney stated. "We don't contest with what the authorities have done with the charges. We believe her injuries were serious, and could have easily [been] a felony, but the charges he is currently facing shows that the authorities agree that she was the victim of a crime. Her injuries are significant. I don't think the change in the charges is going to effect the restraining orders she has against him (in LA and Vegas). It bolsters that there were crimes committed, and fortifies the restraining orders that are in place. She's a resilient woman. Her daughter and her son are very special to her. She is focusing on them right now and is focusing on healing. She is still healing from the physical injuries. She suffered deep contusions and they will take some time to heal."
The attorney also said Jen "will likely have to be at the upcoming restraining order hearings."
On October 4, the Jersey Shore star was arrested on suspicion of felony domestic violence and kidnapping of his and Jen's 1-year-old daughter, Ariana Sky. The Los Angeles District Attorney's Office then deferred Ronnie's case to the City Attorney.