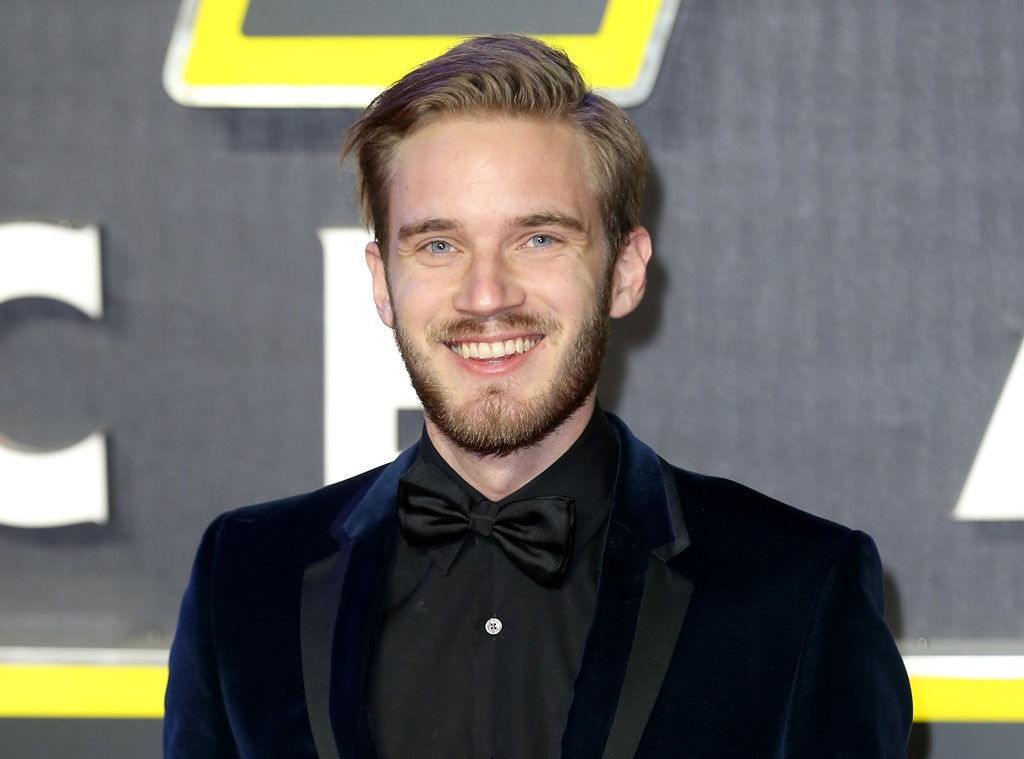 Chris Jackson/Getty Images
Seeing the name PewDiePie in a headline like the one above will likely elicit one of three reactions:
1. "I love that guy!" or
2. "Ugh, that guy." or
3. "Who?"
No matter which camp you fall into, there's no denying that the YouTube superstar, whose real name is Felix Kjellberg and celebrates his 30th birthday on Thursday, Oct. 24, has a story that's as fascinating as it can be infuriating with a rise to notoriety that could only happen at this time in this this way. In the near-decade since the Swedish internet personality first began uploading videos while still an industrial economics and technology management student at Chalmers University of Technology in his hometown of Gothenburg, Kjellberg has gone from simple gamer/vlogger to one of the video-sharing website's most influential figures, ranking as the most subscribed and viewed channel to be operated by a single individual with over 100 million subscribers and a mind-bending 23 billion video views. 
And along the way, he's amassed nearly as much controversy as he has influence and money—if not more.
After quitting uni in 2011, not to focus on his burgeoning YT career, but because the course failed to spark interest in him any longer, he's since claimed, Kjellberg's genuinely goofy and energetic personality helped to elevate his Let's Play videos—a wildly popular subset of YT content in which the gamer documents their playthrough of a video game with added audio commentary and, usually, a camera view of their face—in a way the website had yet to see. 
"I knew people were big at other types of videos, but there was no one big in gaming, and I didn't know you could make money out of it. It was never like a career that I could just quit college to pursue. It was just something I loved to do," he said in a 2015 video. "And here we are five years later and it's exploded."
He wasn't lying.
While he was forced to support himself in the channel's early days by selling prints of his Photoshop art as he worked at a hot dog stand, with his parents refusing to offer him any financial assistance after he dropped out of school, the need for such extracurricular endeavors, as it were, ended quickly. By July 2012, he reached one million subscribers, added another million by September, and had signed a deal with Maker Studios, an independent YouTube network that went on to be purchased by Disney in 2014 (this will be important in a minute) by December.
Exactly a year after he hit one million subscribers, his count hit 10 million and continued to rise. By the end of 2013, he was gaining a new subscriber every 1.037 seconds, closing out the year with just under 19 million, with a growth higher than any other channel that year. 
As his channel continued to grow, becoming the first on YouTube to reach 50 million subscribers by the end of 2015, the type of content he uploaded began to change as well. While the Let's Play videos were his trademark, he began creating videos that had nothing to do with gaming and were more connected with internet culture at large, providing commentary on other clips, reviewing popular memes, and challenging his followers, once referred to as the Bro Army, to record themselves doing something that he'd provide commentary on at a later date. And he began raking in the dough. According to Forbes, he'd made $12 million in 2015 alone.
Traditional media was perplexed by PewDiePie (rhymes with "cutie pie," if you were wondering) and its fanbase, as they tended to be with much of anything going on YouTube's insulated biosphere of user-driven celebrity. Stories written about Kjellberg mostly either wondered aloud how someone simply playing video games could make that much money or asked why anyone else would care. The media's detachment and underestimation of the way his direct line to Gen Z tapped into their desire for what they perceived to be true authenticity from their celebrities (as opposed to traditional media celebs, propped up by studios and PR reps and the like) allowed for the content of his output to go on largely unnoticed and severely under-reported, when compared to the way inflammatory behavior from celebs like Charlie Sheen or Roseanne would become national news the second they occurred, leaving tech and video game outlets like Polygon and The Verge to do the heavy lifting.
And to be clear, there was plenty of inflammatory content being released by Kjellberg. Early videos included rape jokes, then anti-Semitic jokes imagery began cropping up in newer content. In one video, he casually deployed the n-word. Whether they were offensive stabs at shock humor, as he has defended them himself, or something more insidious, the commentary began to be co-opted by neo-Nazi and white nationalist websites like The Daily Stormer, who changed their tagline to "the world's #1 PewDiePie fan site" for a time. When The Wall Street Journal finally reported on him in February of 2017, it was enough to prompt Maker Studios, now owned by Disney, to cut ties with him, with Google following suit, dropping him form their Google Preferred advertising program and canceling his YouTube Red series, despite his assurances on Tumblr that "I am in no way supporting any kind of hateful attitudes."
"I make videos for my audience. I think of the content that I create as entertainment, and not a place for any serious political commentary," he continued. "I know my audience understand that and that is why they come to my channel. Though this was not my intention, I understand that these jokes were ultimately offensive."
Before you feel too badly for him, know that he still closed out 2017 as the sixth highest-paid YouTuber, pulling in a reported $12 million.
Perhaps emboldened by the controversies, perhaps embittered, Kjellberg seemed to lean in to the perception around him in the immediate aftermath, launching a parody news series called "Pew News" that mocked the media and its negative coverage of him to a degree that it apparently earned him an invite from Alex Jones to appear on InfoWars. (According to a September 2019 interview with The New York Times Magazine, he "politely declined.")
While it seems highly unlikely that anything Kjellberg's done or said is anything more than immature attempts at humor to entertain an internet generation so steeped in ironic detachment that it's become hard to tell what anyone actually believes anymore, PewDiePie continued to be linked to alt-right ideologues in increasingly horrifying ways, culminating in the perpetrators of both the Christchurch, New Zealand and Poway, Calif. shootings this past March name-checking either the channel or Khellberg himself as they carried out their heinous attacks. 
It was enough to prompt Kjellberg, a man who has never needed the assistance of traditional media to keep his thriving career afloat, to seek out an interview with The New York Times to reiterate what he's proclaimed time and time again on his own channel: He's not a white nationalist and he doesn't condone violence. He went on to ask his fans to put an end to the "Subscribe to PewDiePie" campaign, which had erupted into a meme as he was racing against Indian record label T-Series to become the most-subscribed channel on YouTube and had taken on a life of its own, with one fan scrawling the words on a WWII memorial and the Christchurch shooter uttering it during his live stream just before carrying out his attack and, in June, announced a renewed focus on the Let's Play videos that made him a star in the first place.
While the controversies did very little to stop Kjellberg from having a charmed 2019—he and longtime girlfriend Marzia Bisognin, an Italian YouTuber whom he's lived with in Brighton and Hove, England since 2013, tied the knot on August 19, days before he became the first individual YouTuber to surpass 100 million subscribers and the second channel ever, just behind T-Series to do it, and according to Forbes, he pulled in $15.5 million in 2018, with advertisers reportedly forking over $450,000 for a sponsored video—they haven't stopped, either. 
In September, he withdrew a pledged $50,000 donation to the Anti-Defamation League after fans alleged that he'd been blackmailed into donating by the organization, which is not without controversy of its own and had been critical of Kjellberg in the past. According to Kjellberg, he rescinded the promise because he hadn't hand-picked the organization himself and wanted to give, as he's done frequently in the past, to an org he feels passionate about. He promised he would still make the donation, but once he'd been able to find one that suited him better.
And just this month, he revealed that, following comments about the 2019 Hong Kong protests and an image of Chinese president Xi Jinping being compared to Winnie-the-Pooh, all of his content had been banned in China. 
While the money continues to be impressive, one gets the sense that, after a decade in the game, Kjellberg might be considering a way out. After all, his wife announced her own retirement from YouTube a year ago, explaining she was ready for "something new in [her] life." When asked by The New York Times Magazine whether or not he's considered following in her footsteps, he smiled. 
"Don't tempt me. I kind of question if the positive outweighs the negative," he said. "It's a lot more than I think I signed up for."
You can say that again.