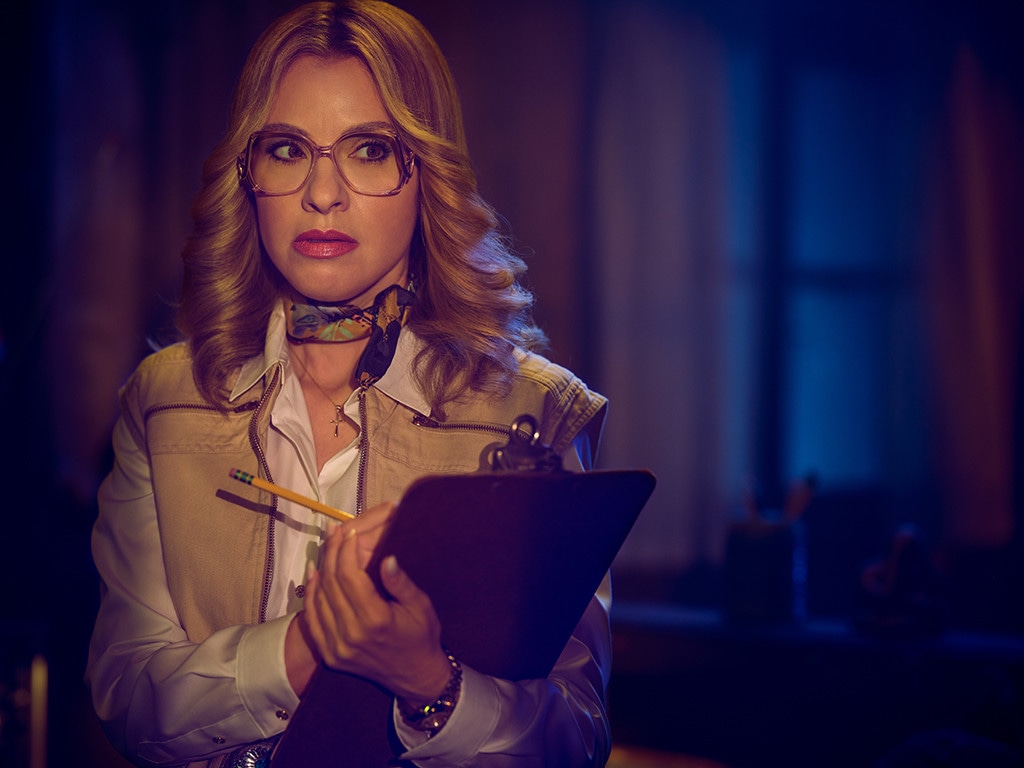 FX
Leslie Grossman is, without a doubt, really enjoying murdering people on American Horror Story: 1984.
Grossman, who is in her third season of American Horror Story, plays Margaret Booth, the owner of Camp Redwood...and she just so happens to be a murderer. This woman is, well, unhinged—and that is what's so fun to play, Grossman said, especially because she doesn't know how everything shakes out for her character.
"Look, here's the deal: I trust [Ryan Murphy] implicitly. And to me, getting to play Margaret this year was him giving me a gift wrapped up in a bow. What could I do that's more fun, more bananas, more insane than this? And I've had the time of my life. I'm a mom. Like, literally I go drop my daughter off at school and then I go stab people at work. It's crazy. And who else gets to do that?" Grossman said.
"So, I don't need to know every facet because I trust that they're going to come up with something incredible and fantastic and really fun and rewarding for me to play. And I feel like this year they really did good by me. I'm very pleased with what I've been able to do and what they'd given me to do," Grossman continued.
Grossman and Murphy first worked together on the two-season comedy series Popular. On the show, Grossman played spoiled rich girl—and scene-stealer—Mary Cherry. The series wrapped in 2001, but Grossman remained close with Murphy. (For the record, Grossman is more than ready to revisit Popular: "I think there's still a lot of story to tell for Ms. Mary Cherry. And I think that people would be interested to know where she's at right now.") However, it wasn't until 2017 that she joined his American Horror Story family.
"I mean, I really was known for doing just straight up comedy before and I certainly didn't think of myself as somebody who would be on American Horror Story," Grossman said. But when Murphy told her he wanted her on the show, she of course said yes, she trusts him completely.
"And it ended up being just this amazing gift and wonderful challenge that made me grow, that I think let people see me in a different way. And at this point in the game of my career, what a lucky thing and what a lovely thing for him to do for me. And that's the thing about Ryan is he always says, 'Oh, you can do it. You can do it because I say you can do it.' And then you're like, 'OK, I'll do it!' And then you feel amazing that you were able to do things like murder somebody in a rowboat in the middle of a lake at 3 o'clock in the morning," Grossman said.
The murdering, let's stress that again, is just on TV.
In American Horror Story: 1984, Grossman's Margaret Booth has killed a number of a series regulars (it's American Horror Story, death doesn't mean the end of the road), teamed up with a serial killer and has done quite a bit of scheming. She justifies her vicious bloodshed through her religion.
"Look, Margaret, is on a mission and in her mind, her mission is from God," Grossman said. For a few episodes, Margaret did try to keep those instincts at bay. It didn't work.
"And she did that by becoming obsessed with religion and with God. But it turns out that those feelings are just too big. But I do sort of appreciate that the way she justifies it is by saying, if you just say you did it for God, then you can do whatever you want," she said. "And by the way, that's a real thing that we see white evangelicals do all the time, don't we? You can justify your hatred and your bigotry and your discrimination, because look, 'It's just what my interpretation of God is, so I can do whatever I want and hurt whoever I want in the process.' So, that's really what I thought about frankly when I thought about Margaret and I know people are going to come at me for saying that. And I'm not saying that white evangelicals are psychotic killers...I am not saying that, but what I am saying is that I do believe that certain sects of that world justify their hatred and abuse by saying, 'Well, it's what my interpretation of God is, so I can do whatever I want,' and I feel like Margaret falls into that territory."
Margaret is a departure for Grossman. Last season, the actress, who is a big Real Housewives fan, said she based her witchy character partially on Tinsley Mortimer from The Real Housewives of New York City. This year, there's no reality TV star influence.
"I'm sorry, Margaret is even too bats--t for the Housewives. There really is no one. And you know it's funny, I thought about it. I really thought about it. 'Who could it be?' Nope, not this year. Margaret is a crazy onto herself that actually even defies the crazy of Housewives universe. So, I'm so sorry, no one, no one in the world," Grossman said. "I mean, god, if I were the person that was told that for this character, the actress used me as inspiration, I would be a little bit devastated. So, no, she is her own special beast."
Kevin Mazur/MG19/Getty Images for The Met Museum/Vogue
A "special beast" that has really been a life-changing experience for Grossman. She's doing stunts, she's cutting her own ear off (on TV), she's covered in blood and guts. It's not the type of work she was being offered before, it's a "challenge in the best way."
"I'm a middle-aged actress, Ryan has given me opportunities to do things that I wouldn't normally get to do. A lot of times the things that are out there for me are playing a mom. And by the way, I love moms. I am a mom. I love my mom. Happy to play a mom, but I would love for that to not be the only thing that's out there. And Ryan is like, 'Oh, you want a thousand amazing, interesting things to do? Here you go,'" Grossman said. "So, I just don't know anyone who's writing more interesting things for actresses that are over 40 than Ryan Murphy. Also, because of my age and how long I've been doing this, there's no way for me to not understand how lucky I am. It doesn't make for good copy, but I'm just so goddamn grateful, you know?"
American Horror Story: 1984 airs Wednesdays, 10 p.m. on FX.