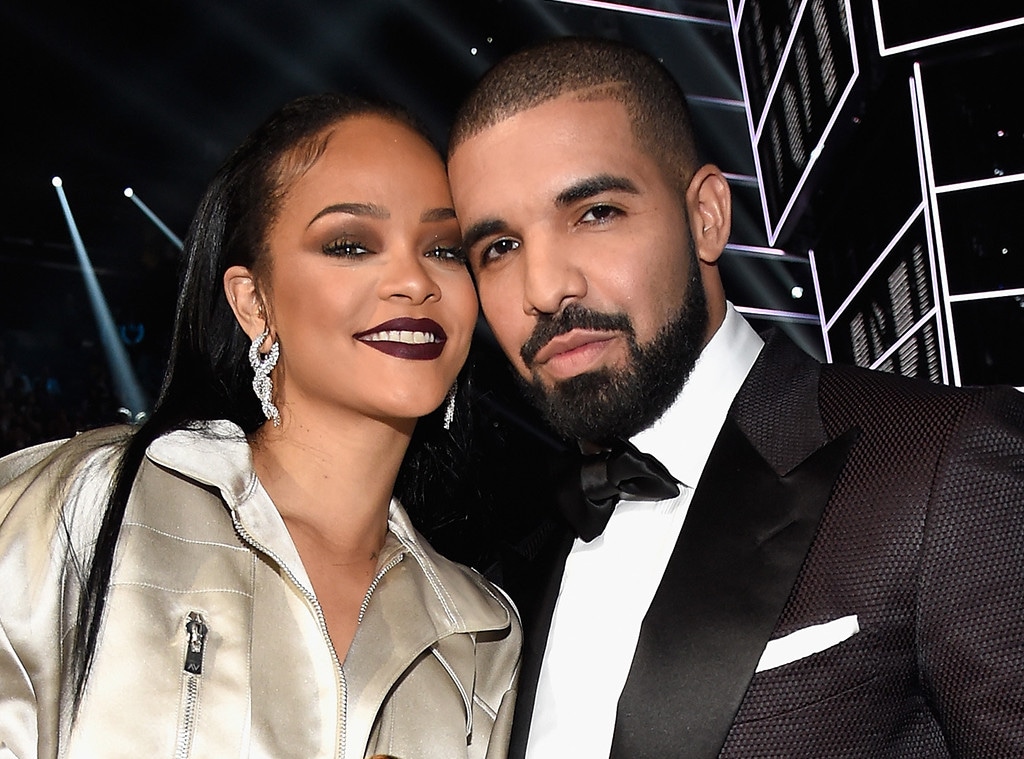 Kevin Mazur/WireImage
Please don't stop this celebration, Drake!
The Grammy winner's birthday may not be until later this week. But on Monday night, the "Hotline Bling" rapper decided to celebrate his special day early with a surprise gathering.
E! News has learned Drake and several members of his OVO crew headed to Poppy nightclub for a fun night out. And guess who showed up? The one and only Rihanna.
"Rihanna made an appearance and stayed for several hours. She was with two girlfriends and was escorted to Drake's table by security," a source shared with E! News. "Her and Drake were talking for a while and were smiling and laughing. It seemed like a very pleasant interaction and they looked like they were having fun together as friends."
Based on Instagram Stories, Love & Hip Hop Hollywood star Lyrica Anderson was also hanging out with Rihanna inside the Hollywood hot spot.
And according to an eyewitness, everyone in attendance was having a great time.
"Rihanna was dancing to the music and bobbing her head and seemed to be in a good mood. The whole vibe was very chill," our source shared. "Drake had a huge smile on his face and looked excited to see Rihanna when she arrived."
During the celebration, Drake's crew ordered McDonald's French fries and chicken nuggets for friends to enjoy.
DJ Premier and Balthazar Getty were DJing for a majority of the night and hip-hop music appeared to be the genre of choice.
As for the fashion, pictures obtained by The Shade Room show Rihanna wearing sparkling bottoms, stilettos and a loose oversized sweater. As for Drake, he sported a black turtleneck with matching pants and dress shoes.
Pop culture fans will remember when the pair famously dated in 2016. Whether it was their epic collaborations or heartfelt speeches, the chemistry was undeniable.
"She's someone I've been in love with since I was 22-years-old. She's one of my best friends in the world. All my adult life, I've looked up to her, even though she's younger than me," Drake famously shared at the 2016 MTV VMAs. "She's a living, breathing legend in our industry.
But in a true Hollywood love story, busy schedules led these two to break up with Rihanna currently dating Hassan Jameel. At least they are shining bright like diamonds—as friends.