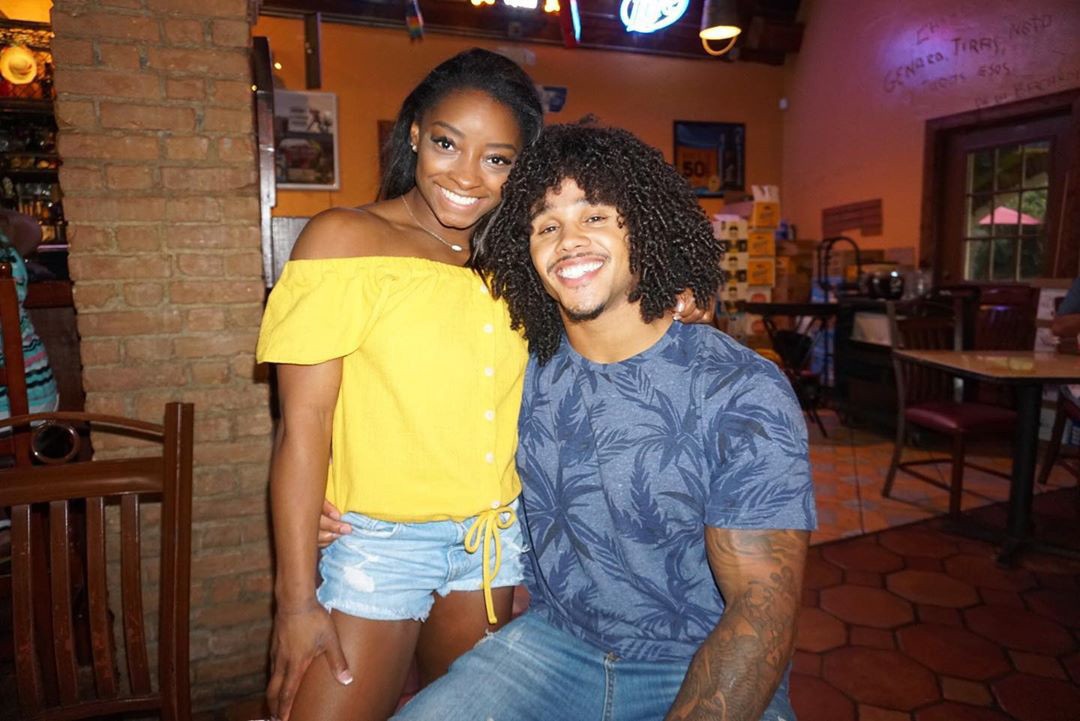 Stacey Ervin Jr./Instagram
Stacey Ervin Jr. has flipped for Simone Biles, and he's not afraid to show it.
"Every time it's different, he basically just screams into the phone and tells me how proud he is of me. He's an awesome times two," Biles said on Today last week about her boyfriend of two years, who vaulted onto the world stage when a video went viral showing him displaying all the feelings in front of the TV while watching her floor routine at the World Championships.
"That's what I'm talking about! Let's go!" the gymnast and fitness coach cheered—one of countless opportunities he's had to applaud Biles since they started dating in 2017.
 Perfect 10s across the board for form, volume, enthusiasm and devotion.
While Ervin has been in Biles' life for years now, her recent surge of international dominance, more than three years after winning four gold medals at the 2016 Summer Olympics in Rio de Janeiro, has all eyes back on her as she prepares for 2020 in Tokyo.
In Stuttgart, Germany, where this year's World Championships were held, Biles won five out of six possible gold medals to bring her career medal total at the world championships to a record 25—more than any other gymnast, ever. Just as memorably, she successfully executed "the Biles," a double-twisting double-tucked somersault dismount from the balance beam, and pulled off "the Biles II"—a triple-twisting double-tucked somersault—during her floor routine.
"It's older than my age, so I'm pretty thrilled with it," the 22-year-old told reporters about her history-making medal count.
And Ervin, watching from home in the United States, was following her every move.
Marijan Murat/picture alliance via Getty Images
"MY WOMAN IS A 5x WORLD CHAMPION IN THE ALL-AROUND & I COULDN'T BE MORE PROUD," he lauded Biles on Oct. 10. "I get hyped every time I watch her do her thing & today was no exception. Congratulation, babe! The whole world is proud of you!"
She replied to his post, "my mans [lips emoji] can't wait to give you the biggest smooch ever! thanks for your endless support babe...i love you with my whole heart."
Ervin's been getting rave social media reviews for happily celebrating Biles, not just as the sports royalty she is, but as the queen he feels his girlfriend should be treated like on a daily basis. But it's not as if they're amateurs at this loving-couple business.
They actually turned pro ages ago.
"Always smiling with you," Biles captioned the Aug. 21, 2017, post that made them Instagram official, the photo taken when Ervin was her date to her induction into the USA Gymnastics Hall of Fame.
Ervin—former director and head coach of the men's gymnastics program at the World Champions Centre in Spring, Texas, and for a time a WWE Superstar who specialized in high-flying tricks—thereby established himself as her most ardent supporter.
"Words cannot express how incredibly proud I am of you, all you've accomplished & how well you carry yourself," he wrote that day. "You make me feel like I am the luckiest man alive. Congratulation on your induction to the USA Gymnastics Hall of Fame! I can't wait to see what the future has in store."
Her future promised more medals—and more of him.
Stacey Ervin Jr./Instagram
Biles was fairly adamant in the days following the 2016 Olympics, where Zac Efron showed up to meet her and we couldn't get enough of Team USA's Final Five, that she hadn't yet had a serious boyfriend. But it appears that Ervin has been in the picture since before her life-changing (albeit expected) series of triumphs in Rio.
She eventually shared with People that they first met in 2014 at the P&G Championships (the U.S. Nationals that year), where she won all-around, vault and floor gold, a few months after coming back from a shoulder injury.
A May 2016 New Yorker profile of Biles describes a moment where the then-18-year-old charged into her coach Aimee Boorman's office "to say that a boy she was not calling her boyfriend, but whom she would kill if he started dating anyone else, had just had his ears pierced."
A quick check of Ervin's ears confirms: pierced.
Moreover, the article noted, Biles had reached 140 straight days of Snapchatting with this mystery fellow, while also training for gymnastics' biggest stage. (She told People that she had relayed to Ervin that he was cute over Snapchat.)
Boorman also recalled telling this unidentified young man, "'I think you're sweet, but if you screw with her mind I will kill you. You can screw with her mind after the Olympics, but not before. I've got enough to deal with.'"
A gymnast himself, at least Ervin could relate.
As a student athlete he was a four-time All-American at the University of Michigan, where he was part of two Big 10 Championship teams, made the USA National Team in 2013, and graduated in 2015 with a BA in psychology.
Biles graduated from high school in 2015, having been homeschooled since the age of 13 so she could better devote her life to gymnastics. She won her first U.S. Championship in 2013 and has won every all-around gold since, as well as every World Championship all-around she's competed in since her first gold, also in 2013.
In 2016, it was reported that she lived with her parents, Nellie and Ron, in a suburb north of Houston, about 10 minutes away from the 52,000-square-foot World Championships Centre—where Ervin started working in 2017.
After her Olympics victory lap, Biles took 2017 off, knowing it would be back to backflips, beams and uneven bars in 2018. In that time, she released an autobiography, Courage to Soar: A Body in Motion, A Life in Balance, with co-author Michelle Burford; competed on Dancing With the Stars (a rare fourth-place showing); performed as an honorary member of the Houston Texans cheerleaders; and nurtured her first relationship.
Kevin C. Cox/Getty Images
While competing on DWTS, Biles told Entertainment Tonight that she hadn't yet had a real boyfriend. "At 20 years old I feel like you should have gone through those things and gone on dates," she said. "I have been on like, maybe one proper date."
DWTS ended in May, after which she finally had time to spend with Ervin, who took her out for sushi on their first date.
"He knows I don't like sushi and he forced me!" Biles told People. "It was out of my comfort zone, which I liked."
On Aug. 5, Biles wrote on Instagram, "this past weekend we celebrated 2 years together... im lucky to be loved by you Stacey." Ervin agreed, "Best two years of my life. Happy anniversary, sweetheart. I love you. 224." (The "224" that they both include when they're writing about each other signifies "today, tomorrow, forever.")
But even once the committed romance started in the summer of 2017, they could still only spend so much time with each other.
"He's an elite athlete and he's traveled and stuff, so he understands it," Biles told People that September at the Buoniconti Fund to Cure Paralysis Sports Legends Dinner. "We already know in each other's lives we don't come first, and that's okay with the both of us. So we do what we need to do, and then when we come together it's fine."
Two months after going public, Biles told AOL in October 2017 that that step had been a big one for her.
"I feel like we're a little bit nervous to put it out there because everyone has their own opinions," she said. "It is different dating in the public eye, but I think we just do us."
Biles, who enjoyed going with Ervin to Michigan football games that fall, added, "I feel like in the beginning, it was more nerve-wracking posting about it... but then it becomes somewhat normal and people are used to seeing it, so they're okay with it."
Acknowledging that her experience of adolescence had been wildly different than most kids, Biles said, "Most teens are already pretty uncomfortable, and to go through [this time] with thousands of people watching us, we have different ways of dealing with it."
Not long after, they enjoyed date night at a Houston Rockets game, but non-social-media sightings remained few and far between—perhaps one of their ways of dealing with the spotlight being to control their narrative by sharing a fair amount of photos themselves.
"She just gets me, so she got me," Ervin captioned a pic of them flashing big smiles during what looked to be a simple outing to the store this summer. "Have fun in your relationship & respect each other in every way possible. That's what we try our best to do, & we'd say it works pretty well. Have a great weekend y'all & show your P.I.C. that you love em!"
And life has not been without its challenges in the meantime. They rang in the New Year together, but at the end of January, Ervin suffered a concussion during a wrestling event and in March decided that life wasn't for him after all.
According to the bio on his website, "Stacey knew himself, & knew he didn't want to waste his skills, talents, & life on something that would not create personal fulfillment, & a lasting impact on other people...That is when Stacey discovered the world of fitness & lifestyle mentoring, & instantly saw an opportunity to live out his purpose & transform the lives of others for the better."
While not training or giving relationship tips, they found time to go on vacation in May, but mainly Biles and Ervin just enjoy doing the simple things together, such as riding scooters and and going to Universal Studios' Halloween Horror Nights in Orlando—and the not so simple, such as gravity-defying flips and twists.
In February, they showed off the newest member of the family, French bulldog Lilo.
"distance gives us reason to love harder," Biles captioned a pic of the two sharing a kiss in the pool this June. Ervin then went with her to Cleveland in July when she played in the All-Star Legends and Celebrity Softball Game. (On Wednesday she'll be throwing out the first pitch at Game 2 of the World Series in Houston.)
Stacey Ervin Jr./Instagram
And naturally he was there for Biles at the end of August when her brother Tevin Biles-Thomas was arrested and charged with murder in connection with a triple homicide on New Year's Eve. He has pleaded not guilty and Biles asked for people to respect her family's privacy.
"The strongest people I've ever met have not been given an easier life," Ervin posted on Instagram Story. "They've learned to create strength and happiness from dark places."
Biles in turn posted, "Missing you a lil extra today."
Though their committed coupledom has been hiding in plain sight, they somehow manage not to be in-your-face about it, and that has led to the mass swoon their relationship has caused these last few weeks.
On Monday, Biles wished Ervin a loving happy birthday, calling him "the man of my dreams," and writing, "so many things I love about you. Your energy lights up an entire room. you're a true gentleman and you always put others first! Your mindset, grit and your passion for greatness. 26 will be a great one! Never stop being you Stacey Ervin Jr. I love you. 224."
And he replied right there, "I appreciate you more each day. Sincerely, you are my angel & inspire me. Thank you for continuing to believe in me, & always being yourself. I love you forever. 224." 
That's just all-around gold.