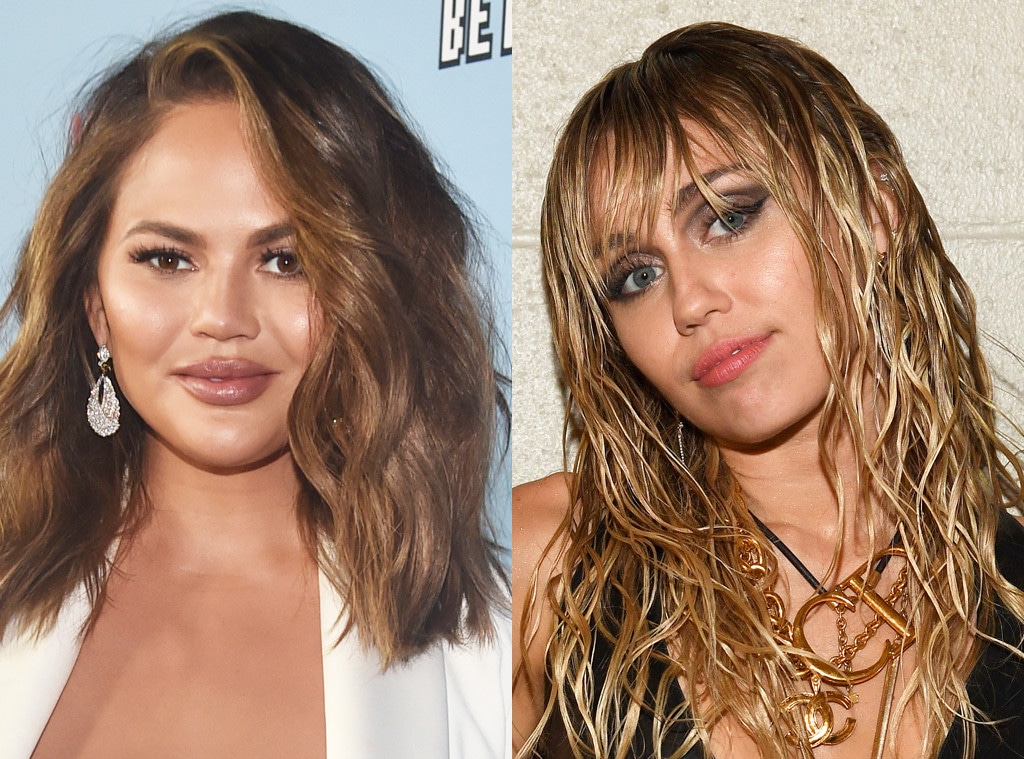 Alberto E. Rodriguez/Getty Images, Kevin Mazur/Getty Images for iHeartMedia
Chrissy Teigen thinks Miley Cyrus has people "on edge" with her latest social media activity.
On Tuesday, the author and TV personality took to Twitter to share her thoughts on social media in what she called her "morning rant." In her series of posts, Teigen referenced Cyrus, who has been making headlines for her recent behavior online.
Teigen, 33, started off her series off tweets by addressing outrageous claims about her and husband John Legend. You might recall, back in 2018 a reporter linked the couple to the discredited sex trafficking conspiracy theory known as Pizzagate.
"u know what is not great? I still have to read on social media many times a day that John and I are pedophiles and look at photoshopped/miscaptioned photos of us on 'Epstein Island' and I just have to deal with it because 'people are crazy these days,'" Teigen tweeted Tuesday. "if I take legal action, it gets worse because then, to them, it's true and I'm trying to 'silence' them. It's on posts about anything. Random 90 days fan pages, meme accounts, anything. Even if the content is normal, the comments are....this s--t."
"I had a real life before this," Teigen continued. "I mean...going to the grocery store and s--t, parks alone with my kids. now I have a list of people in my area who genuinely believe we are in a pedo ring that is always *ALMOST* about to be exposed."
"it's not just weirdos in random towns. these people are all over," she added. "I hate what some people have become and what social has done for this kind of reach. it sucks. and now they'll post this too, and it'll get even worse. I'm just so f--king tired."
"I have a love justice. when people do wrong, I need them to know they're wrong," Teigen told her followers. "this isn't a good or bad thing, but it's me/. the fact I have to learn to let people get away with s--t like this is insane to me. it makes me ill inside. yep, they're just crazy! don't worry bout em!"
"anyhow that is my morning rant," Teigen tweeted. "f--k you, f--king miserable Q s--tf--ks, you absolute f--king losers."
Teigen went on to tell her fans, "anyhow when I am sad or bored I like to log onto instagram live so the alert freaks out my publicist so I'm just gonna do that all day. miley got them all on edge."
Cyrus, 26, has been in the news after an Instagram Live she participated in with Cody Simpson went viral. During the Live, Cyrus shared that there was a point in her life where she was "not allowing anyone in."
"Guys, I was being a little too, like…hard-core feminist vibes and, just like, I don't know, not allowing anyone in, but now I am," Cyrus said. "There are good men out there, guys. Don't give up. You don't have to be gay. There are good people with dicks out there. You just gotta find them. You gotta find a dick that's not a dick, you know what I mean?"
"I always thought I had to be gay because I just thought, like, all guys were evil, but it's not true. There are good people out there that just happen to have dicks. I've only ever met one…and he's on this Live," Cyrus went on to say, referencing Simpson and seemingly attempting to shade her ex, Liam Hemsworth.
After the controversial Live, Cyrus returned to social media to clarify her comments.
"I was talking s--t about sucky guys, but let me be clear, YOU don't CHOOSE your sexuality," Cyrus wrote. "You are born as you are. It has always been my priority to protect the LGBTQ community I am a part of."