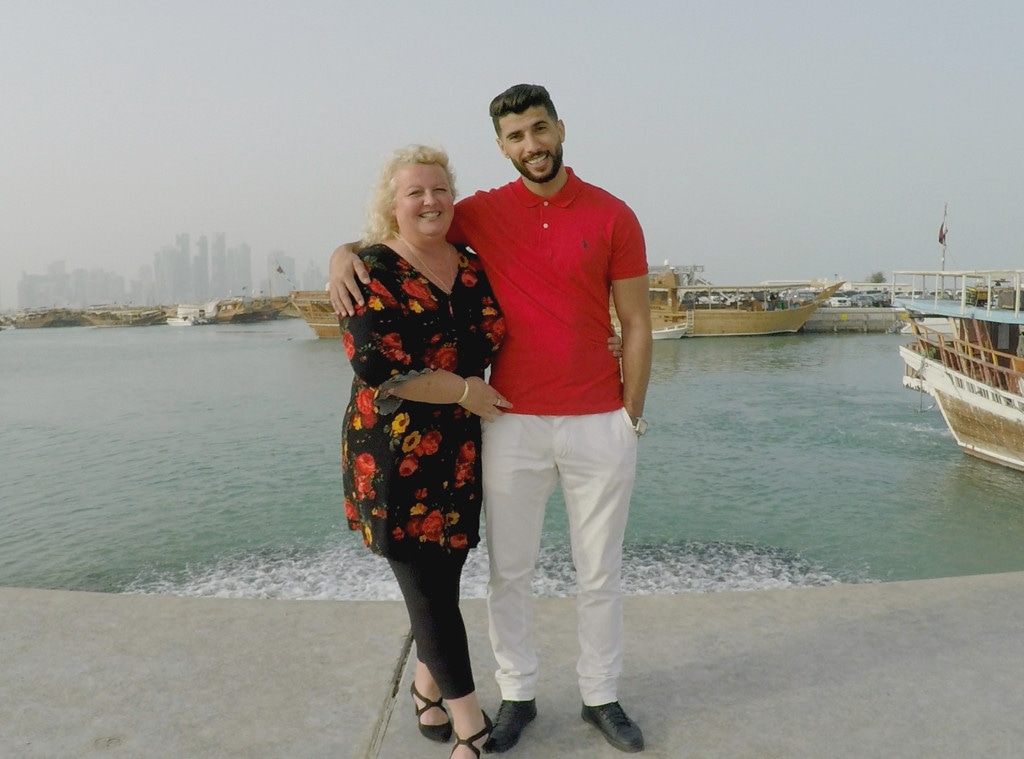 TLC
Surprise! Not all the relationships on 90 Day Fiancé: The Other Way are going well. Who could've predicted that?
In the second part of the "Tell All" reunion, the couples who put it all on the line for love reflected on their country-spanning journeys, fights, loves and meddling family members.
The first part ended with Laura and Aladin talking about divorce just six weeks after their wedding ceremony. Laura's adult son Liam joined the conversation and asked why his mom and new stepfather couldn't just work things out, and was sure to note he predicted this would happen. "I don't like to see my mother upset," he said. But Liam's constant laughter, possibly from nerves, really rubbed his mom the wrong way. When Laura's brother Ludwing was brought out, he couldn't say he was surprised that this was happening.
"I want to fight for my marriage," Laura cried. "I love Aladin and I thought he truly loved me…I don't know what's happened to him."
Later in the show, the two fought about money again, but Aladin said he didn't need Laura's money, that he makes more than her and he seemed ready to call it all off. However, after some interference by the other couples, Aladin said he would go to marriage counseling with Laura. She still seemed unsure.
"I truly believed and trusted him. I felt that our love was really real, but I don't know. I just don't know. I really thought he loved me. I really, really did," she said. Will she go back to him in Qatar? She said she's not sure.
Deavan and Jihoon
Another twist viewers probably saw coming: Deavan moved back from Korea. She packed up her young son and headed back to the United States, mostly, she said, because she couldn't bring her young daughter over to live in a cramped apartment with Jihoon, a new baby and her in-laws. he decided to move back to America and take the baby.
Deavan said she was heartbroken and sad to leave Korea, but Jihoon didn't follow through on his promises and didn't get anything together for them to have a comfortable life there. While on the couch, Jihoon revealed his father still is in Deavan's camp, but his mother wishes he had married a Korean woman and wasn't a fan of her. Still, Deavan plans to move back to Korea, with both kids, and they're working on rebuilding trust…if Jihoon actually gets his act together.
"I'll trust you one last time," she told him.
Tiffany and Ronald
Tiffany declared she was in the "most difficult marriage ever," but is committed to making it work. She plans to go back to South Africa to introduce Ronald to his baby and she's ready to bring him to America…he just hasn't applied for his visa yet. Why? "It's not a cheap process," he said. However, since he was never convicted of any of the crimes he was jailed for, Tiffany said Ronald should be able to come to America. In fact, she's not planning for any other outcome.
Jenny and Sumit
The couple with the biggest shock of them all—Sumit was actually married to another woman this whole time—reunited and rehashed their star-crossed romance. Sumit was able to join the reunion via video call and said he was doing so with his family and wife clued in about his actions.
Despite everything, Jenny said she still loves Sumit and they want to be together. In fact, Jenny said she probably would've still gone and stayed in India had he told her about his marriage, she loves him that much. But why did he go on a TV show even he was keeping his marriage a secret from Jenny and Jenny a secret from his wife and family? Sumit said it's because he wanted to show everyone that he loves Jenny and wanted to be with her. He tried to tell his family, but nobody would listen to him.
Now, he's separated from his wife and his wife has filed a case against him. If the divorce goes through, Jenny said she plans to go back to Sumit and India. For now, she's living with her daughter in the United States.
Paul and Karine
Paul was forced to sit through a supercut of his many fights with the absent Karine (her whereabouts were unexplained). Paul said it was hard watching that and he is trying to be better. His mom, Mary, joined him on the couch and said Paul's coming along as a father, but he's got a long road ahead of him. And she's still supporting him, but he's not allowed to live at home anymore.
90 Day Fiancé continues with Before the 90 Days on Sundays, 8 p.m. on TLC.