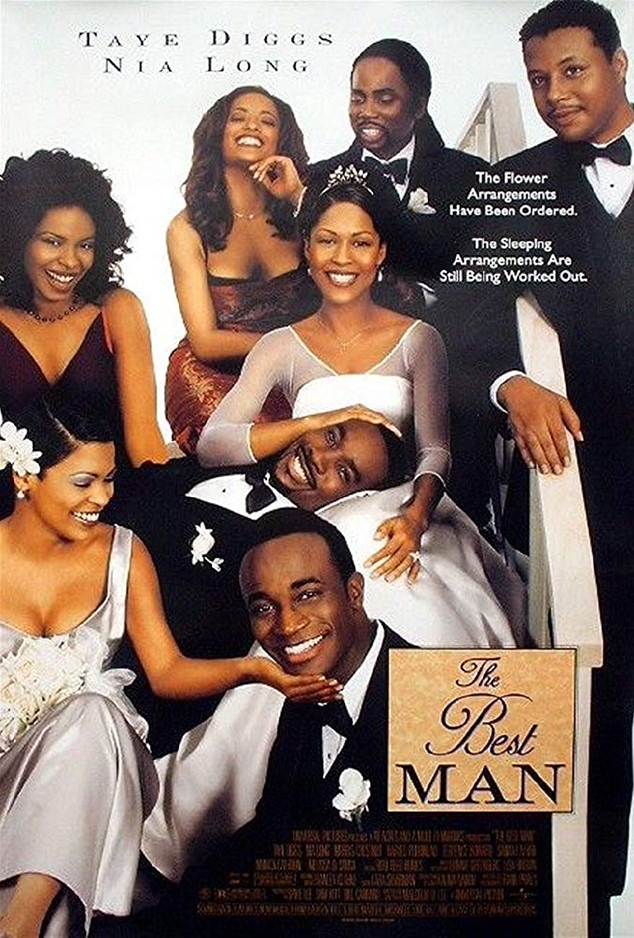 Universal
It's been 20 years since Mia and Lance said their I-dos.
And while their road to the altar in the seminal 1999 romantic dramedy The Best Man was touch and go, there was little doubt that the ending, no matter how the chips fell, would be satisfying.
Why? Because the journey had been so damn enjoyable!
Only nine years removed from a New York Times article declaring that "In Hollywood, Black Is In" following the release of Do the Right Thing, the R-rated tale of friends coming together for a wedding with a You Can't Go Home Again twist and lots of laughs along the way was a box office hit that also served to remind studios that there was a wildly underserved market for more everyday stories told by black filmmakers and starring black actors.
It wasn't ahead of its time—rather, it was both long overdue and followed in some hallowed footsteps, but The Best Man did launch careers and help lead to more representation at the multiplex.
So much so that, as Pop Matters pointed out in 2013, The Best Man may have started something, but the sequel The Best Man Holiday had "to play catch-up to madwo(man) Madea and the gang," referring to the by-then booming entertainment empire presided over by Tyler Perry.
"Hollywood needed to see that we were more than drug dealers and baby mamas," Nia Long, who played maid of honor Jordan, told Brian Raftery for his 2019 book Best. Movie. Year. Ever.: How 1999 Blew Up the Big Screen.
Taye Diggs, the titular best man Harper, said that in the late '90s he was simply looking to be in movies "where you just see African American people being people, as opposed to stereotypes."
Sure enough, The Best Man is about regular (albeit really good-looking) people and their careers, their success and failures, their struggles an insecurities, their romantic entanglements and their sex drives.
And though certain aspects of the film firmly root it in the 1990s, the themes—friendship, fidelity, faith, forgiveness and powering through when you feel ready to give up—still resonate 20 years later.
Here are 20 important things to know about The Best Man:
"Malcolm D. Lee did something that very few people had really aspired towards," Terrence Howard reflected on NPR's Tell Me More in 2013. "You know, we knew there were upscale black Americans that were living real lives, but often times that was never depicted inside of films, even on television, you know. What he created back then gave everybody an opportunity to say, 'There is a true middle class black family. And this is their language. This is how they behave.'
"So you don't have to be, you know, a... black person pretending to be white. And you don't have to be ghetto friendly. You can actually be, you know, extra medium."
Added Sanaa Lathan, "I think audiences, especially African-American audiences, were hungry to see themselves or see people that they know onscreen. And I think that this movie—along with some other movies at the time, Love Jones was another one—really depicted people that we know personally."
The Best Man Wedding, the years-in-the-making third film in an envisioned trilogy, has been "announced," but all those conflicting schedules haven't yet come together.
"If it's going to happen, it will happen before 14 years," Lee promised, talking to the LA Daily News in 2016.
In the meantime, he had the biggest hit of his career with Girls Trip, which made $140.6 million worldwide on a $19 million budget and featured a breakout performance by Tiffany Haddish, who Lee directed again in Night School.
Lee told Raftery that, as has been the case with so many hit movies featuring all-black casts over the past two decades, people still tended to say films like Girls Trip "overperform." But, he added, "maybe you just underestimate them."