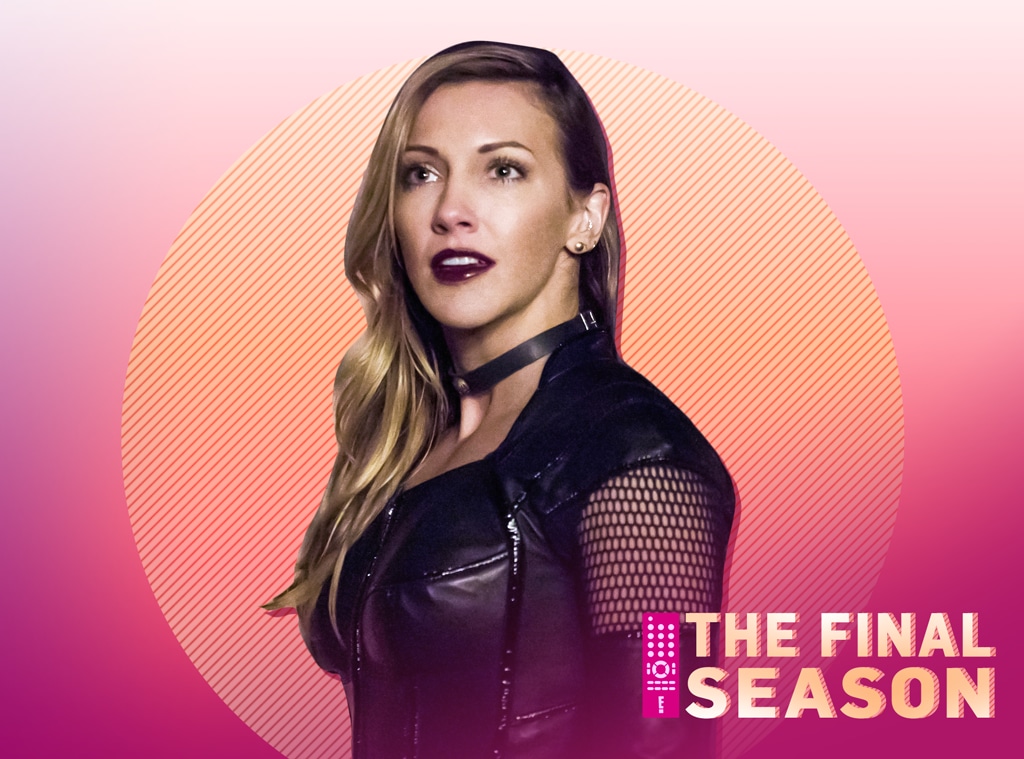 The CW/E!
All good things must come to an end, even—and especially—television shows. And in the 2019-2020 TV season, quite a few favorites are signing off.
Will it be for good? That remains to be seen in today's climate of revival and reboot fever, but it's for now. To celebrate the end of an era, E! News assembled the stars who are saying "see you later!" to their beloved characters and for a candid look at the past, present and future of their hit shows. After eight seasons on TV, Arrow is saying goodbye.
Arrow launched numerous spinoffs and along the way series star Katie Cassidy was killed off, revived, and bounced around shows. She's now preparing for another possible spinoff about a trio of butt-kicking women, Laurel Lance (Cassidy), Dinah Drake (Juliana Harkavy) and Mia Smoak (Katherine McNamara).
Now, Cassidy is honoring the show that ushered in a new era for The CW and superheroes on TV.
My favorite behind-the-scenes memory is…
"One in particular that sticks out. Well, there's two. First of all, the first time I ever put on the Black Canary jacket, I cried. I'm not going to lie. I was so excited," Cassidy said.
And then there was the time she was in the middle of an intense and tearful scene, one she tried to remain in the zone for, but on a turnaround she looked at her phone.
"I looked at my phone and I had text messages from John Barrowman. I was like, 'Oh, OK. This is interesting.' So, I looked at them. [Laughs.] He basically went into my trailer and, like, pulled down his pants and sent a picture of him, like, sitting on my couch, not entirely naked, obviously…I saw his bum…And then he went over to the refrigerator and took another picture, a selfie of him and his bum, and I just started cracking up. It also was really good, I needed the release, I needed to laugh a little because it was a really intense serious scene," Cassidy recalled with a laugh. "I also showed [Stephen Amell] who the scene was with and he was like, 'Oh, god! I don't want to see that.' … John Barrowman over all brought so much joy and laughter and so much fun. There were so many fun times when he was around. I loved that. I thought the whole thing was freakin' hilarious. It was awesome."
The moment I realized the show was a hit was…
"When I read the pilot before I auditioned." Cassidy said she after reading the script and meeting with Marc Guggenheim, Greg Berlanti and David Nutter she was on board, noting she really wanted to do an action role. "I'm all for strong women having their own story and they pitched it to me. I remember calling my agent after reading the pilot and said, 'This is going to be a hit. I don't want to read any other scripts. I have to play this role. I was born to play this role. This is me.'"
"After we shot the pilot, David Nutter, he took me and Stephen aside, and he said those exact words, 'The two of you, you were born to play Oliver Queen and you were born to play Laurel Lance. Just immediately, you are these people.' I thought that was pretty cool I even remember saying to Stephen when we were at Comic-Con the first year, I basically said, 'Don't f—k this up. This is going to be a big show and a part of something special.' And it really has been. I'm so, so fortunate to have gotten the opportunity to be a part of it…It's almost a decade, it's eight years, but as it continues."
The prop/wardrobe item I've always wanted to take home…
"Oh, I got to take home that Black Canary jacket," Cassidy said. After her character was killed off in season four (Cassidy said she didn't want to leave but took one for the team and said she understood the storytelling choices for killing off Laurel Lance), she asked Guggenheim if she could take home her character's mask and jacket. Arrow fans know she was brought back on The Flash play a Black Canary doppelgänger from an alternate Earth, Black Siren, and has since rejoined Arrow as a series regular.
When I think of Laurel, the first thing that comes to mind is…
"Full of emotion and full of heart. If you're talking about Laurel Earth-1, she's very raw, very real. Also, she's not afraid of Oliver and she gets in his face when she needs to. And by the way, so do I! [Laughs.] If I need to talk to Stephen, I'm like, 'Hey! We need to have a conversation about this, let's chat.' And I think Stephen really respects that, he appreciates that I'm upfront with him. We have a wonderful working relationship and friendship. All of us do. I just think of her as really emotional and real…Obviously Earth-2 is a little not as much, she's a little more sassy…but, so much fun. It's been a really incredible journey."
The thing about this character I'll never be able to shake is…
"I feel like I am a part of her. I put a part of myself into that character, which I do many characters I play. I mean, I think that just happens. Part of me goes into the development of characters, but also many, many, many other layers and other things that I consider when I'm prepping for a role and doing backstory and creating a world or a character, which is sometimes really difficult to do, but sometimes it's really easy to tap into because they just happen to write the character close to who you are. For me, with Laurel, that's what it was. It's not that it was ever easy, it was just—I know her so well because I put a part of myself into the character."
I think TV revivals are…
"Really fun and cool. I think reboots, revamps are cool, I also think original content is cool. I think it's just sort of the climate and it's what the world wants to see. Right now I think doing reboots and revamps is kind of cool because you're like, 'Oh yeah, I remember that show, I'm going to check it out,' because it brings you to your childhood or whatever it may be, so I think it's really fun."
The person I'll miss the most (and why) is…
"Truthfully, it is a really hard question. I feel like I'm going to get emotional during this interview, I'm starting to…Everybody, we are really tight, and everybody really gets along. This season, sadly, somebody I was really close with—I mean, nothing tragic happened to them, they just didn't come back this year—my hair stylist, his name is Paul Edwards, he's wonderful." The two first worked together on the movie Black Christmas and Cassidy said she's trying to get him to work with her on the potential spinoff.
"Also, yesterday, out of nowhere, I was doing a scene with Stephen and [David Ramsey] and I just looked at Stephen and was like, 'I'm really going to miss you!' And he was like, 'I'm really going to miss you too.' We just had a hug. It was while we were rolling [Laughs.], so we had a hug, had a minute and then they called action and we rolled. And David as well, we started this together with this pilot…[On a pilot] You're in this sort of teetering phase with everyone and you're not sure and then all of a sudden you go through this incredible experience together for so many years and these people become your family. So, all of them. Including the crew, including writers, showrunners, all of it. Just because the show is coming to an end doesn't mean your relationships with these people come to an end. I hope that we all stay close for a really long time."
The thing—besides the people—I'll miss most about this show is…
"I mean, the whole putting on the suit thing is really cool. Obviously, I'll miss that, but also I'm fortunate enough with this spinoff to continue to do that. I think just in general, everyone who has put so much time and effort into this show, which they were able to spinoff other shows from. The whole thing has been pretty remarkable and incredible, and again, so grateful for every single moment of it," she said. Now after eight years together, Arrow has become a well-oiled machine and it's become comfortable for them, but there's excitement in the challenge of a spinoff, she said. "You find your groove and you find your pattern or your way of doing things—your flow, I guess—so I know that will happen again."