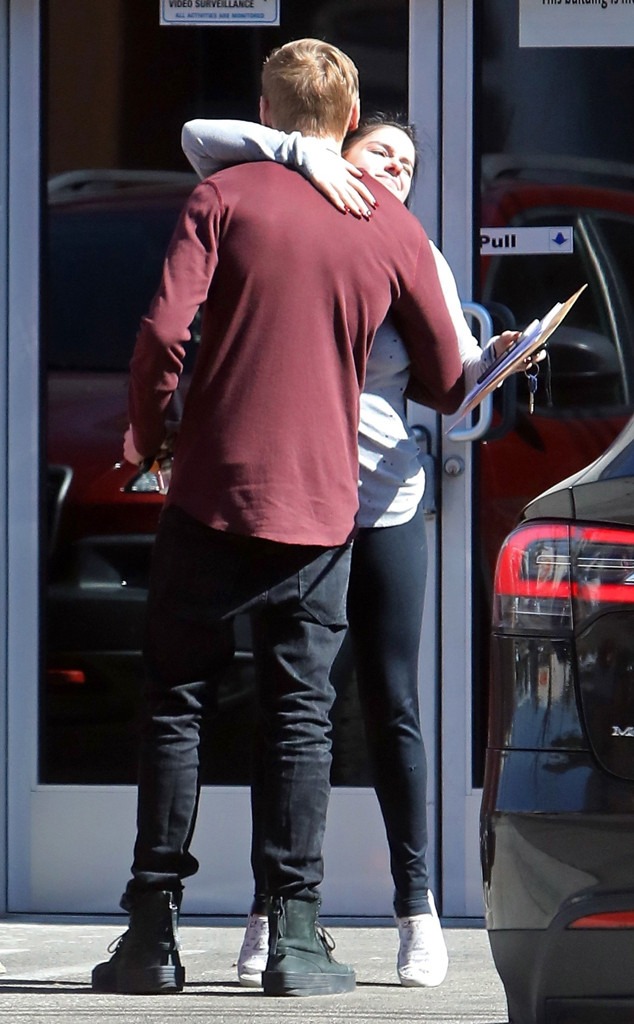 BACKGRID
What breakup?
Ariel Winter was spotted hanging out with her longtime beau, Levi Meaden, on Sunday afternoon in Los Angeles. The Modern Family actress appeared to be all smiles and was spotted hugging the 32-year-old Canadian actor after they left a studio in North Hollywood, Calif. 
The pair kept things casual and low-key during their mid-day outing, as the 21-year-old actress donned a grey long-sleeve shirt, black leggings and white sneakers. She also styled her hair in a chic messy bun and appeared to have no makeup. The Breaking In actor also went for a laid-back vibe and dressed in a long-sleeve burgundy tee that he paired with black denim jeans and combat boots.
So why is their recent hang out news? About two weeks ago, rumors swirled online that the longtime pair decided to go their separate ways. However, after seeing their latest outing, it appears that isn't entirely the case.
The couple began dating in November 2016, and a year later, the actress revealed that she and Levi were living together. "My boyfriend and I live together and he cooks," she told Jimmy Kimmel at the time. "I can't cook at all. He takes care of all that handy stuff. He's great. He does all that. I can bake pies occasionally, pumpkin and apple."
She added, "I'm like, the worst 'wifely' person but whatever. Like I said, I baked those pies. He does everything else."
Moreover, Winter gushed over the Canadian star during Valentine's Day this year, which was one of the last times she posted about him on Instagram. "Happy Valentine's Day," she began her caption, alongside two photos of her and her man. "I'm a very lucky girl. I love you!"
Back in January, the two also hit the red carpet together at the 2019 InStyle Golden Globes party. "Fun time with best the person in the world," Levi wrote on Instagram, alongside several snaps of him and his leading lady.
As of now, the two have yet to publicly address their breakup rumors, and it seems like they might not need to if their latest outing is any indication.