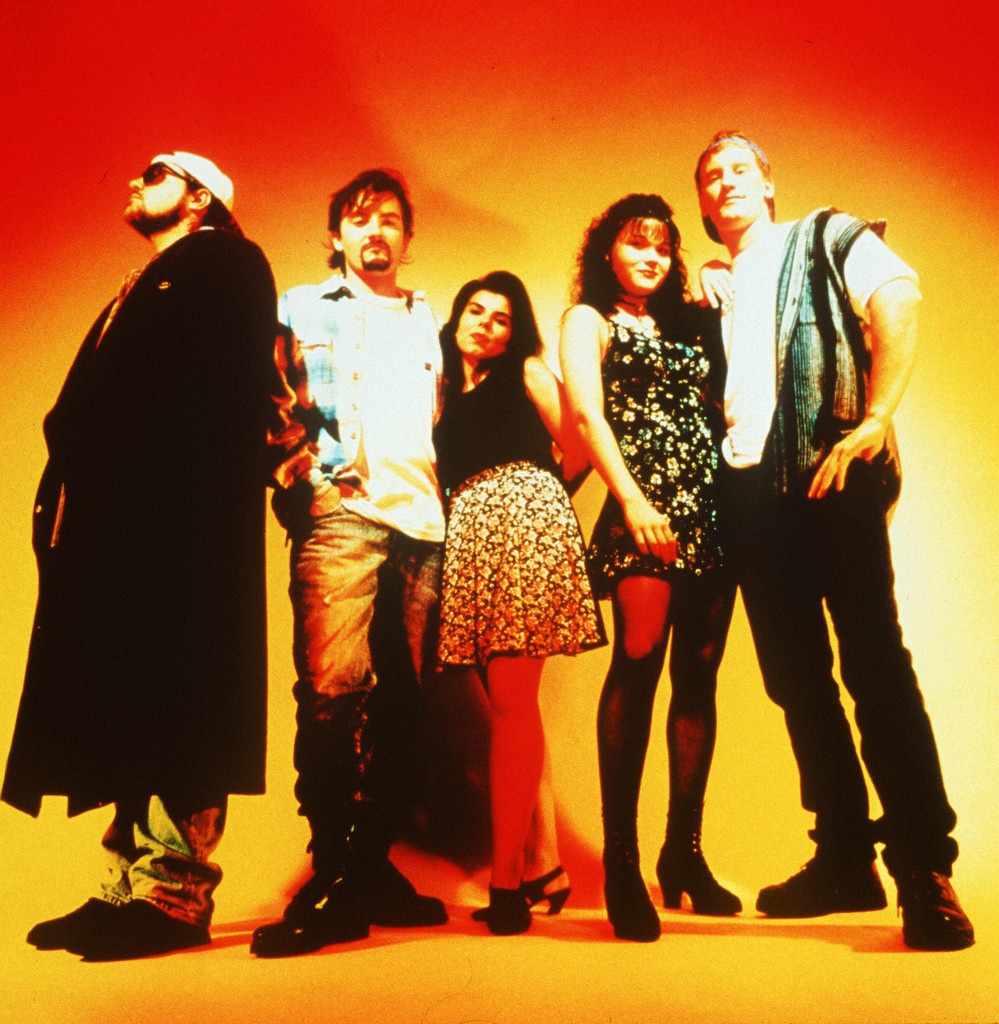 View Askew/Kobal/Shutterstock
Twenty-five years ago, Clerks opened in two theaters.
Starring no one you'd ever heard of, shot in black and white, profanely hilarious and instantly rewatchable—because you weren't quite sure if what you had seen was good or just "independent"—the minuscule-budget comedy ended up being the first brick in the Kevin Smith empire.
The grainy slice-of-slacker-life film didn't feature some of the bigger stars who would end up being regulars in the View Askewniverse, such as Ben Affleck and Jason Lee. But it introduced the world to Jay and Silent Bob, played by Jason Mewes and Smith himself as the taciturn half of the weed-dealing duo who only breaks his silence to utter something profound. They became a franchise unto themselves, one that resumed Friday with Jay and Silent Bob Reboot, the duo's first major screen appearance since 2001's Jay and Silent Bob Strike Back.
But it all started with Clerks.
The Quick Stop Market and adjacent RST Video were ripped right from Smith's reality.
"I was interested in working at the video store 'cause that seemed like a dream job, sitting around watching f--king movies all day long, getting free rentals," he remembered in The Making of Clerks." Then he got his buddy a job there, too, and "we pretty much had the run of the place," Smith said. 
"It was essentially a clubhouse where a bunch of uninvited people would come in and bother you to buy things," another pal noted.
"Our time there," Smith concluded, "was not really spent working as much as it was spent trying not to work." He was "the prototypical Dante," he added, but he wanted to be the Randall.
Eventually, however, he realized he wanted to make movies.
"I think that helped, being absolutely f--king naïve and guileless and such a rank amateur, because you didn't really think about the possibility that it might not pan out for you," Smith recalled on Gavin Michael Booth's "How Many Days?" in 2009. "It just seemed to always make sense."
Having seen Richard Linklater's indie classic Slackers when he turned 21 in 1990, Smith set out to follow that film's trajectory—make his own funny movie, pay $500 to get it screened by the Independent Feature Film Market, then people would see it and someone important would want to give him money to make more movies. Snoochy-boochy-noochy!
That isn't exactly how it panned out, but what happened is—especially in hindsight—far more interesting, funny and, ultimately, a little tragic. A lot like the movie itself. Here are 25 things to know about the story of Clerks:
Smith then wrote Clerks III, intended to be a rather morbid look at his "heroes" in middle age with death seemingly looming, but the heart attack he suffered in 2018 changed his perspective.
"Now I know what death is," he told Entertainment Weekly recently, "and I don't want to make that movie anymore." So, he re-wrote the movie, and now "it makes a lot more sense and brings my entire life full circle."
The movie, listed as "announced" on IMDb, includes the principal four and Rosario Dawson, who has a cameo as a new character in Jay and Silent Bob Reboot, has indicated she'd be down.
"I'm so grateful that [Smith's] still with us and still creating, and now he's talking about doing a Clerks III," she told USA Today recently. "I just love working with him."