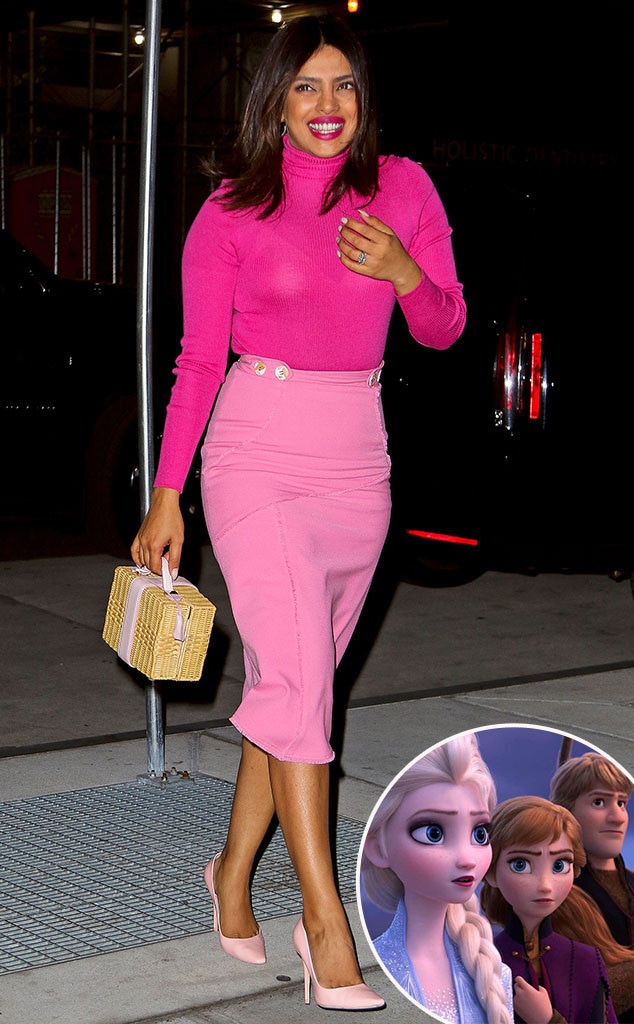 Felipe Ramales / SplashNews.com, Disney
We'll never let this exciting news go!
Priyanka Chopra has joined the cast of Frozen 2, she announced on Friday. But, there's a catch: She'll voice Queen Elsa—also played by Idina Menzel—in the Hindi version of the highly-anticipated Disney sequel. And she isn't going at it alone, either. Her cousin Parineeti Chopra will star as Kristen Bell's Anna. Making this a true family affair!
"Mimi and Tisha are now Elsa and Anna!" Priyanka shared on Instagram. "The #ChopraSisters are finally coming together for Disney's Frozen 2. Can't wait for you guys to see us… I mean HEAR us bring these amazing, strong characters to life in Hindi."
Naturally, the duo got a warm welcome following the big announcement. "Some moments are worth melting for!" the official Disney Films India account raved on Instagram. "Welcoming the dynamic sisters @priyankachopra and @parineetichopra as the voices for Elsa and Anna in Hindi!"
Frozen 2 doesn't make its big debut for another month, but fans of the film have already been treated to several new details about the film. 
In addition to the release of a brand-new trailer, Disney has also unveiled the sequel's soundtrack track list, which features newcomer Evan Rachel Wood showing off her singing talent alongside Idina and Kristen.
And, according to Kristen, it's really good. 
"Evan actually sings what might be my favorite song in the whole movie, which I have been singing to my children for years since I heard it," she teased to E! News. "She sings a lullaby song in the film because she plays our mother and she is a pivotal character and it is an ear worm of all ear worms. It is a very large ear worm, so it will never get out of your head."
Frozen 2 hits theaters on November 22.