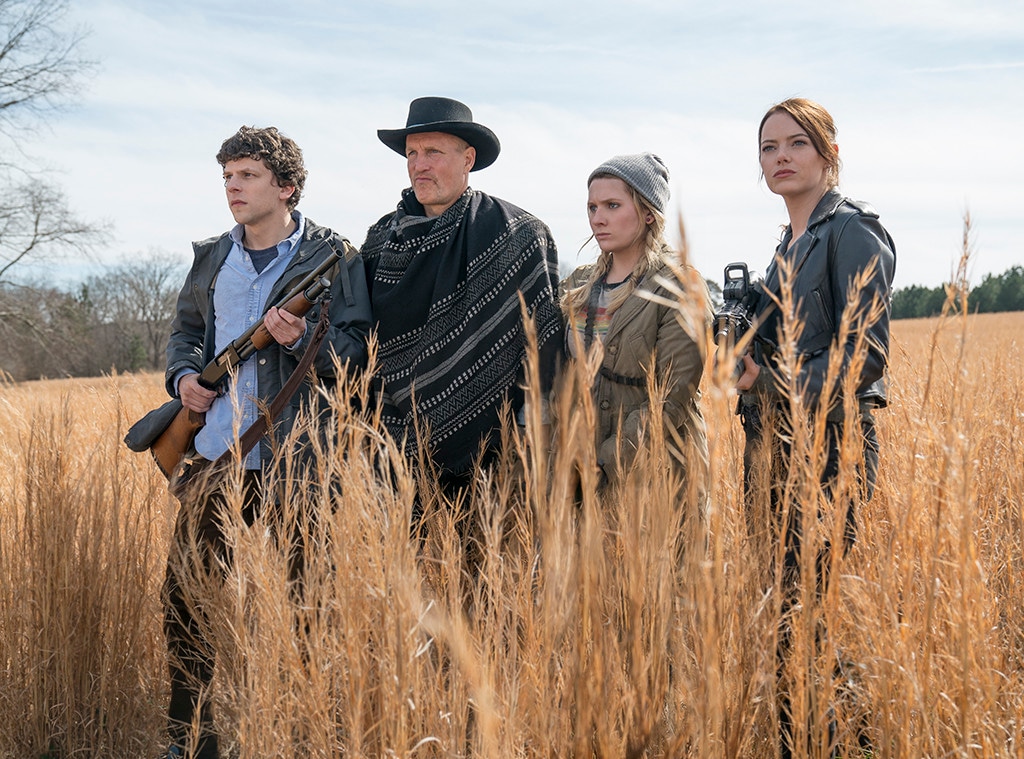 Columbia Pictures'
It wasn't supposed to take this long to return to Zombieland.
After the zombie comedy starring Woody Harrelson, Jesse Eisenberg, Emma Stone and Abigail Breslin became both a commercial and critical success exactly one decade ago, grossing more than $100 million and holding the title as the top-grossing zombie film in the United States until World War Z came along in 2013, everyone involved, including first-time director Ruben Fleischer and screenwriters Rhett Reese and Paul Wernick, knew that they wanted to spend more time in the funny post-apocalyptic world they'd created together.
"In full disclosure, we've been working on this for a long time. It took a while to get going. There was an original draft immediately after the movie came out, but it just wasn't the right kind of follow-up," Fleischer told Entertainment Weekly earlier this month. "So we put that on the shelf and went off in our different directions."
As Reese told The Hollywood Reporter at the premiere Double Tap, Zombieland's long-awaited sequel finally making its way to theaters with its entire original cast in tact on Friday, Oct. 18, "I mean, you have to really learn how to delay gratification in Hollywood."
So, as Fleischer said, everyone went their separate ways. And in doing so, all of their profiles grew—nearly exponentially. "On the first movie, you know, no one knew who Emma Stone was or Jesse Eisenberg," the director told THR at the premiere. "We'd go out to bars and just be completely anonymous. A lot has changed in that time when you're dealing with Oscar winners and Oscar nominees."
It wasn't just the cast who blew up, either. Not only did Fleischer go on to direct films like Gangster Squad and 2018's smash-hit Venom, while also detouring in to TV to helm episodes of shows like Superstore, American Housewife and Santa Clarita Diet, all of which he also served as executive producer on, but Reese and Wernick landed a little gig co-writing both films in the Deadpool franchise. And that made it pretty difficult to get the now in-demand scribes back into the fold. 
"So they came on as executive producers and we worked with the writer named Dave Callaham to come up with the story for a sequel," Fleischer told a group of reporters during a visit to the film's edit bay in August, according to GameSpot. "And we did a couple of drafts of that, until the point where Paul and Rhett came in and did their pass on it. And it was that draft that the cast all agreed to make."
As he told EW, "Took a while to get it right, but luckily we did."
While the film's stars were eager to work together again, they've admitted that they had no intention of merely settling for any old script that came along. "Everyone was very excited about the idea of all getting together again, because we had such a great time on the first," Stone, who's won an Oscar for La La Land and scored two other nominations since Zombieland's release, told EW. "But the script had to really come together in a way that made a lot of sense and wasn't just, 'Oh, we're going and having fun together and making a movie while we do it.'"
"We were cautious to make sure it's as great as the first one," Eisenberg added.
By all accounts, they have. Double Tap picks up 10 years after the events of the first film, finding Harrleson's Tallahassee, Eisenberg's Columbus, Stone's Wichita and Breslin's Little Rock (in the world of Zombieland, to avoid getting too attached to the living, everyone answers to nicknames chosen after their city of origin) living together in the White House. But when Little Rock runs off with new cast member Avan Jogia, playing a hippie named Berkeley, they head out on a road trip to bring her home. (Other new cast members include Rosario Dawson, Zoey Deutch and Luke Wilson.)
Though, getting the all-star cast back together didn't always seem possible to everyone involved. 
"Everyone got busy and blew up after the first Zombieland, so the hope faded over time," Wernick told EW. "We were like, 'Are we ever going to be able to get this foursome back together again? Because they're ruling the world right now.' And the fact that they did all come back was music to our ears and really a testament to the love that everyone collectively has for the universe, and for each other."
And it sounds like everyone involved is happy they did make it work. "I can't speak for everyone here, but I will say, for me, [it was] the funnest possible experience," Harrelson told EW.
So much so that there's already talk about turning this into a every-10-years sort of thing. "We have to see how this one's received and if that's something audiences would want," Fleischer told EW. "But I think we all had so much fun making this one, we'd be really lucky to get to return to Zombieland. Although, I will say, Emma said, she thought it would be fun if we did one of these every 10 years. Knowing that Woody's just the healthiest guy there is, he's going to outlive all of us, and so we can just keep doing them every 10 years, 'til the end of time."
"Yeah, they're the best," Stone told THR about her affinity for the franchise. "I love the story of Zombieland and the feeling of family, but I think because we're all close in that [same] way, it feels like the easiest job in the world."
So, what we're saying is: You should probably mark your calendars for 2029.
Zombieland: Double Tap hit theaters on Friday, Oct. 18.