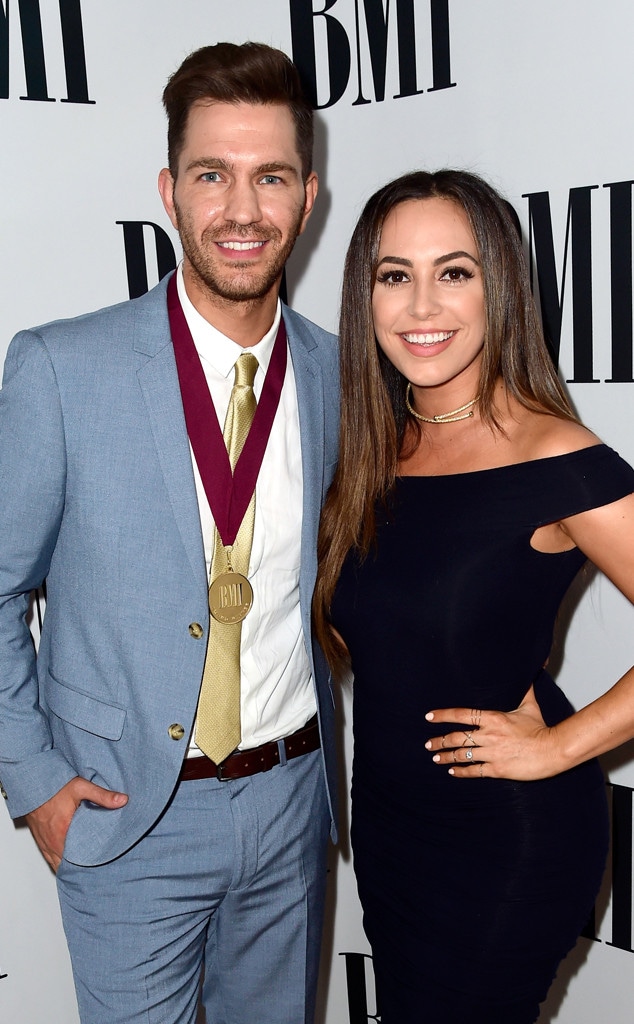 Frazer Harrison/Getty Images for BMI
Baby on the brain! 
Congratulations are in order for musician Andy Grammer and his beautiful wife Aijia Lise, who are expecting baby number two, his rep confirmed to E! News. The couple are already parents to two-year-old Louisiana K. Grammer and are expecting another baby girl. The "Honey I'm Good" singer married the the love of his life in 2012, and the two have graced our Instagram's with adorable content of each other and their little family ever since. 
Back in 2017 when they were expecting their first child, Andy couldn't help but gush about how overjoyed he was to become a father, and the sweetness didn't stop once his beautiful baby girl was born. "LOUISIANA K GRAMMER 'LOUIE' has arrived," Andy wrote alongside a beautiful black and white photo with his wife and newborn. "So... We're in love." 
The soon-to-be father of two is currently busy on tour, which means there may be some brand new music about his precious baby girl coming in the new year. 
Andy confirmed the news on his Instagram with a hilarious 80's rocker themed photo with his pregnant wife and daughter. While the photo was giggle worthy, his sweet caption was beautiful and touching. 
"WE ARE HAVING ANOTHER LITTLE GIRL AND I AM INSANELY, WILDLY, HYPERVENTILATINGLY EXCITED ABOUT IT," Andy shared. "There is quite literally NOTHING I want to invest my time and life in more then another little girl. Me and @aijiaofficial are getting another opportunity to raise a strong, playful, empowered little lady."
Andy went on to explain that he's overjoyed to be given this gift, and the "infinite love" his first-born brought him only exponentially increased his enthusiasm to be dad to another baby. girl. 
"You make the dad thing look easy. I knew you were going to be inherently good at it because you had a great example, (shout-out to my father-in-law @redgrammer) but you've exceeded my expectations," Aijia wrote about her husband on Instagram. "You always know a silly way to get Louie to eat dinner, or how to make a game out of doing a chore. You always want Louie involved everything you do. Even if it doesn't seem like a 'family vibe.' You change the energy and turn it into a family vibe and then everyone is glad afterwards. You are patient, generous, committed, affectionate and surprisingly good at holding boundaries. I am so lucky I get to do this parenthood journey with you. Thank you for choosing me. You are one good lookin baby daddy. Happy Father's Day."
Congrats to the happy family!