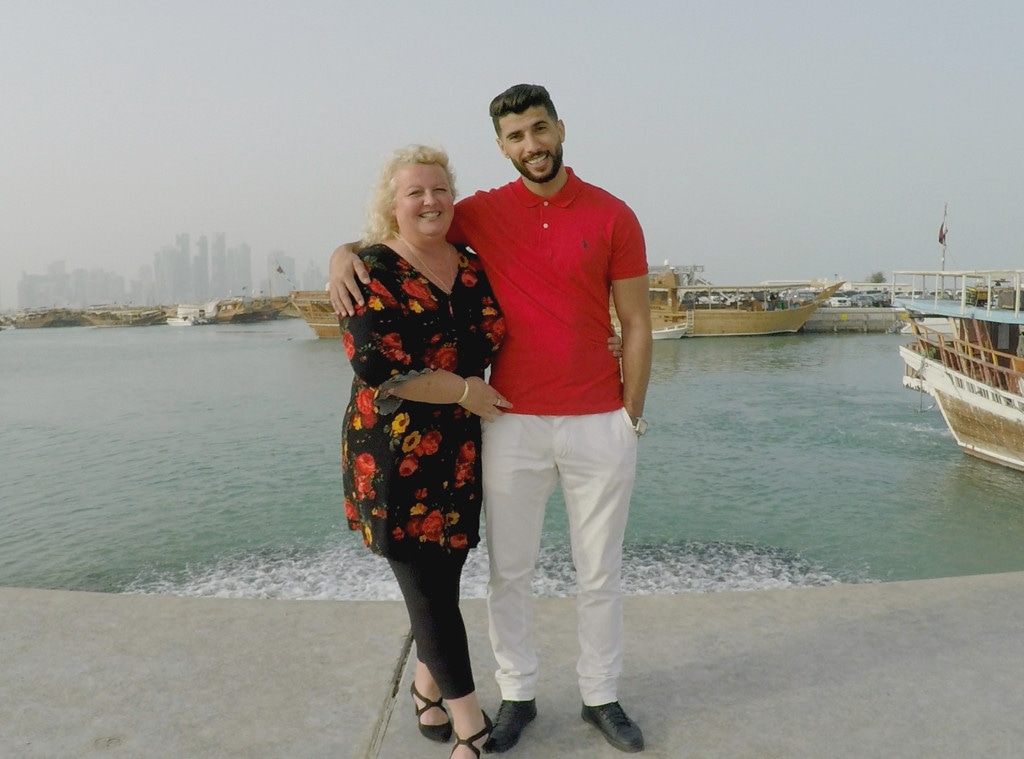 TLC
After cameras stop following the cast of 90 Day Fiancé: The Other Way, the drama stops, right? Wrong. In the first part of "The Couples Tell All," the not-so happy couples reunited to dish on their own journey, and shade the others, for an hour full of snide comments, reveals and dashed hopes. Let's break it down.
Laura, who was in New York, and Aladin, who was at home overseas, seemed to have the most drama since cameras stopped following them. According to Laura, their wedding was six weeks before the "Tell All" filmed and since then, things have taken a wild turn. The two discussed Laura's sex toy usage and her not being "100 percent satisfied" with their sex life—other couples were supportive of it and Corey and Evelin even said they have and use a bedroom assistant—and then they started airing their dirty laundry.
"I was willing to sacrifice everything just to be with him, but I think Aladin needs some time to think about decisions he makes in life," Laura said.
Aladin charged Laura with being incredibly disrespectful to him, on repeated occasions, even after he gives her another chance. How so? According to Laura, she was spending a lot of time by herself and was lonely and bored stiff. She said Aladin would disappear for hours at a time, so she went out and got herself coffee—alone. She didn't tell his family where she was going because she said she doesn't speak Arabic. Aladin said she didn't answer her phone and was gone for hours.
"Why is it you're allowed to do things, but I'm not allowed to do things?" she asked.
And then the real problems seemed to surface: She's out of money. Her pension was cut. Then Laura said Aladin wants to "break the commitment" that they made to each other just six weeks ago. "I am not ending the marriage," she said. So is Aladin? Of course it was "To Be Continued…" after that question.
Meanwhile…
Jihoon and Deavan
Jihoon, who said his knowledge of New York City stems from Home Alone 2: Lost in New York, said Deavan has become less romantic and is more of a realist now that they live in South Korea.
Paul and Karine
Karine didn't attend the taping or video call in, but Paul said he's a changed man now.
Jenny and Sumit
Back home after finding out her lover was really married, Jenny maintained she missed Sumit and had no idea he was married. Will he call in? She's not sure.
Corey and Evelin
Corey attended alone, Evelin didn't have a tourist visa to the US any longer, but the two really got into it about their relationship. They are engaged, and marriage planning is sort of underway…Evelin just told Corey he's getting fat and needs to get ripped—six pack included—for their walk down the aisle. Corey got an extended visa, so they have about six months to plan and get married.
"It's been a big adjustment. It's a process. I'm taking it all in. It's not easy, but we're getting through it and the relationship is doing pretty well," Corey said about his new life in Ecuador.
During the interview, Evelin revealed she forgot to wear her engagement ring, but she's still committed…even though Corey's best friend and her one-time fling Raul made it clear he wants to be with her. Raul even said he'd be Corey's best man, but will be there ready and waiting should the relationship not work. And should the relationship not work, what happens to the bar and all the money Corey has invested in Ecuador via Evelin? He said he's spent more than $40,000 and has just $1,500 in his bank account. So, what happens if they split? They haven't talked about it, but Evelin flat out said she thinks she should get the bar.
Tiffany and Ronald
Tiffany had their baby, a girl, in the United States, and gave an update on their relationship. Meanwhile, Corey suggested it seemed like Ronald was after a green card, which sparked a silent rant (his audio cut out) from Ronald. With sound back on, Ronald pointed out he never asked for a green card, the plan was for them to move to South Africa, so…there.
90 Day Fiancé: The Other Way airs Mondays, 9 p.m. on TLC.