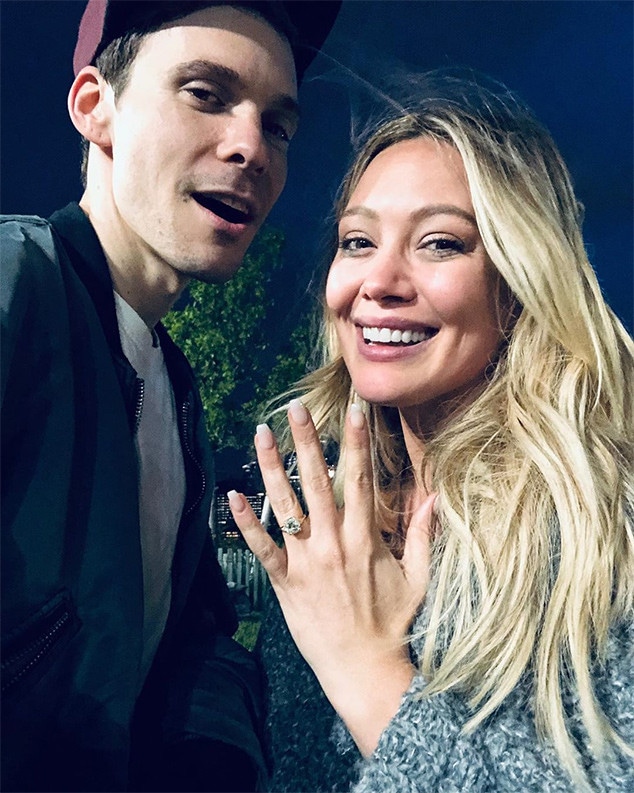 Instagram / Hilary Duff
Is Hilary Duff married? Not so fast. 
Five months after the actress revealed her engagement to longtime beau Matthew Koma, speculation the two secretly tied the knot spurred on Sunday when the music man posted a photo with an eyebrow-raising caption. 
"Wife," he wrote of a black-and-white shot featuring his famous fiancée smiling. 
"Did you get married? Mazel tov," one fan commented. "Congrats!!!!!!" another wished. But, before the rumor mill begins to churn, according to a rep, the two are not married yet. It seems, much like fellow celebrities, Koma just can't wait to call Duff his wife—so he's using the term of endearment early. 
As for the pair's fancy date night, the two were dressed to impress for the 5th Adopt Together Baby Ball Gala on Saturday in Los Angeles. "We like each other," Duff captioned a photo of them posing together and smiling in their gala attire. 
"Threatening to unzip my dress," she captioned another shot of them on the red carpet. "Thank god he can make me laugh through the awkwardness of a red carpet #keeper."
While it's already been an eventful year for the playful parents, the two also have a different special occasion coming up: their daughter Banks Violet Bair's first birthday later this month. On Oct. 25, 2018, the actress gave birth to the couple's first child together. 
"My little angel bright. My loudest unstoppable beautiful bean. My gift. My magnet. My mini. My daughter," Duff wrote of the little one on National Daughters Day. "Oh I love you so."
As for Koma, he's "my person," she noted on Instagram. And one day, her husband!