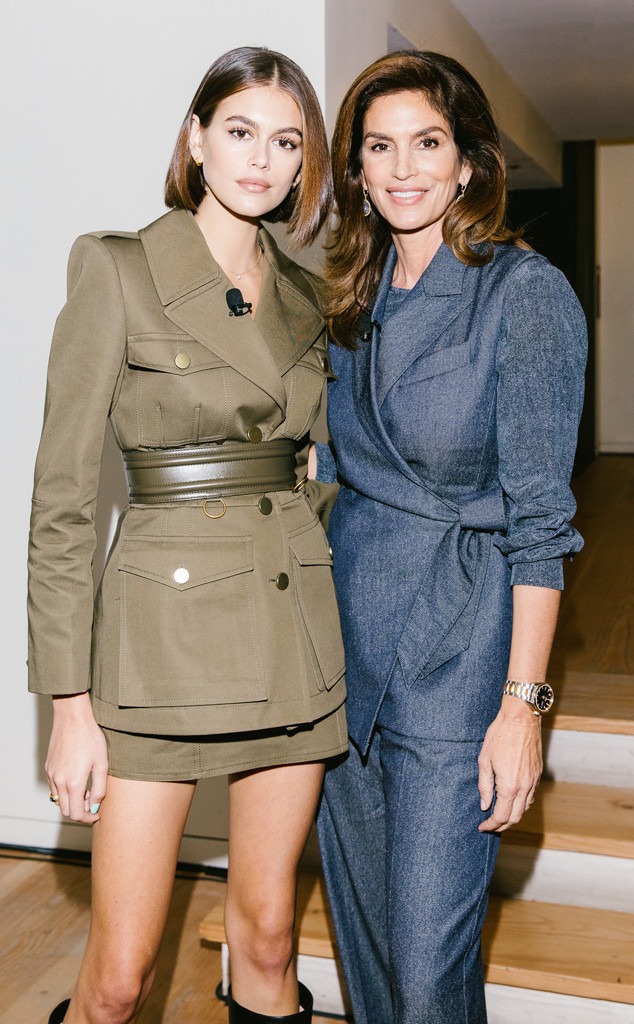 Corey Tenold for Vogue Magazine
Kaia Gerber knows people are having "trouble" telling her and mom Cindy Crawford apart.
As a result, the 18-year-old model is dishing some advice on how tell the difference between her and her superstar mother. In a new piece for Vogue, published Monday, Kaia opens up about her relationship with her "hero" mom, and the advice she's received about the modeling industry over the years.
But first, a note from Kaia about her look-alike mother: "My mom's the one with the mole."
Though she may have grown up with a supermodel mom, Kaia writes in her essay, Cindy made a major point to create "a healthy disconnect."
"She would leave her work in the studio—when she got home, the first thing she would do is go upstairs and take off her makeup," Kaia explains. "Take off the lashes. Just take everything off. At home, she was just my mom, and for that I am forever grateful."
"I didn't really grasp the concept of what her work meant until later, when I watched her do it," Kaia continues. "I didn't know what Naomi Campbell, for example, did, either—I just knew she was my mom's friend. Models were people long before I understood them as models."
Kaia also notes in her essay that, as much advice as her mom could give her, she had to experience things on her own to really understand them.
"The industry is very different today—for one thing, social media transformed how models interact with the world," she explains. "We now have outlets to share our own voices—and to support others who are doing the same."
Nicholas Hunt/Getty Images
While Kaia grew up around famous models, their impact on the world didn't resonate with her until just last year at Versace's spring 2018 show. It was at this show that iconic supermodels like Cindy, Naomi, Carla Bruni, Claudia Schiffer and Helena Christensen reunited for a surprise tribute alongside Donatella Versace.
"That was the first time I fully grasped the significance and influence these women had—and continue to have. On top of that, I felt so very fortunate to have the rare opportunity to work with my mom," Kaia, who walked in the show, recalls. "As a young girl, I only understood their influence on me personally—I didn't realize their impact on the culture of the world I was about to enter. When that final curtain opened at the Versace show and they were all standing there, everyone backstage started cheering and tearing up. I did, too—I finally got it."
To read more from Kaia's essay, head on over to Vogue.