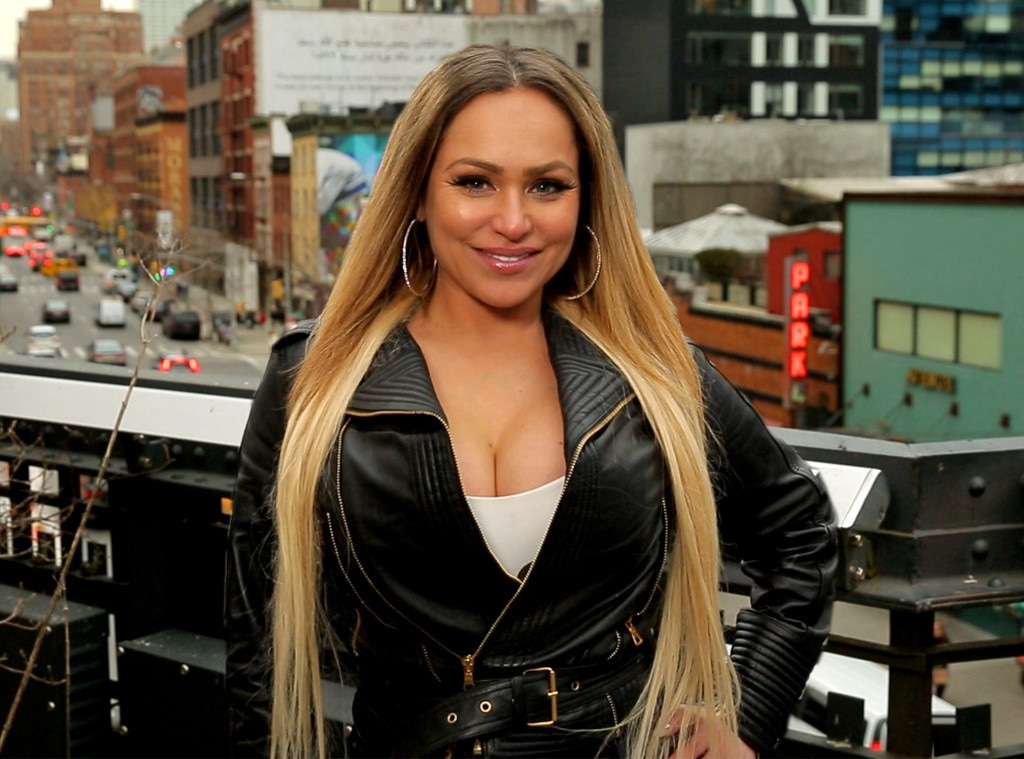 TLC
So, you go salsa dancing with your boyfriend and his sister in a brightly lit bar. The only problem? You don't know how to salsa, but he's been doing it for 20 years. What do you do when he dances with other people? If you're Darcey from 90 Day Fiancé: Before the 90 Days, you make a whole lot of comments about it to your boyfriend's sister's partner and then cry about it.
Darcey, who remained desperate to hear Tom say he loves her—"While it bothers me Tom still hasn't said I love you, I see it in his eyes," she said—repeatedly asked Emma and Ricardo if she should be jealous that Tom is dancing with so many other women. "You're like a whore on the dance floor," Emma explained. Tom, in a confessional, explained he wanted to stick to his regular partners because they know the steps.
"I want him to give me the attention I deserve," Darcey said.
In a tearful heart-to-heart, Emma said Darcey was naïve and that Tom is not a "kept man, he never will be."
"He's always been a free spirit," Emma explained. "I love him. It hurts to see that," Darcey said. Emma then encouraged Darcey to ask about the status of their relationship, whether they're exclusively dating or he has other women in his life, despite them previously talking about it. She did, and Tom confirmed he was just seeing Darcey.
Timothy and Jeniffer
In Colombia, Timothy was still on the fence about what to do about his rocky relationship with Jeniffer…so he called his ex-fiancé to ask for advice. She didn't really tell him what she wanted to hear. Yet, Timothy carried on and planned a romantic picnic where Jeniffer questioned whether Tim was gay or not. Still, he gave her a promise ring and said he wants to work on their relationship.
"I came here to get a wife, but I want to be smart," he said.
After the romance and back at home, Tim fell asleep before they could be intimate, disappointing Jeniffer.
"I feel like the girl," he said.
"You are the girl in this relationship," she quickly responded.
And then she learned the truth about the ring: He bought it for his ex and she gave it back. Yikes.
Benjamin and Akinyi
The moment of truth came quickly for Benjamin and Akinyi, she was about to become his bride. But he confessed he has doubts. "Why are you scaring me?" she asked. He told her he wanted to be honest, but decided to go through with it.
"I just hope I'm not getting married to the wrong person," he said.
But there could be a problem: the bride price. Akinyi said he doesn't have enough to make a good offer.
Omar and Avery
Avery said goodbye to Omar, and despite him not appearing too overly upset, he said he was. "Inside, I am more broken," he told cameras. "Eyes never lie."
On the way home, Avery grappled with the fact that she may never see him again, and back in the states she discussed her plans to move to Syria while Omar's visa was going through approval process.
"I'm going and I'm not going back until he comes with me," she promised her parents.
Rebecca and Zied
After a day of ATV riding, Rebecca finally came clean about the status of her divorce from her third husband. Because the papers are not technically final, she's still married to him. Zied, predictably, did not take it well.
Angela and Michael
Last week, Angela had a confrontation with Michael's friends, "the goof balls," and this week she unpacked it all with Michael. He told her he deserves more respect than what she showed him and his friends and she agreed to apologize for the way she acted, but said she meant what she said.
90 Day Fiancé: Before the 90 Days airs Sundays, 8 p.m. on TLC.