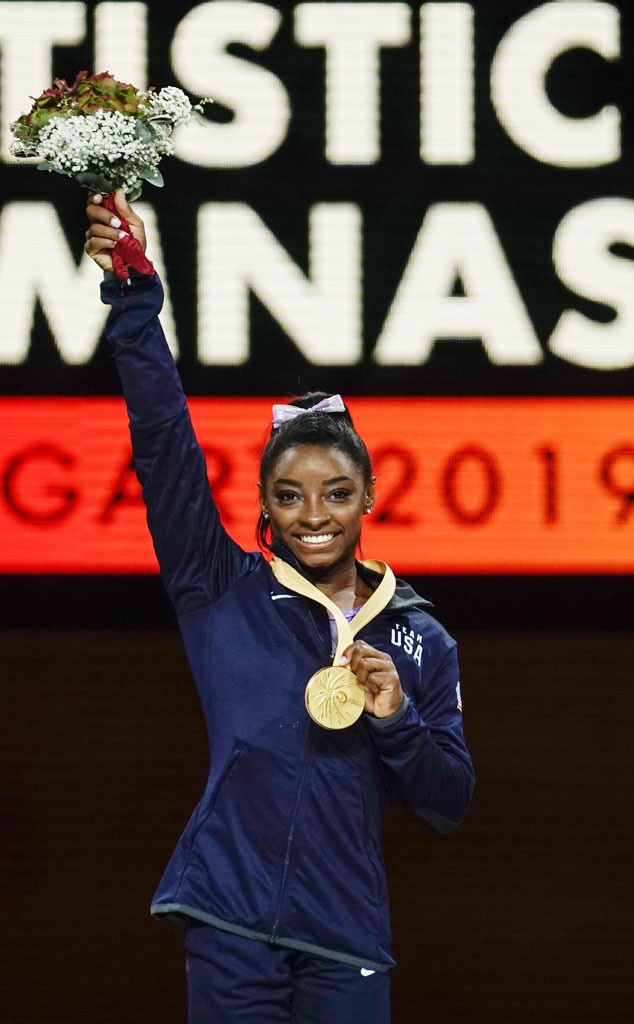 LIONEL BONAVENTURE/AFP via Getty Images
Simone Biles just made history—again. 
On Tuesday, Oct. 8, the 22-year-old Olympian became the most decorated female gymnast in history following her 21st World Championship medal at the Women's Team Final in Stuttgart, Germany. On top of that, Biles also helped Team USA win a fifth straight world team title. 
Now, for the second time this week, Biles continues to prove that she's one of the greatest gymnasts of all time becoming the most decorated gymnast in the world championships' history. 
On Sunday, Biles won her 25th medal at the gymnastics world championships and consequently broke the record for both men and women. After winning two more gold medals, Biles now holds a total of 19 gold medals overall as well as three silver and three bronze. 
So if you had any doubt whether she was the crème de la crème—you can and should stop doubting her excellence now. 
According to NBC Sports, Biles leaped out of her chair when she saw that her score eclipsed 15 points. 
The previous record was set in 1996 by Vitaly Scherbo, with 23 medals, who competed for the Soviet Union and Belarus. But on Sunday morning, Biles broke that record with her balance beam routine. Then, she proceeded to break her own record because why not? 
Marijan Murat/picture alliance via Getty Images
However, Biles has opened up about feelings of insecurity and nervousness before getting out there in front of the crowd. 
"Sometimes I wish I would quit," Biles said, according to NBC Sports. "The other day, we walked out there, and I was like, I literally hate this feeling, and I don't know why I keep forcing myself to do it."
"I hate that feeling like I'm going to puke before," she added. "But, you know, we love the thrill of it. Reminds me to never give up because one day I won't have the opportunity to get that feeling."
The 22-year-old has also previously said the 2020 Olympics in Tokyo will be her last.
"Everybody has to end it some time," she told NBC Sports on Sunday. "You can't keep going for the rest of your life. I feel like I just want gymnastics to be part of my life, not my whole, entire life."
(E! and NBC Sports are part of the NBCUniversal family.)